Freedom Convoy organizer Tamara Lich will remain in jail again to await an Ontario court's decision on whether she breached her bail conditions when she attended a June 16 award ceremony event in Toronto, at which fellow convoy organizer Tom Marrazo was present.
Justice of the Peace Paul Harris said at Lich's July 5 court appearance that he will need to take some time before giving a final decision on the case. He is expected to announce his decision at a court appearance scheduled for Lich on July 8.
In the meantime, Lich is to stay in the Ottawa-Carleton Detention Centre for at least three more nights.
Crown prosecutor Moiz Karimjee presented as evidence a photograph of Lich and Marazzo appearing together at the ceremony in Toronto where Lich was presented with an award, and a video recording which the the prosecution says allegedly shows Lich and Marazzo interacting, which the crown says breaches Lich's bail conditions.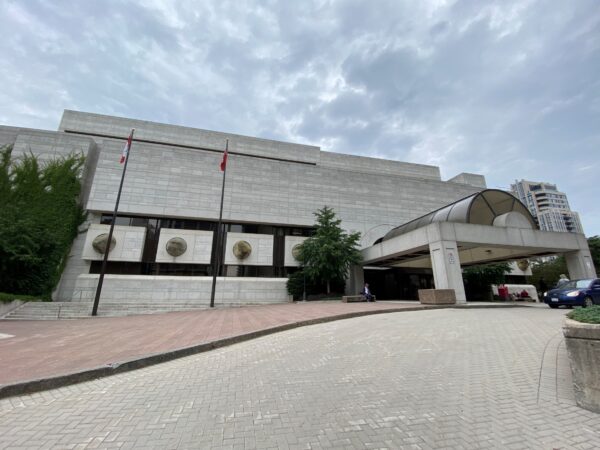 Marazzo, a military veteran, volunteered as a spokesperson for the truckers' Freedom Convoy protest in Ottawa in February. The protest, which called on the federal government to end its COVID-19 vaccine mandate and other related public health regulations, lasted more than three weeks. It ended after the Liberal government invoked the Emergencies Act on Feb. 14, giving the police additional powers to clear what they said was an "illegal demonstration" in an escalated operation over a few days.
Lich's defence lawyer Lawrence Greenspon said in court that a brief congratulatory exchange after winning an award wouldn't lead to any illegal activity, and isn't a breach of bail conditions. The court also heard testimony that lawyers were present at the event and approved the picture taken of Lich and Marazzo. Greenspon said Lich's bail terms specified that there's to be no communication except in the presence of counsel.
"Your honour, you have heard this evidence. It consists of a less than three-second congratulatory interaction after a speech at an awards dinner, and a photograph of Ms. Leach standing next to Mr. Marazzo," Greenspon said.
The defence also said the police and prosecution could have handled the issue differently, questioning their course of action including issuing a Canada-wide warrant for her arrest, dispatching long-time veteran homicide detectives for her case, and taking her into custody for nine days so far, after her re-arrest on June 27.
Testimonies
The court heard from Ottawa police Det. Chris Benson, the lead on Lich's case, who said the photograph of Lich and Marazzo together at the June 16 event shows that Lich breached her bail conditions due to her physical closeness to Marazzo.
Greenspon questioned if Benson had any evidence that the alleged "less than three seconds" interaction between Lich and Marazzo seen on the video is anything "more than a congratulatory handshake, and perhaps a thank-you."
"I guess I don't know what was said, I couldn't hear," Benson said.
The court also heard from Lich's surety, whose identity can't be revealed due to a publication ban. The surety said they became aware of the photo of Lich and Marazzo a few days after the event and immediately contacted Lich out of a concern if her bail conditions were violated. The surety said Lich assured them that legal counsel was present at the event.
First Arrest in Ottawa
Lich, one of the key convoy organizers, was first arrested at the national capital on Feb. 17 and charged with counselling to commit mischief and obstructing police, among other charges.
She spent 19 days in custody after initially being denied bail by Ontario Court Justice Julie Bourgeois, and was released on March 7 when Ontario Superior Court Justice John M. Johnston overturned Bourgeois' decision. Lich was released under a number of bail conditions, including having no contact with fellow convoy organizers.
In April, the Justice Centre for Constitutional Freedom selected Lich as the winner of the 2022 George Jonas Freedom Award, and invited her to accept the award in a ceremony in Toronto on June 16. Crown prosecutors said in May that by agreeing to attend the ceremony, Lich had breached her bail conditions and should be sent back to jail to await trial. However, on May 25, Ontario Superior Court Justice Kevin Phillips ruled that Lich didn't breach her bail conditions, saying that "courts are not a thought police."
After Lich was re-arrested on June 27 in her hometown of Medicine Hat, Alberta, she was transferred to Ottawa to attend her bail hearings.
The Canadian Press contributed to this report