Tallest Statue of Late Pope John Paul II Nearly Done (Photos)
April 9, 2013 10:58 am Last Updated: September 3, 2013 8:37 pm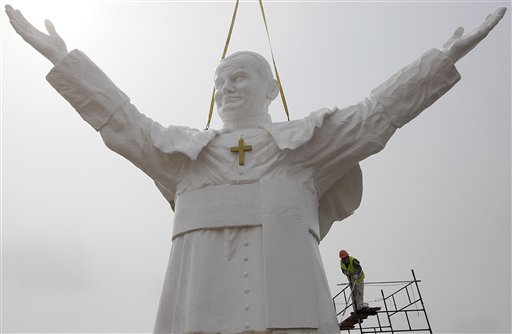 The tallest statue of the late Pope John Paul II is nearly finished.
In Czestochowa, Poland, workers were putting the finishing touches on April 9 on the 45.3 foot white fiberglass figure. A private investor, Leszek Lyson, is financing the statue.
Pope John Paul II led the Catholic Church from 1978 until 2005, when he died. He is also known as Blessed John Paul or John Paul the Great.
Lyson said the pope was ""a great and good man who has done a lot for the world—ended communism and opened borders in Europe, reached to people in his pilgrimages around the world."
The statue "should make everyone stop and think about life," Lyson added. He's trying to get the statue into the Guinness Book of World Records.
The statue was constructed in Nowa Sol, a Polish city, by a fiberglass company, MALPOL. Construction was done by a team of 20, including 4 artists, over a period of about a month.
The approximately four story high statue will be higher than the current tallest statue of the Pope, which stands at Chile at about 39 feet.
Statues of the late Pope, who served as one of the longest-reigning Popes, dot the globe. He reportedly visited more than 120 countries while he was Pope.
The Associated Press contributed to this report.