Several protesters were reportedly killed by Taliban terrorists who opened fire at crowds of Afghans during the nation's Independence Day.
In one video, the sound of gunfire was heard on the streets of the capital, Kabul, on Thursday, near a rally that was being organized, leading to mass panic, with people seen taking cover.
The footage of gunfire in cities across Afghanistan emerged as flag-waving protesters took to the streets in several cities in defiance of the Taliban spread.
"Our flag, our identity," a crowd of protesting men and women chanted as they waved the Afghan national flag.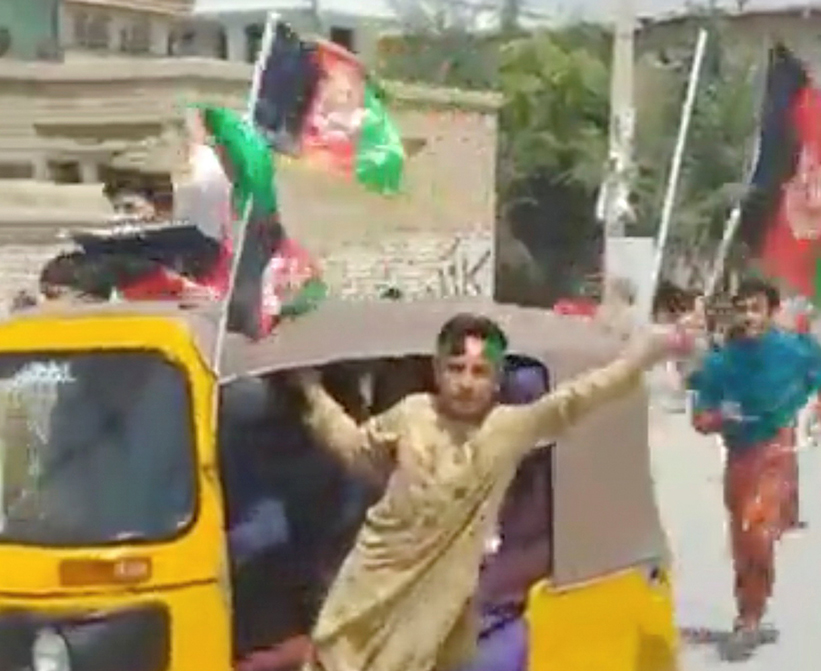 In Asadabad, the capital of the eastern province of Kunar, several people were killed during a rally, though it was not immediately clear if the casualties resulted from Taliban terrorists' gunfire, or from a stampede that was triggered after the shootings, according to a witness, cited by media reports as saying.
In another video of the rallies in Asadabad, obtained by Fox News, an Afghan national bearing the country's tricolor flag is seen rushing through the street on his bicycle as gunshots can be heard in the background. It is unclear if the flag and the gunshots are in any way related, or if it is Taliban forces that are shooting.
Independence Day in Afghanistan is typically celebrated on Aug. 19, when it gained independence from British rule in 1919.
On Wednesday, media reported that Taliban forces fired directly into a crowd of other demonstrators in the city of Jalalabad, three people reportedly died from the gunfire.
The insurgent's reaction to the protests, which have included Afghans tearing down white Taliban flags, according to reports, could determine whether people put faith in their assurances that they have changed since their 1996–2001 rule when they severely restricted women and staged public executions.
Reuters contributed to this report.
From NTD News