Tale of Two Bills: de Blasio Smiles, Thompson Scrambles (+Photos)
September 12, 2013 7:59 pm Last Updated: September 18, 2013 10:41 am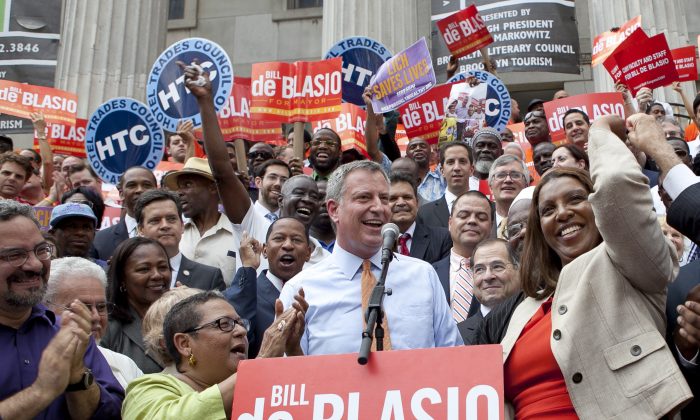 NEW YORK—Just two days after the Primary Election, there are two men standing in the race for City Hall: current Public Advocate Bill de Blasio, and former Comptroller Bill Thompson. On Thursday the two candidates had two very different days, as one picked up momentum in a campaign already on fire, and the other struggled to stay afloat.
De Blasio has 40 percent of the vote with 99 percent of the votes counted, and Thompson has 26 percent. If de Blasio stays over 40 percent, he will avoid a runoff and will face off against Joe Lhota, the Republican nominee in the November 5 General Election.
De Blasio took to the steps of Brooklyn Borough Hall on Thursday surrounded by several hundred people. The Public Advocate relished in the new found support from unions who jumped ship from rival Christine Quinn and Thompson's campaign.
"It's a humbling moment for me," de Blasio said about the turnout.
The mayoral hopeful did not stray from the message he has continued to preach since he announced his bid for mayor in January. It's a message that has drawn in supporters like a magnet over the last two months: ending the stop and frisk era, getting universal pre-kindergarten for all New Yorkers, and working for the middle class.
"It's a progressive moment that's been a long time coming, hasn't it?" De Blasio said as the crowd cheered and applauded. He said the city is facing a host of challenges and he will need to work on in the coming years by creating lasting solutions and not creating "band aids."
De Blasio said he's excited for the next seven weeks although there's "some tough work ahead." He didn't mention anything about a possible run off between himself and the Democratic runner up Thompson.
Representatives from the Hotel Trades Council, 32BJ SEIU, and Retail, Wholesale, and Department Store Unions, who endorsed Quinn during the Primary, spoke at the rally saying they would be lending their support to de Blasio.
Thompson, who had no scheduled public events on Thursday, lost several supporters to de Blasio. City Council Member Ydanis Rodriguez issued a statement from his office saying he would back de Blasio, although the statement did not mention he had previously supported Thompson.
"Following the outpouring of support from New Yorkers of all walks of life, we are proud to offer our support and endorsement to our next mayor, Bill de Blasio, the progressive leader who will help stem the tide of economic inequality in New York City," Rodriguez said in a statement.
Assemblyman Walter Mosley also issued a statement in support of de Blasio saying, "In an election year with so many tough decisions on crucial issues, we must begin a new chapter today by uniting behind our Democratic nominee for New York City's next mayor."
In addition to losing the supporters, Thompson was told by the Campaign Finance Board (CFB) he would not be eligible for additional matching funds raised for a runoff.
"A runoff election does not appear to be reasonably anticipated based on the unofficial results available at this time," the CFB said in a statement. "The Board may consider runoff payments at a later date if the results change."
In letter, Thompson's lawyers argued with de Blasio only over 40 percent by such a small margin, and nearly 60,000 votes uncounted, it is not unreasonable for a runoff to happen.
The CFB stood by their decision.
Thompson can still raise money; however, donors who have already given the maximum amount allowed by CFB rules ($4,950) would not be allowed to exceed it.
Kristina Skorbach contributed to this report.