Taking Back New York's Meanest Streets, One Person at a Time
July 25, 2013 6:20 am Last Updated: July 25, 2013 11:18 am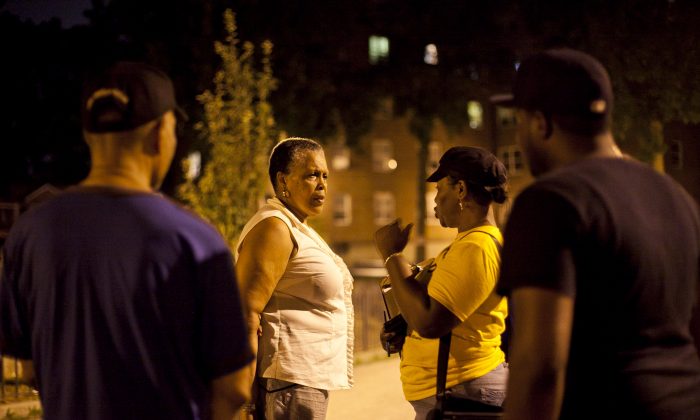 NEW YORK—Even though he's been in and out of the criminal justice system for almost 12 years of his life, 35-year-old Shanduke McPhatter has a positive outlook on the future, and he shares it with others.
As a former gang member of the Bloods (famous for its rivalry with the Crips), McPhatter knows from personal experience that it's not always easy to make the right choices, especially in high-crime and low-income areas. But now he knows there are choices, and he wants to tell others.
Two years ago, the lifelong resident of Brooklyn and father of three founded the nonprofit group, Gangstas Making Astronomical Changes, to help uplift people caught up in what his group calls the "street life."
"What triggered it (changing) was just the level of violence I kept seeing," said McPhatter, who said he simply became fed up with spending his life in a destructive cycle. "I changed my state of mind."
The charismatic McPhatter exuded that new state of mind—positive, engaged, hopeful, and energetic—as he walked through the public housing project called the Glenwood Houses last Friday, July 19. He was part of a group of about a dozen like-minded individuals putting a grass-roots initiative called Occupy the Corners into action.
It's a long journey to reach Glenwood, an island of plain-faced brick apartment buildings attached in a labyrinth of footpaths at the far end of south central Brooklyn. Situated between East Flatbush and Canarsie, getting there requires a ride to the end of the Nos. 2, 4, 5, or L subway lines, followed by a 20-minute bus ride.
It is just one of several spots Occupy the Corners will visit over a one-month period in the wee hours of the morning. The participants change a bit by location, but the mission is always the same: engage, reach out, and offer a chance for change and hope in some of New York City's highest crime neighborhoods.
Officially launched last year by Al Sharpton's National Action Network, this summer's events will run through Aug. 10, always between 11 p.m.–1 a.m. on Fridays and Saturdays. They are open to the public and people are welcome to show up and join in.
McPhatter said that direct, positive engagement through initiatives like Occupy the Corners is exactly what communities like Glenwood Houses need.
"I've been living for over five years without doing a crime, without having that state of mind," he said. "For them, they don't believe that can happen and that's why we come out here to do [this], to show them they can change."
McPhatter said that so many problems simply come from people not knowing how to make the right decisions, especially those caught up in the criminal world who feel like there's no way out.
"They say, 'Okay, I need to provide for mine, and my business is selling crack, coke, dope, or whatever,' and they're combatting with each other for the same corners … you've gotta understand them and give them an outlet."
When it's suggested that one way out is to be an entrepreneur of a legitimate business, McPhatter said there are serious obstacles to that which need to be addressed.
"They don't have those resources, they don't know how to go get a store. … It's hard for them to get a store," he said. "So what you gotta do is say, 'Okay, before you get a store, let's first get you something that you can do so that you know that you're making some money for your family.' That's the biggest issue, is making the money."
But he contends that economics is only part of the problem for residents of places like Glenwood Houses.
"A lot of the violence is really [about] not having the right choices," he said, adding that he thinks many altercations that turn violent or deadly stem from simple arguments that get out of control because those involved take them too seriously.
"A lot of people say they're helping, but they say they're helping behind doors," said McPhatter. "We need more people to help on the forefront."
If there is an ambassador for the forefront in his community, it's Hassan Bakiriddin, who usually watches over the streets as director of the Civilian Observation Patrol (C.O.P.) of East Flatbush. This year and last, Bakiriddin traded his neighborhood C.O.P. patrol vest and radio that keeps him in touch with the NYPD for a yellow T-shirt stating plainly "Not in My Hood," and a wide, contagious smile.
Modest about his dedication to making the city streets safer and friendlier, he boils down walking through rough neighborhoods after midnight into the simplest of terms.
"People appreciate us being out here," he said, adding that they want to convey that there are people who care deeply about others in the community. "The idea is that it helps to build hope."
During the July 19 Occupy the Corners event, Bakiriddin said he spoke to one woman who said she was glad to see the volunteers because she had felt "abandoned and forgotten."
"Whether it's elected officials, whether it's the community groups, there's no outreach. That's what she was saying to me."
But all evidence was to the contrary on this very hot summer night.
One of the most engaged participants making his way through the Glenwood Houses to chat with residents and people sitting out on benches, walking past with their young children, or visiting with friends, was City Council member Jumaane Williams. Dressed casually and approaching one person after another, Williams had a direct and humble demeanor that belied his social status as an elected official.
"How you doing?" said Williams as he greeted some young people sitting on benches outside one of the buildings, proceeding to engage in what looked like a very intense and serious conversation. "You just want to let people know we care," he said of the tenor of the discussions.
Williams was so concerned with making people feel comfortable enough to open up when approached by strangers that he asked the Epoch Times reporter and photographer who accompanied Occupy the Corners on July 19 not to approach or photograph individuals, and for good reason.
The Glenwood Houses have had their share of violence and death. According to NYPD statistics, in 2012 there were eight murders in the precinct, which stretches all the way south to Mill Basin.
Two of the most famous tragedies were in July 2012, when 26-year-old Quentin "Q" Fulcher was shot and killed, leaving behind a young daughter. Not long after Fulcher was shot, in September 2012, Bersheen Ward was gunned down and killed.
Williams came across one survivor of that violence, Fulcher's girlfriend, who said their child was doing well in spite of the loss.
Gaddi Milfort, a 26-year-old resident of Crown Heights, and a member of the hospital police force at Coney Island Hospital, said he thinks the point isn't to lecture, but shed some light on the bigger picture.
"The violence is getting out of hand. We're basically out here trying to show them that we're the support they need—they're not in the dark," he said. "We can't tell them to stop the violence, but we can talk to them and show them other alternatives."
Milfort, who has done similar patrols with the auxiliary police, said summer jobs advertised through city council members' offices and extra-curricular activities all help.
Many people are too quick to boil problems down to race, he said. After the acquittal of George Zimmerman in the killing of Trayvon Martin, people in the African-American community seem to be more afraid than ever.
"They feel like there's no justice for them," said Milfort. "[Like] it could happen to me too, and the guy walks, and everybody feels like they're not protected by the justice system."
Knowing someone cares can be the difference between hope and the dark abyss of fear.
Terrance Joseph, chairman of C.O.P. of East Flatbush, said through volunteering for Occupy the Corners and C.O.P., he wants to have a better idea of what's going on in the community and "create some sense of order."
"When people see other people within any group behaving in a way that they don't understand, then they tend to make judgments," he said, adding that the role fear plays is significant, especially if the perception is that many people might be carrying guns.
"People are afraid of guns, and if you don't know someone and you think that guns are free and loose in the community, you're basically afraid of everything," said Joseph.
But despite his assessment of the many dangers and challenges communities like those in Glenwood Houses are facing, Joseph believes the situation is not beyond hope.
"I think it's a matter of time before things change," he said. "It's going to get better. This didn't always exist, and we're starting something."