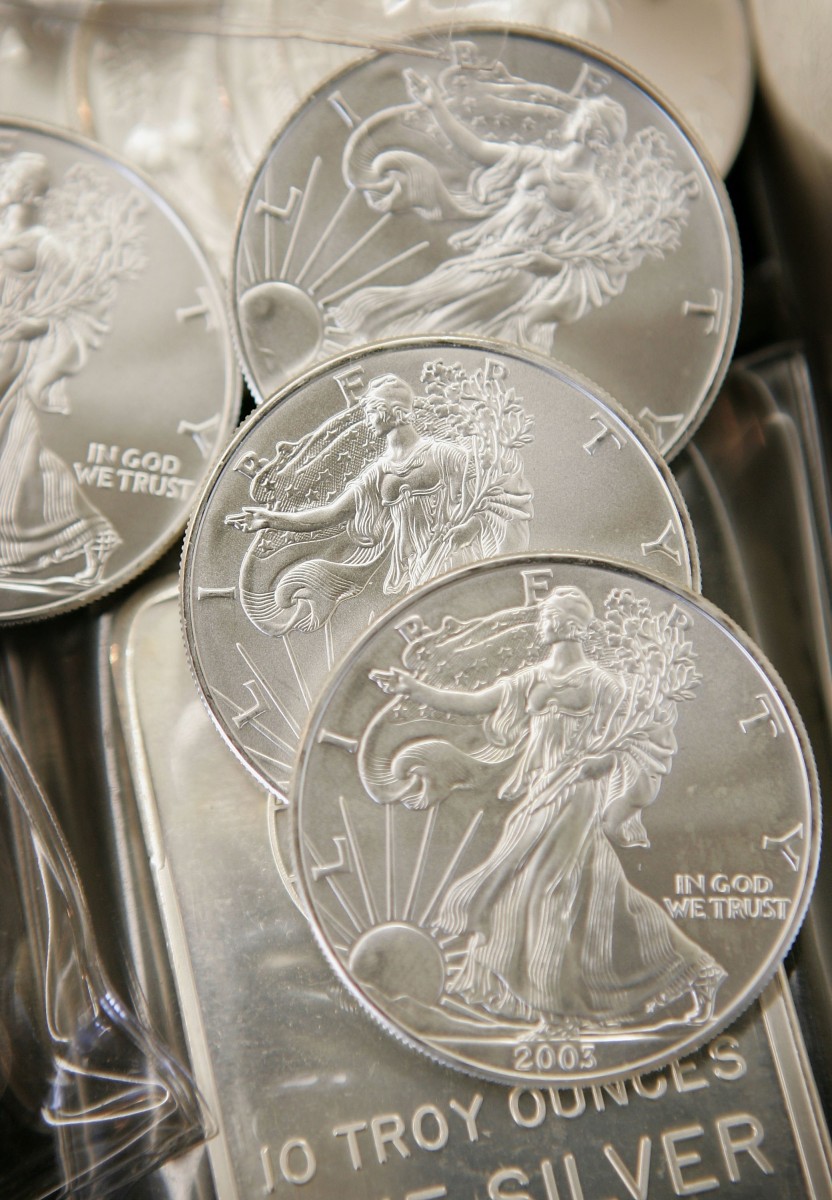 The London Fix Silver prices have been on a roller coaster ride over the past few years, ebbing and flowing up and down, rising from an annual cumulative average of $14.6733 per ounce in 2009 to an annual cumulative average of $20.1928 in 2010. It rose to $35.1192 in 2011, and from Jan. 1 to Feb. 15, the annual cumulative average fell to $31.7844, according to historical data on the Kitco Metals Inc. website.
In 2009, the highest daily London Fix price was $17.9900 on Oct. 13 and the lowest $10.5100 on Jan. 15. In 2010, the highest daily London Fix price was $30.7000 on Dec. 30 with the lowest at $15.1400 on Feb. 8. In 2011, the highest daily London Fix price was $48.7000 on Apr. 28, and the lowest was $27.1000 on Jan. 26, moving up and down throughout the year.
Between Jan. 1 and Feb. 15 this year, the highest London Fix price was $33.8400 on Feb. 13, and the lowest was $28.7800 on Jan. 3.
The London Spot Fix is the price per ounce fixed daily at 10:30 a.m. and 3 p.m. during a conference call in London by the five members of the London Gold Pool: ScotiaMocatta, Barclays Capital (a division of Barclays Bank PLC), Deutsche Bank AG, HSBC Holdings PLC, and Société Générale S.A.
"There are two times in the day when we know for sure that the gold price [and other precious metals, including silver, platinum, and palladium] is being set in a clandestine procedure that is controlled by just five bullion banks," states an article on the Market Force Analysis website, suggesting that the precious metal "market is not 'fixed,' it's rigged."

Silver Price Predictions
"For silver, BNP Paribas [based in France] increased its 2012 estimate to $37.50 from $36.75, and in 2013 to $52.00 from $49.75 per ounce. Over the four quarters of 2012, the firm predicted silver will average $31.90, $34.95, $39.30, and $43.80, respectively," according to a Feb. 15 article on the GoldAlert website.
BNP Paribas's Anne-Laure Tremblay, analyst at Paribas, was quoted to have said that the price of silver is determined by a given price for gold, as well as how much risk an investor is willing to take. During upward movement of both gold and silver prices, silver is a preferred investment, according to Tremblay.
"Gold and silver forecasters are probably too cautious about the outlook for 2012. This is not surprising after the volatility of 2011 which saw record highs for both metals but a collapse later in the year that left gold up 10 per cent and silver down around the same amount for the year," suggests an article on the GoldSeek website.
HSBC doesn't agree with BNP Paribas and believes that silver prices will remain at the status quo, according to an article on the Gold Price website. It predicted that silver prices would hover around $34 per ounce in 2012 and at $32 per ounce in 2013.
"We are bullish on silver, based on solid retail investment demand for coins and small bars. We expect silver ETF demand to recover this year, and based on HSBC Economics' forecasts of industrial production, demand for silver from manufacturing should grow moderately," said James Steel, precious metal analyst, as quoted on the MarketWatch website.
Continued on next page … Quantifying Above Ground Silver