Taiwan celebrated its National Day on Saturday October 10 and, as often happens, it has been fraught with potential tension with the Chinese regime.
Some of those marking the event were Ontario's Minister of Education, Stephen Lecce, who largely stayed away from Taiwan's ongoing tensions with the Chinese regime.
"I'm very happy to celebrate 109 years of the National Day of Taiwan and our shared values and our enduring relationship underpinned by freedom, democracy, human rights, and the rule of law," said Lecce in a video message posted on Twitter.
"We are eternally grateful for the contributions Taiwanese Canadians make each and every day in our country, and for this I say 'Thank You.' And we express continued gratitude for all that you have done, especially during COVID-19. Your generosity and spirit, the Ontario spirit, is alive and well, thanks to you," he said.
Taiwan's national day, formally known as the National Day of the Republic of China, is the public holiday that commemorates the start of the Wuchang Uprising of 10 October 1911. That uprising led to the end of the imperial Qing Dynasty and establishment of the Republic of China on 1 January 1912. That government later retreated to the island of Taiwan when the Chinese Communist Party used the Japanese invasion of China during World War II as an opportunity to extend its presence across China and undermine the republic, leading to the communist revolution in 1949.
In support of Taiwan's independence, the president of the Czech Republic's Senate, Milos Vystrcil, recently proclaimed "I am Taiwanese" a reference to President John F. Kennedy's famed anticommunist speech in support of West Berlin where JFK proclaimed "I'm a Berliner."  Vystrcil's comment came during a Sept 1 visit to Taiwan where he condemned the Chinese regime's authoritarian politics and aggressive foreign policy during a speech in Taiwan's national legislature.
Those comments come after Shanghai cancelled its sister-city relationship with the Czech Republic's capital Prague in January after Prague asked to have a clause removed from the  agreement. That clause committed Prague to recognizing the One China Policy. The policy is the Chinese regime's attempt to isolate Taiwan by forcing other countries to not recognize the island nation as an independent state.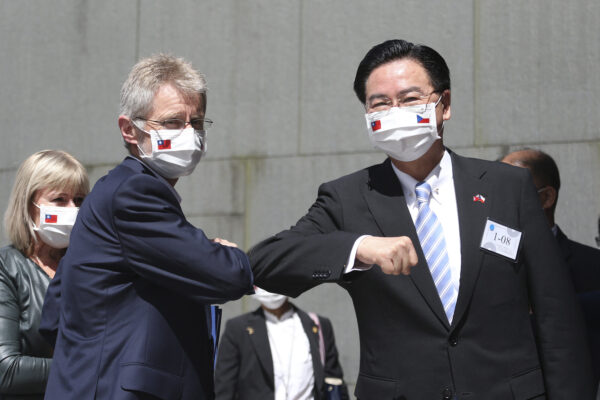 Taiwan's status is a frequent concern to U.S. allies in Asia, as the thriving democracy is directly in the Chinese regime's cross hairs.
U.S. Secretary of State Mike Pompeo recently weighed in on Taiwan's independence in an interview with Japan's Nikkei Asian Review.
"The United States has had a longstanding relationship with Taiwan."
"Whether it's Taiwan or the challenge presented to Japan, the United States will be a good partner for security in every dimension."
Pompeo added "If one bends the knee each time the Chinese Communist Party takes action around the world, one will find themselves having to bend the knee with great frequency."
Over the weekend, Taiwan received well wishes from many corners to mark its national day, but Indian netizens were particularly vocal. India has been a firm challenger to the Chinese regime and the two countries have an ongoing border dispute that has flared up in recent years.
The Chinese embassy on Wednesday sent messages to Indian media, demanding they not describe Taiwan as an independent country or the leader of Taiwan as "President," according to the Wire.
Indian journalists who posted about Taiwan on social media received private messages from the Chinese embassy on Saturday, according to the Wire. "We have noticed your twitter on Taiwan. Hope you could stick to Indian government's position on Taiwan question and do not violate the One-China principle when you do the report," the message read.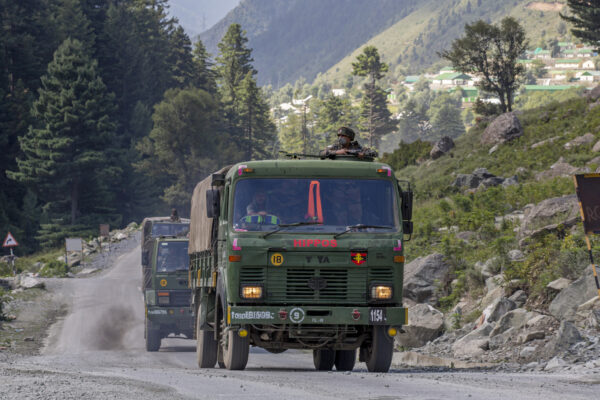 When asked, the Indian Ministry of External Affairs spokesperson Anurag Srivastava responded to those reports by saying, "Indian media is free to report on any issue it deems fit," the Tribune India reported.
Taiwan President Tsai Ing-wen expressed her gratitude on Twitter for the support from India on Sunday.
"Thank you to all our dear friends in India for your well wishes on #TaiwanNationalDay.  Together, we can take pride in safeguarding our shared values like freedom & human rights, & defending our democratic way of life," she wrote.