Taiwanese President Dr Tsai Ing-wen has praised Australia for defending democracy and freedom in the Indo-Pacific region in a pre-recorded address to the Australian Strategic Policy Institute (ASPI) in Canberra on Aug. 27.
Tsai spoke on a range of topics and commended Australia's response to Beijing-instigated challenges in the Indo-Pacific region, including building islands in the South China Sea, cross-strait tensions, and long-running cyberattacks.
"The state of our region is changing rapidly, and that requires the most comprehensive strategic adjustment since World War II," she said.
"Grey zone activities exemplify and constitute the challenges we must face together," she added.
Her comments echoed a speech from Australian Defence Minister Linda Reynolds on July 2, also at ASPI, warning of increased grey zone activities in the Indo-Pacific region including cyberattacks, foreign interference, and economic coercion.

Tsai commended the Australian government's Pacific Step-Up strategy, its renewed focus on cyber defences, and the Strategic Update 2020, which will see the Australian Defence Force receive a significant funding commitment, and upgrades to military technology.
"We have noticed Australia's efforts to build greater support for democracy and freedom, and to raise awareness of the challenges posed by authoritarian actors and states," Tsai said in a veiled reference to the Chinese Communist Party (CCP).
"The people of Taiwan are proud of their democracy and are encouraged by Australia's dedication to stand with, safeguard, and promote democracy," she said. "Australia and Taiwan have been standing together at the forefront."
The president further emphasised and commended the multi-faceted relationship between Australia and Taiwan, pointing to partnerships in COVID-19 medical research, tourism, trade, and cyber training.
The speech comes just a day after Chinese diplomat Wang Xining addressed the National Press Club in Canberra.
Since Tsai ascended to the presidency, Taiwan's military spending has increased rapidly. According to the president, "We do this because we know that in terms of our current situation, strength can be correlated with deterrence. It also reduces the risk of military adventurism."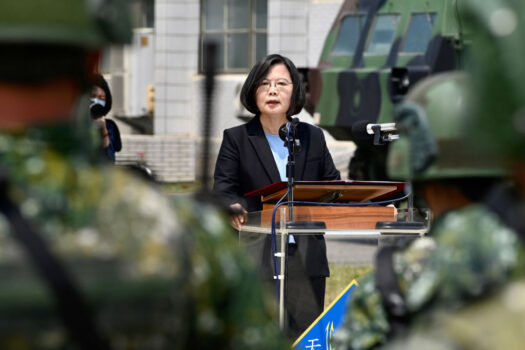 Tsai called on Beijing to recognise the independence of the Taiwanese nation, particularly in response to the implementation of the Hong Kong national security law.
"After Hong Kong, Taiwan stands increasingly on the front lines of freedom and democracy," she said. Since 1949, Beijing has asserted the narrative that Taiwan is a renegade province that should come under Chinese communist rule.
"Taiwan is Taiwan. Our existence simply cannot be questioned," Tsai said. "We have our own government, we have free elections, and our people can choose their own leaders."
"We have our own military and own democratic institutions, none of which have ever been under Beijing's jurisdiction."