Now Home in Taiwan, Man 'Abducted' by Chinese Police Tells Ordeal
August 14, 2012 4:13 pm Last Updated: October 1, 2015 12:37 pm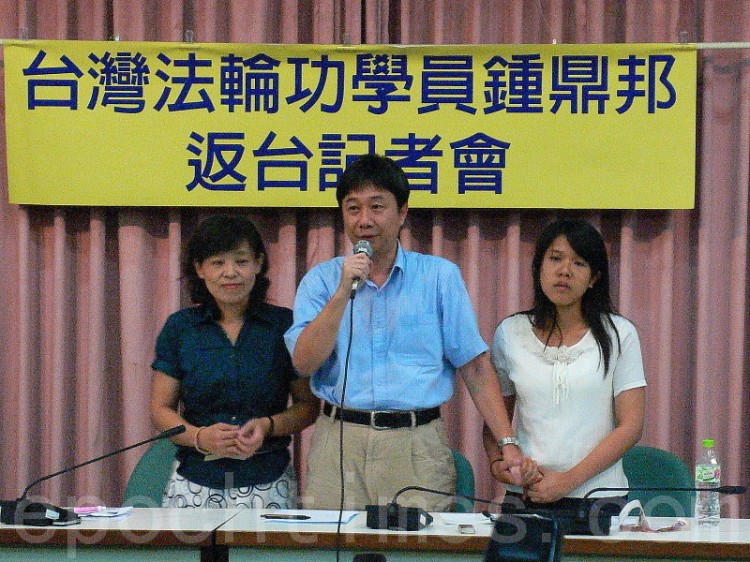 A Taiwanese man detained by Chinese security forces for nearly two months, who was released several days ago, said that Chinese police put him under intense psychological pressure and forced him to plead guilty to crimes he did not commit.
"From the very start it was an abduction" Chung Ting-pang said in a press conference on Aug. 13.
Chung is a practitioner of Falun Gong, a form of meditation that originated in China and has been heavily suppressed by the Chinese Communist regime since July 1999. According to the Falun Dafa Information Center, which documents the persecution against the practice, millions of practitioners have been detained, with many tortured in custody, since the persecution began; there are over 3,500 confirmed killed since the persecution began 13 years ago, according to the Falun Gong website Minghui.
Chung was abducted by Chinese police at Ganzhou airport in Jiangsu Province on June 18, as he was about to return to Taiwan.
During the 54 days he was in detention, Chung said Chinese authorities placed him under tremendous mental pressure, with at least two people watching him at any given time. Police implied that he might not be able to go home to Taiwan if he did not comply with them.
"The so-called repentance and confession statements … that I've written or said in China were not done out of my own free will," he stressed during the conference.
Chung said he might consider taking legal action against China's Political and Legislative Affairs Committee, a powerful apparatus that controls much of the country's court system, police, prosecutors, and the State Security Department.
The ruling Chinese Communist Party (CCP), Chung added, has violated its own constitution by not allowing people to practice Falun Gong, and state-run media have slandered its adherents. 
Chung said that in 2003 and 2006, he manufactured components of television broadcast signal interception equipment and sent these items to Falun Gong practitioners in mainland China. The goal was for them to "insert broadcasts" on the television waves about the persecution of the practice inside China, to allow Chinese people to learn about the campaign. Part of the Party's campaign against Falun Gong has been heavy propaganda against the practice, and the banning of any alternative views in the media. 
"I did what some CCP officials said was endangering national security, but in fact I just let Chinese people know something they were blocked from knowing. I believe it was proper and a just action," he said.
Chung said that he was forced by Chinese authorities to call his family in late July and say that he was fine. "They said your relatives outside [of China] should not make too much noise" about the detention, "so I had to follow their orders," he said.
"What I really wanted to say was: the bigger noise you make, the better," he said. "The reason I came home safely was because of this."
He also thanked the numerous Taiwanese politicians, businesses, and other people who supported him while he was detained. Several petitions regarding his case were submitted to the Taiwanese president's office.
His daughter, Chung Ai, said the last 54 days while her father was detained were torturous for their family. 
"Without everyone's help, my family would not have been able to pull through. What touches me most is the kindness of the Taiwan people," she said.
When state-run media reported Chung's release, they did not mention the fact that he practices Falun Gong, and said he was trying to provide equipment to allow the broadcasting of footage related to Falun Gong.
Winifred Tung, a Taiwanese attorney, told The Epoch Times that Chung was released because the Chinese regime fears the spread of information relating to intercepting television signals.
"When they realized Chung is supported by a number of people in Taiwan, as well as internationally, they considered Chung a hot potato, and they immediately sent him back to Taiwan," Tung said.
Read the original Chinese article. 
The Epoch Times publishes in 35 countries and in 19 languages. Subscribe to our e-newsletter. 
Click www.ept.ms/ccp-crisis to read about the most recent developments in the ongoing crisis within the Chinese communist regime. In this special topic, we provide readers with the necessary context to understand the situation. Get the RSS feed. Get the new interactive Timeline of Events. Who are the Major Players?