TAIPEI, Taiwan—Solidarity between Taiwanese citizens and Hong Kong protesters was on full display at a rally to drum up support for President Tsai Ing-wen and her party's other candidates, a day before local voters go to the polls.
On Jan. 11, the electorate will choose their next president and vice president, as well as 113 representatives to the island's parliament, known as the Legislative Yuan.
The Taipei rally was attended by tens of thousands of people supporting the ruling Democratic Progressive Party (DPP), which has traditionally advocated for Taiwan to formally declare independence from China—though Tsai has said she wishes to maintain the status quo.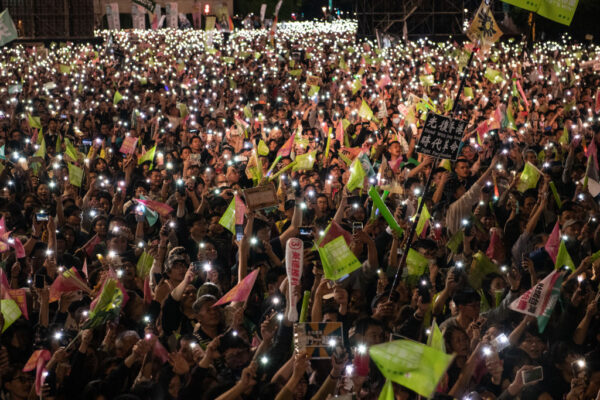 The Chinese regime's threats to annex the self-governing island often play a big part in Taiwan elections. Beijing has adopted a carrot-and-stick strategy, sometimes flexing its military muscle by intentionally carrying out military exercises close to the election date, or offering incentives to entice Taiwanese companies and citizens to invest in mainland China—with the ultimate objective of swaying public opinion to accept unification with China.
Tsai is being challenged by Han Kuo-yu, who is advocating for closer ties with China as the Kuomintang (KMT) presidential candidate, and James Soong, of the pro-Beijing People's First Party.
Support for Hong Kong
Among the attendees were Hongkongers who had flown to the island to observe Taiwan's democratic system, as well as Hong Kong exchange students currently studying in Taiwan.
Mass protests in Hong Kong ignited in June over Beijing's encroachment on the city's autonomy. The protests are widely supported by Taiwanese.
A Hong Kong college exchange student studying in Taiwan, surnamed Au, said he came to Tsai's rally because she has been supporting the Hong Kong protests.
A singer takes the stage to rally supporters for President Tsai #ingwen reelection bid in Taipei. A gigantic black banner with the words "Liberate #HongKong, Revolution of Our Times" is also seen. #TaiwanElection #Taiwan2020 pic.twitter.com/2E9R9xS6YC

— Frank Fang (@HwaiDer) January 10, 2020
Au, 23, added that if Tsai were reelected, her second term in office would indirectly help the ongoing Hong Kong protest movement.
Au called on Taiwanese people to cherish their freedom and democracy by coming out to vote. Currently, in Hong Kong, Au said that freedom of assembly was being repressed, as growing numbers are being arrested during police-approved protests.
Another college exchange student, M, 23, said he came to the rally to support Taiwan because he feared that with Beijing's growing influence on Taiwan, the island may end up like Hong Kong in the future.
"I think voting and freedom [are] basic human rights. As Hongkongers, we try to fight for these human rights with blood and life. … Therefore, I think [Taiwanese people] should exercise their power to vote for their future," said a Hongkonger surnamed Law.
Law, a college student, arrived in Taiwan on Jan. 7 to observe the elections.
Several rally attendees waved flags and banners regularly seen at Hong Kong protests, including a black flag with the protest slogan, "Liberate Hong Kong, Revolution of Our Times."
Thousands have gathered for a rally in Taipei to support President Tsai, who is running for reelection. Hongkongers have put up signs supporting her, while denouncing "one country, two systems" in signs. US flags are also flying. #TaiwanElection #HongKong pic.twitter.com/Ih8K3LCo6N

— Frank Fang (@HwaiDer) January 10, 2020
Others held up banners with the words, "Safeguard Taiwan, Safeguard Hong Kong" and "One Country, Two Systems Are a Lie for Future Generations." The latter refers to the model Beijing has used to rule Hong Kong since the city's handover from British to Chinese sovereignty in 1997. Chinese leader Xi Jinping has proposed that Taiwan be united with the mainland under the same framework.
Crowds often broke into chants of "A Free Taiwan Needs Your Vote" and "2020: Taiwan Must Win."
One Hongkonger in a yellow helmet held up a sign with the words "1/11, Go Home and Vote" urging Taiwanese not to vote for KMT candidates.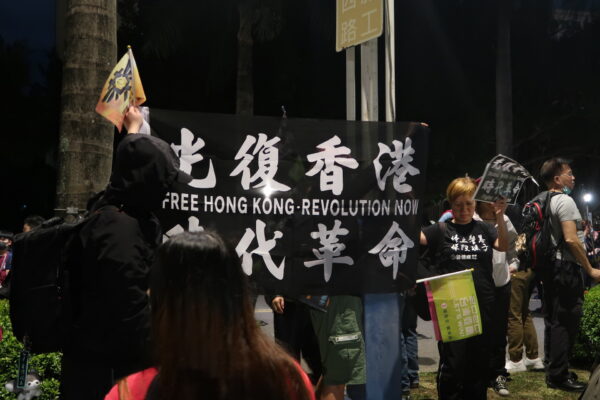 Many Taiwanese gathered around groups of Hongkongers to take photos with them.
Some also repeated popular chants by Hong Kong protesters, such as "Liberate Hong Kong." 
Speeches
Hong Kong was also a major talking point of Tsai's speech on Friday night. She said that the entire world, particularly young Hongkongers, was watching how Taiwanese would choose their path. She added that Hong Kong youngsters had risked their lives to show that "one country, two systems" does not work. Hong Kong police have been accused of using excessive force to quell protests, with some protesters severely wounded by police firing tear gas and other projectiles. In November, 22-year-old Alex Chow died of injuries he sustained while running away from police.
"Tomorrow, it is the Taiwanese youngsters' turn to show Hongkongers that democracy and freedom will conquer all challenges," Tsai said.
She added: "Tomorrow, Taiwanese people will show the world that Taiwan has secured this democratic bastion for the world."
Tsai's running mate William Lai told the crowd that the "92 Consensus" would "spell the end" for Taiwan, and asked voters to come out to vote for Taiwan's sovereignty and democracy.
In 1992, Taipei and Beijing agreed that there is "one China," but both sides can interpret what the "one China" is. The KMT platform has called for closer ties with Beijing by embracing the 92 Consensus.
Su Tseng-chang, Taiwan's current premier, lended his support to Tsai at the rally. He said that Tsai's administration was able to keep the African swine fever (ASF) out of the island, while many countries in Southeast Asia have been plagued with the disease, after an outbreak in northern China in 2018.
"If you [Beijing] cannot take care of your own pigs, how can you take care of Taiwanese people?" Su said.
For many Taiwanese at the rally, the ongoing protests in Hong Kong and Beijing's threats encapsulated what the upcoming election was about.
Tom Hsu, 47, owner of a local design studio, told The Epoch Times that he came to the rally not only to support Tsai, but also to say no to pro-Beijing candidate Han. He feared that any pro-Beijing policies would turn Taiwan into Hong Kong, which would mean that Taiwanese would have to resist China "with their blood and tears."
Hsu added that he was happy to see many Hongkongers at the rally, and wished to tell Hong Kong protesters that their fight would not be futile.
He called on Western countries to show more support to the democratic way of life in Taiwan.
Hsu said that he hoped the U.S. President could formally establish diplomatic ties with the island because "Taiwan is a country, a country with its own territory and military."