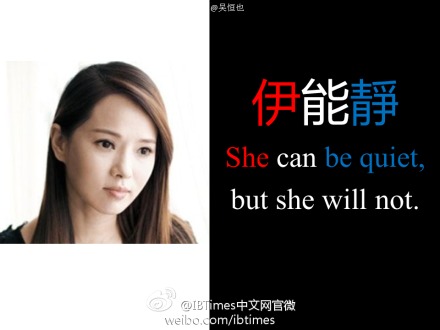 A well-known Taiwanese singer, currently in China, was taken away for a talking to by Chinese communist security forces on Jan. 10, after she criticized the regime's control of media. 
After posting "I'm off for some tea; hope it's good!" on the afternoon of Jan. 10, her subsequent posts were deleted, as well as previous ones she had made in support of the plight of Southern Weekly.
The word quickly got around that she had been taken away to "drink tea" with security officials, as the process of light interrogation is euphemistically called. 
By the evening of Jan. 10, "Annie Yi" reached the top of Sina's "hot search" list with nearly 90,000 searches.
Yi had been making posts in support of Southern Weekly, in its fight against the regime's propaganda and censorship, including quotes from the poet Bei Dao.
"A good man who remains silent will likely become an accomplice to evil," she had posted, quoting the celebrated poet of the so-called misty school.
Bei, born in China in 1949, is a former Maoist Red Guard who later used his literary talents to criticize the Cultural Revolution. He wrote a poem that became the anthem of 1989's Tiananmen movement, and now lives in exile.
Yi does some work on the mainland, and netizens fear that the reference to "tea," may mean that she was "vacationed" from her job.
Wang Xiaoshan, a friend of Yi's, posted a defiant final remark from Yi to his own Weibo. It read, "Your rage tells me I am right; your concealment makes me believe I am righteous; your madness shows me my clear conscience, and your killing reminds me I am alive."
Wang's posting was forwarded over 10,000 times, before being deleted by censors.
Later that evening, Yi's agent denied that she had been forced out of her job, but she was not available to speak with the press. 
All this incensed a law firm partner in Sichuan Province, Liao Rui. "This is stupidity!" he posted on Weibo. Referring to the cross-straits "carrot" of economic enticement, he continued: "How many large checks were written to buy the hearts of the Taiwanese? How great is the incentive that opens the channels of 'persuasion?' Haven't all these billions been wasted when a female artist who simply dared to speak her mind has to be 'vacationed?' [Newspeak for when a perceived enemy of the regime is silenced.] The United Front Work Department ought to teach the string-pullers behind Sina's website a lesson!"
In the aftermath of the Southern Weekly incident, Annie Yi is not the only victim of attempted thought control. Chinese police have begun to round up netizens who posted supportive messages, according to Radio Free Asia. So far, a Guangdong netizen has tallied 12 influential people who have been silenced, including Yi, and Kai-Fu Lee, the Taiwanese-American Internet impresario.
The Epoch Times publishes in 35 countries and in 20 languages. Subscribe to our e-newsletter.