The Taiwanese government announced on Sept. 16 a proposal to boost its defense spending by $8.69 billion ($240 billion Taiwan dollars) over the next five years, citing an urgent need to improve military equipment in the face of "severe threats" coming from the Chinese Communist Party (CCP).
Taiwan President Tsai Ing-wen, reelected by a landslide last year on a pledge to stand up to the CCP, has made modernizing Taiwan's mainly U.S.-equipped military a priority, turning it into a "porcupine," both highly mobile and hard to attack.
Deputy Defence Minister Wang Shin-lung told reporters that the new arms, all to be made domestically, would include cruise missiles and warships.
"In the face of severe threats from the enemy, the nation's military is actively engaged in military building and preparation work, and it is urgent to obtain mature and rapid mass production weapons and equipment in a short period of time," Taiwan's Defence Ministry said in a statement on Sept. 16 after a weekly Cabinet meeting.
"The Chinese Communists have continued to invest heavily in national defense budgets, its military strength has grown rapidly, and it has frequently dispatched aircraft and ships to invade and harass our seas and airspace."
The new money, which comes on top of planned military spending of $17 billion for 2022, will need to be approved by parliament where Tsai's ruling party has a large majority, meaning its passage should be smooth.
China claims Taiwan as its territory, even as the island has been self-governing since 1949, and China has never governed Taiwan. The communist regime has frequently sent planes and ships into the island's waters and airspace to intimidate the Taiwanese.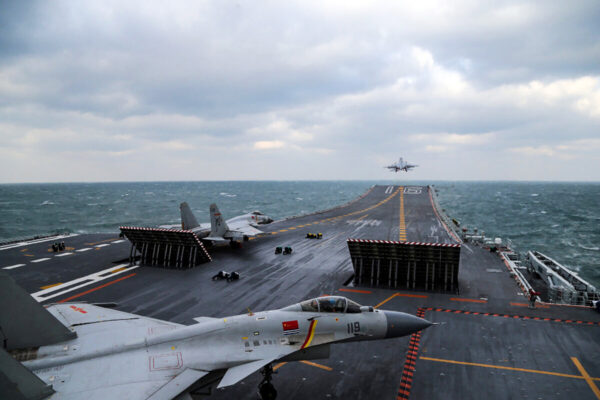 On Sept. 5, the CCP deployed 19 military aircraft into Taiwan's air defense identification zone (ADIZ), as it continues its aggressive posturing toward the self-governing island, which scrambled jets in response.
Another large-scale incursion occurred in June when Beijing flew 28 military aircraft into the island's ADIZ.
This summer, the regime went so far as to issue an edict requiring foreign warships to register their intent in order to enter the South China Sea. The CCP claims sovereignty over the entire sea, in spite of legitimate claims by Vietnam, Malaysia, Taiwan, and the Philippines.
Taiwan has been keen to demonstrate that it can defend itself, especially amid questions about whether the United States would come to its aid if China attacks.
Under the Trump administration, and continuing under President Joe Biden, the United States has increased its diplomatic engagement with Taiwan, increasing its arms sales and military maneuvers, as well as its joint statements along with Japan, South Korea, and the G-7.
Antonio Graceffo and Reuters contributed to this report.
From NTD News