Taiwan is ramping up its efforts to rescue Lee Ming-che, a Taiwanese rights activist who has been imprisoned by China since March of this year. Taiwan's government officials admitted that the previous low-key approach has not produced tangible result, and vowed to be take a more active posture to pressure Chinese regime on the other side of the strait to release the imprisoned citizen of Taiwan.
Lee disappeared in late March 2017 when he attempted to enter China via Zhuhai, Guangdong, from Macau. Chinese regime later confirmed that Lee has been detained and charged with "subversion". According to reports, Lee has sent books to friends in China interested in human rights, and has engaged in activities in support of Chinese human rights advocates. Prior to his advocacy work, Lee also worked for Taiwan's Democratic Progressive Party for a number of years.
Lee is notable for being the first ever Taiwanese citizen to be recorded as a political prisoner in China by the political prisoner database maintained by U.S. Congressional Executive Commission On China (CECC). Lee's case has also been widely reported by media in and outside of Taiwan, while Lee's supporters and human rights groups around the world have been calling for Chinese regime to release him immediately.
Since March Taiwanese government had adopted a mostly low-key approach to the case, despite pledge from the officials that President Tsai Ing-wen's administration would do everything in its capacity to help Lee. There were reports that some of President Tsai's close advisors wish to avoid confrontation with the Chinese regime over Lee's case, as they see maintaining stability of the cross-strait relations as more important than other concerns.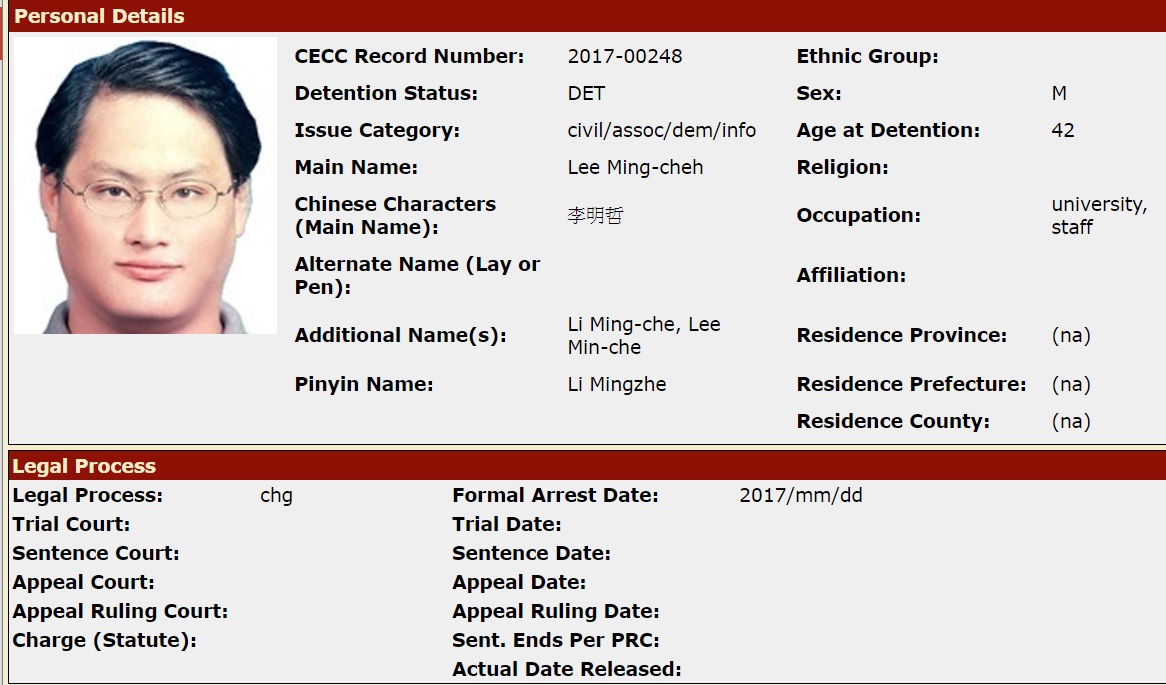 This was in sharp contrast to Lee's wife Lee Ching-yu, who has launched a relentless and high profile public campaign to seek her husband's release. To increase public awareness of her husband's case, she had traveled to the United States in May and testified at a House Foreign Affair Committee hearing at the U.S. Congress. Her Congressional testimony and meetings with various human rights NGOs and also Trump administration officials have been widely reported by Taiwanese and international media.
Previously Taiwanese media had reported on the frictions between Lee's wife, human rights activists and NGOs campaigning for Lee's case on the one side, and the Taiwan's Tsai government on the other side. Unnamed official close to President Tsai was quoted as saying that Lee Ching-yu's trip to the U.S. "draw too much attention", and that she should "lay low" and avoid attacking the Chinese regime publicly if she wants to see her husband released. The Tsai administration later denied having made such comment.
In response to mounting public pressure, however, Taiwan's Mainland Affairs Council held a multi-agencies meeting on July 28 with Lee's wife and representatives from other human rights NGOs. In the meeting Taiwanese officials formally agreed to take a more active posture to help with Lee's case, as reported by Taiwan's Storm Media.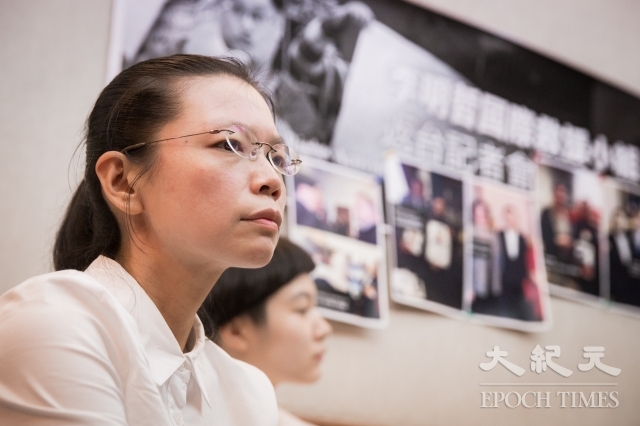 Yang Hsien-hung, the chairman of the Taiwan Association for China Human Rights and a well-known human rights advocate who accompanied Lee Ching-yu to the U.S. in May, said that officials who attended the meeting included those from Taiwan's Ministry of Foreign Affairs and Ministry of Justice. Besides pledging to increase government's effort to help with Lee's case, officials also vowed not to accept third party intermediate to negotiate with China on Taiwan's behalf – an approach that favored by the Chinese regime as it would represent a degradation of Taiwan's sovereignty.
"[Taiwanese] government should not be fooled by the propaganda of the Chinese Communist Party," said Yang Hsien-hung, who has criticized the perceived inaction on the part of the Taiwanese government to help with Lee's rescue effort, "Lee's case is one that concerns human rights and values and deserves to be treated as such."
Russell Hsiao, Executive Director of the Washington D.C. based think tank Global Taiwan Institute, said that Tsai administration should be applauded for attempting to take more steps to secure Lee's release. Hsiao also said that the United States sent a "reassuring signal" to Taiwan by having Matt Pottinger, the National Security Council's Senior Director for Asia meeting with Lee's wife during her visit to Washington in May. United States can and should do more to help securing Lee's release, said Hsiao.
Beside Taiwanese government, United Nations Human Rights Committee's Working Group on Enforced or Involuntary Disappearances has also taken on Lee's case and invited his family to give testimony to a conference in Geneva in September. The European Union Parliament also passed a resolution last month urging Beijing to release the imprisoned Taiwanese activist.