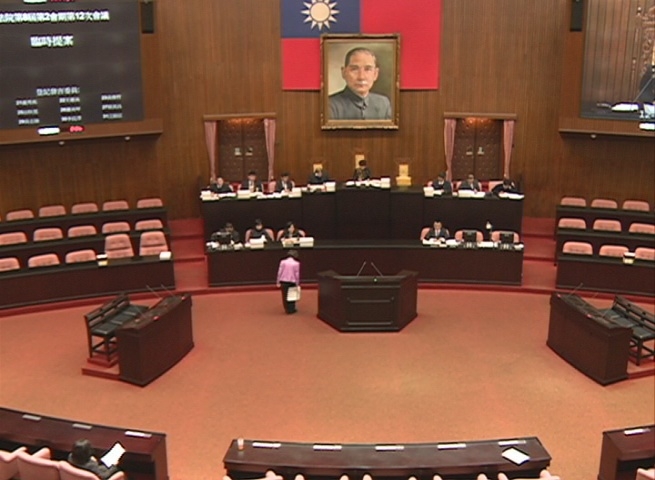 Taiwan's parliament passed a resolution on Dec. 11, highlighting the monitoring and possible rescue of Chinese prisoners of conscience, and demanding the government pay attention to over 4,000 prisoners of conscience detained by the Chinese communist regime just across the strait.
The resolution was submitted by legislator Yu Mei-nu, Chairwoman of the Association for International Human Rights, a newly formed sub-committee in Taiwan's Legislature, who spoke at the Legislative Yuan of Taiwan.
"Yesterday was International Human Rights Day, and we are delighted to see the passing of a resolution at yesterday's session that calls attention to Chinese prisoners of conscience including: pro-democracy activists, human-rights advocates, Falun Gong practitioners, and Tibetans," Yu said.
In their new resolution, the lawmakers stated: "The U.S. State Department's 2011 Human Rights Report and the U.S. Congressional-Executive Commission on China's 2011 annual report both addressed the issue of illicit organ harvesting for transplantation from Falun Gong practitioners and death-row inmates in China to make profits, and also the severe repression inflicted on the Tibetan people by the Chinese Communist Party (CCP) throughout all Tibetan regions and at all levels, not only policies of persecution and abusive arrest of Tibetan Buddhist monks and nuns at monasteries and nunneries, but also extending to the detention of famous singers and writers engaged in artistic performance, and the increasing repression which has led to the shocking series of self-immolations by Tibetans protesting repressive Chinese rule."
Theresa Chu, a human-rights attorney, supplied the lawmakers with a list of detained practitioners of the Falun Gong meditation discipline.
"The Chinese Communist Party has been persecuting Falun Gong practitioners for the past 13 years, and countless Falun Gong practitioners have been arrested and detained in labor camps, prisons, and detention centers," she said. 
Chu continued: "The list contains 4,033 prisoners of conscience, and 1,854 of them are Falun Gong practitioners illegally detained by the Chinese regime, the largest number on the list. Uncounted numbers of Falun Gong practitioners are presently at risk of brutal torture and live organ harvesting in China."
Chow Mei-li, Chairwoman of Friends of Tibet, said that all the Tibetan people want is freedom for Tibet and the return of the Dalai Lama. However, she added that though these hopes are quite simple, they can currently only be expressed by via self-immolation in protest against the iron-fisted rule of the Chinese regime. Chow urged Taiwan's government to include the lists of prisoners of conscience in the next round of cross-strait negotiations between Taiwan and China. 
Read the original Chinese article. 
The Epoch Times publishes in 35 countries and in 19 languages. Subscribe to our e-newsletter.