Taiwan's president ordered public institutions to fly national flags at half-mast on July 11 to honor former Japanese Prime Minister Shinzo Abe, who was fatally shot while delivering a campaign speech on July 8.
President Tsai Ing-wen said on July 9 that she instructed her government to fly flags at half-mast for a day to mourn Abe's demise and honor his "great friendship" with Taiwan.
To mourn the passing of Prime Minister Abe & thank him for his great friendship to Taiwan, I have instructed our government to fly the national flag at half-mast on July 11. We will never forget his profound contributions to freedom & democracy worldwide.

— 蔡英文 Tsai Ing-wen (@iingwen) July 9, 2022
Tsai also visited the Japan–Taiwan Exchange Association's office in Taipei on July 11 to pay tribute to Abe. She recalled their last conversation in March, when Abe expressed a desire to visit Taiwan, Japanese broadcaster NHK reported.
Abe, Japan's longest-serving leader, was shot and killed on July 8 during a campaign speech in the western city of Nara, Japan. Police immediately arrested a 41-year-old man wielding a homemade gun at the scene.
Tsai issued a statement hours after the news of Abe's death broke, offering her heartfelt condolences on behalf of her country.

"Not only has the world lost a true leader, Taiwan has also lost a true friend, and that as Taiwan and Japan are both democratic nations that respect the rule of law, our government strongly condemns this illegal act of violence," she said.
Abe "spared no effort" in promoting Taiwan–Japan relations and helped facilitate Japan's donations of COVID-19 vaccines to Taiwan, according to Taiwanese Presidential Office spokesman Xavier Chang.
Chang said Abe "stood firmly" with Taiwan to jointly maintain peace and stability in the Taiwan Strait and develop new strategic frameworks to address challenges in the Indo-Pacific region.
"Taiwan and Japan will continue to help each other, showing the world that the virtuous cycle of support between our countries will not be diminished by acts of violence, but will only continue to grow stronger," he said.
Abe was known for his hawkish stance on China, following his revitalizing of the Quad forum and nationalizing the uninhabited Senkaku Islands that China claims as part of its territory and calls the Diaoyu Islands.
He said at a forum last year that "a Taiwan emergency is a Japanese emergency, and therefore an emergency for the Japan–U.S. alliance."
Abe, who stepped down as prime minister in 2020, said an armed invasion of Taiwan would pose a serious threat to Japan, given that the Senkaku Islands, Sakishima Islands, and Yonaguni Island are only 100 kilometers (62 miles) from the Chinese-claimed island.
Chinese Nationalists Celebrate
While Abe's death has drawn condolences from across political divides and around the world, including Chinese leader Xi Jinping, some Chinese nationalists have taken to social media to celebrate Abe's death.
Chinese artist and human rights activist Badiucao posted on Twitter, along with a series of screenshots of comments, that "Chinese nationalists on [Chinese social media platform Weibo] described Abe's killer as a 'hero.'"
One person commented: "I hate my country's government, but that doesn't stop me from loving my country or celebrating Abe's death. Good to die! Pop champagne! Well done."
Badiucao also cited Twitter posts saying: "I am waiting for Abe's death," "Who is the attacker? I want to donate money," and "I have to say, it's great news."
Abe's Murder Suspect
Local media outlets reported that the suspect, Tetsuya Yamagami, told police that he intended to kill Abe because he believed the former prime minister was connected to a religious organization that had bankrupted his family.
Police haven't identified the group. Yamagami told investigators that he initially targeted the organization's leader, "but it was difficult," so he decided to change his target.
Police suspected that Yamagami followed Abe's schedule on social media and attended a campaign election in Okayama, Japan, where Abe was delivering a speech the day before the shooting, The Asahi Shimbun reported, citing investigative sources.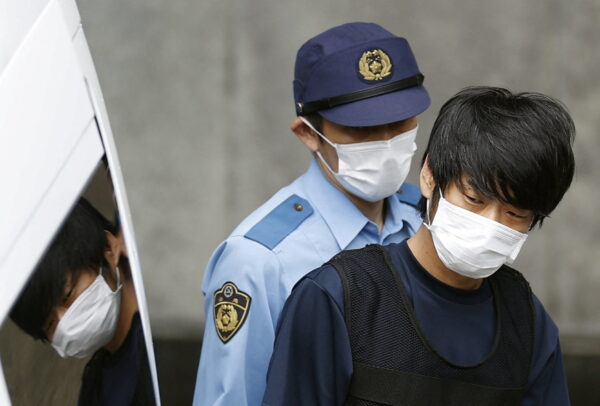 Officials from the ruling Liberal Democratic Party (LDP) said attendees at the Okayama hall were required to provide their names and contact information before entering the hall, whereas in Nara, Abe was giving a speech outside, allowing the suspect to approach him from behind.
LDP candidate Sanshiro Matsuyama reported receiving two phone calls from a 67-year-old man warning him that he could be the next victim after news of the shooting broke out. The police apprehended Akira Uematsu, who allegedly made the phone calls.