Taiwanese Fans Deported by Regime
August 11, 2008 4:46 am Last Updated: October 1, 2015 10:56 pm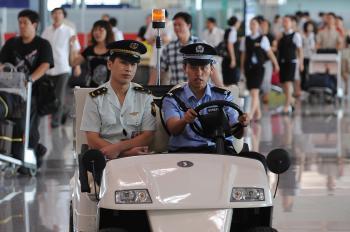 Chinese authorities refused entry to leaders of a Taiwanese team who traveled to Beijing to cheer for their national athletes.
Ms Yang Hui-ru and Mr Lee Kun-lin, who held proper documentation to enter China, were deported immediately after entering Beijing Airport.
Yang, bursting into tears when remembering her ordeal at the airport, said when the police officer checked her travel document issued by China, he yelled out to his colleagues: "Here comes a troublemaker." Many police officers came and took her and her companions into a room for inspection, Yang said.
According to Yang, police confiscated her cell phone and checked all the messages in her phone, they thoroughly checked all her carry-on bags, notebook, and other belongings. When she asked how they could be behaving in such a manner, she said the police officers responded with: "We are like that," adding, "These are orders."
The Chinese Communist Party has always claimed Taiwan—also known as the Republic of China (ROC)—as one of its provinces, and as such, is anxious not allow any display of ROC's flags or symbols of sovereignty during the Olympics.
Yang said she has waved the ROC national flags in many international sporting events, and that's why the Chinese regime has blacklisted her.
Police also confiscated Yang's legal traveling document—an ID China issues to Taiwanese nationals who wish to visit mainland China. Yang said she was puzzled as to why Chinese authorities would issue the document if they planned to refuse entry.
After the inspection, which took about an hour, the police forced them into a vehicle departing for Hong Kong, without their luggage. From there, Yang will be on a flight back to Taiwan.
The Sports Affairs Council of the Executive Council of the ROC said that they hope the authorities of mainland China would respect the rights of the spectators during the Olympic Games.
"Ms Yang Hui-ru went to Beijing to cheer for the Chinese Taipei team with valid documentation. The mainland authorities have no reason to have refused them entrance. The Council expresses great disappointment. The Council hopes that mainland authorities would respect reasonable rights of the audience," the Sports Affair Council said.
Ms. Shie Ya-ping, Chief Officer of ROC's Government Information Office of the Executive Council, said that the position of the government of ROC has been clearly stated by the Sports Affair Council, and that they are "deeply" disappointed.
The Deputy Chief Officer of the Mainland Affairs Council, Chang Liangrun, also commented that he hopes the CCP would respect audience's rights.
"During the Olympics, we hope the Chinese Communist Party authorities would respect audience's legal rights, especially those with valid documentations, (and those who) want to go to cheer for the Chinese Taipei team. I think they all should be treated rationally; we truly felt disappointed about the things that happened yesterday."
Original article in Chinese: http://news.epochtimes.com/gb/8/8/10/n2223658.htm