Falun Gong Practitioners Appeal During Chinese Envoy's Visit to Taiwan
November 6, 2008 3:39 pm Last Updated: October 1, 2015 10:41 pm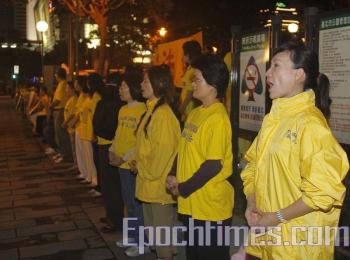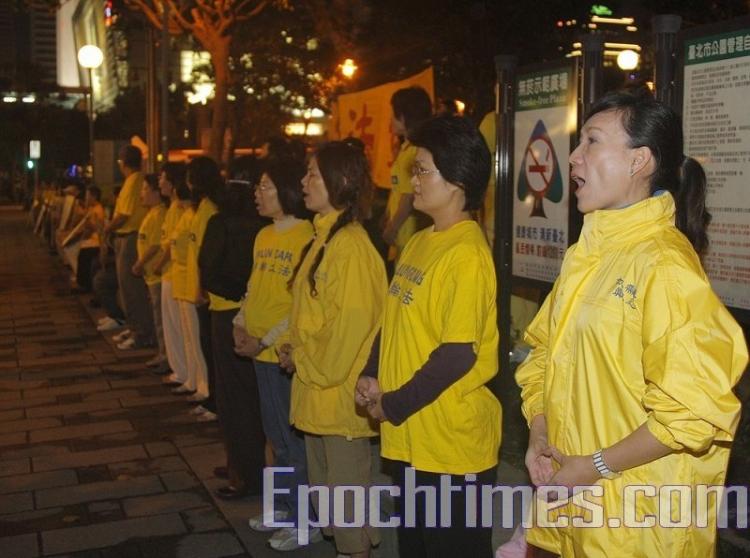 TAIPEI—Chen Yunlin, chief of Association for Relations Across the Taiwan Straits (ARATS), has already encountered numerous protests and appeals during his scheduled five-day visit to Taiwan. Since his arrival in Taiwan, Falun Gong practitioners have been appealing in the hundreds.
On the evening of November 3, Strait Exchange Foundation held a banquet in honor of Chen at the Taipei 101 Tower. When Chen and other delegates of ARATS arrived with the Straits Exchange Foundation chairman, Chiang Pin-kung, there were already two to three hundred Falun Gong practitioners demonstrating their meditation exercises outside the venue. The practitioners were accompanied by various banners calling for a stop to the persecution of Falun Gong and organ harvesting from Falun Gong practitioners in China.
At the banquet, Chen Yunlin was asked by various media whether he had seen the various protests. Chen Yunlin answered, "I have heard them, and seen them as well."
When the banquet concluded, Chen Yunlin was escorted out of the building by a large number of authorities and interviewing media. Across the street, stood hundreds of Falun Gong practitioners, calling out to Chen, "Falun Gong is good, stop the persecution of Falun Gong!" The crowd called out repeatedly for ten minutes.
Cai Shouren, a Falun Gong practitioner standing outside the Taipei 101 Tower, said, "The Chinese regime has been persecuting Falun Gong since 1999. We want to use Chen Yunlin's visit to Taiwan as an opportunity to tell him and the rest of the world the truth about Falun Gong."
The demonstration outside Taipei 101 wasn't Chen's first encounter with such appeals. Many Falun Gong practitioners were present at the airport during Chen's arrival, Palace Museum, and Taiwan Cement Building to demand an end to the persecution.
Falun Gong practitioners planned to gather at the Plaza on November 4 to further appeal to Chen Yunlin to take his visit to Taiwan as an opportunity to quit the Chinese Communist Party.