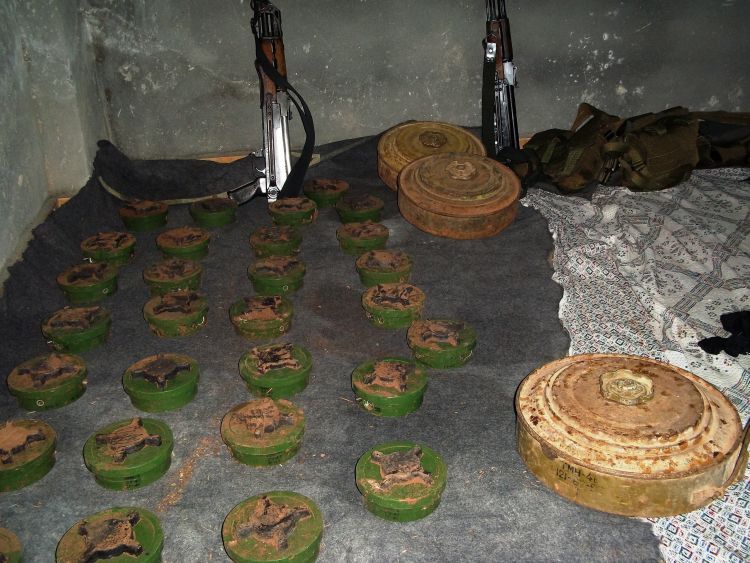 The Syrian army is using internationally banned landmines, placing them on the borders of Lebanon and Turkey, Human Rights Watch said on Tuesday.
Citing local witnesses and mine removal teams, the New York-based rights group said that there have been several civilians who have died after stepping on the landmines. A 15-year-old boy lost his leg after stepping on a mine in February.
The banned antipersonnel landmine is the PMN-2, which was first manufactured by the Soviet Union and saw widespread use in the 1970s. The mines have been found in a number of countries, including Afghanistan, Thailand, and Georgia, and can stay functional for years. It is also believed Syria has TMN-46 anti-vehicle mines.
"The Syrian army should cease its use of antipersonnel landmines and recognize that planting this internationally banned weapon will hurt Syrians for years to come," Human Rights Watch said in a statement.
The rights group said the mines are relatively ineffective against military forces and mostly just kill civilians. To date, 157 countries have signed onto the 1997 Mine Ban Treaty. Syria is not one of them.
"[Syria] is last believed to have used antipersonnel mines during the 1982 conflict with Israel in Lebanon. The size and origin of Syria's landmine stockpile is not known," the rights group said.
Syria is the fourth country to use the banned landmines since January 2011, which includes Libya under Moammar Gadhafi, Israel, and Burma.