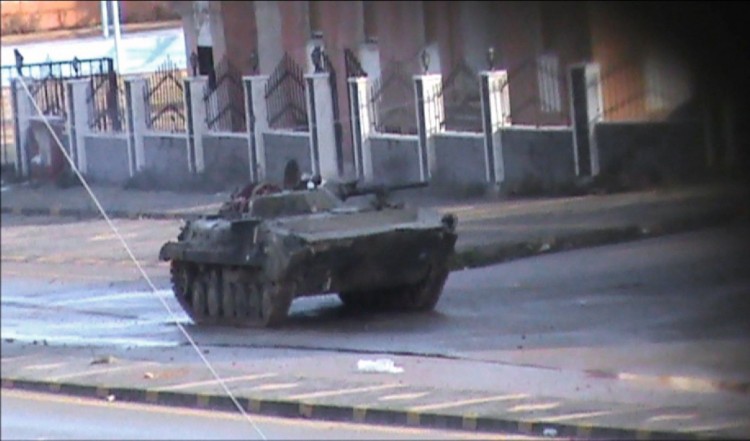 Syrian activists said on Monday that security forces have fired missiles, mortars, and artillery shells at neighborhoods in Homs, a city that has been besieged by the army since the uprising began 10 months ago.
The Local Coordination Committees (LCC) activist network said there were at least 37 people killed in Homs, with regime forces firing missiles at the neighborhood of Baba Amro "for hours." Video footage uploaded to Youtube showed a panoramic view of a portion of the city, with near-constant blasts going off in the distance.
Activists said the government cut off most telecommunications in Baba Amro and several other neighborhoods in Homs. 
Meanwhile, there were "unprecedented huge explosions" in the Al Waer neighborhood, which was punctuated by continuous intensive gunfire, according to the LCC. Heavy gunfire and explosions were reported in the Karam Zaytoun neighborhood, it said, adding that "the residents are in panic."
A witness in Homs told Al-Arabiya television that "it is the most intensive shelling on Baba Amro since the start of the protests." 
Witnesses said military helicopters were engaged in the shelling, causing several buildings to collapse. "Seven residential buildings collapsed as a result of the Syrian intensive shelling of Homs," an activist with the LCC told the station. 
"Homs is witnessing a real war," the activist said.
Activists have said that Homs, which is a center of anti-government resistors, has been attacked by the government continuously for the past several days.
"Its a massive attack—a new massacre is happening here," activist Abu Abdo Alhomsy told Al-Jazeera television. "Nobody can go out, we don't know how many homes have been hit or how many people died."
The United States on Monday announced that it would suspend all operations at the American Embassy in Damascus, adding that all staff have left the country. "The recent surge in violence, including bombings in Damascus on December 23 and January 6, has raised serious concerns that our Embassy is not sufficiently protected from armed attack," reads a statement from the diplomatic mission.
Around a week ago, Syrian army defectors took over portions of Damascus' suburbs, which prompted the government to deploy tanks and thousands of troops to retake them.
Russia and China on Saturday vetoed a United Nations Security Council resolution condemning the state violence in Syria that was proposed by the Arab League, which drew the condemnation from Western and Arab powers.