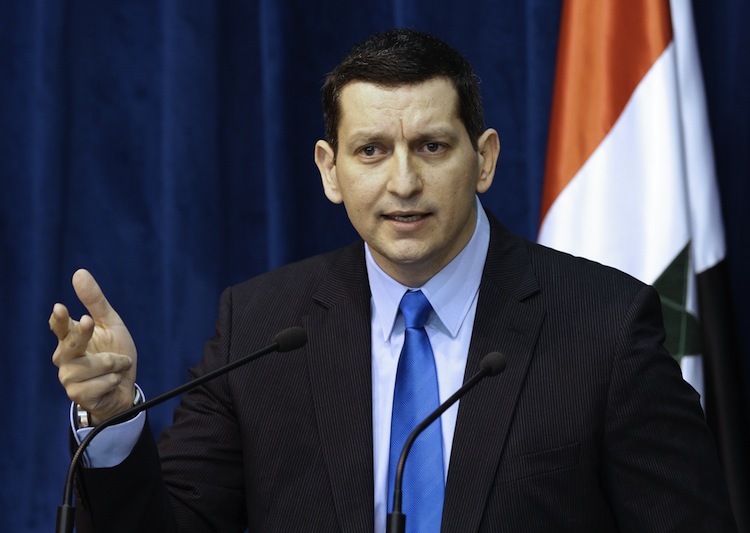 Syria categorically denied responsibility for a massacre that took place in the central area of Houla that killed 108 people, including women and children, blaming the attacks on terrorists.
The massacre in Holua, located in central Homs Province, on Friday was one of the worst incidents of bloodshed in the 15-monthlong conflict. The United Nations said 32 children under the age of 10 were among those killed and appeared to suggest that the Syrian regime was responsible.
Reports suggest the massacre took place after fighting between opposition fighters and forces loyal to President Bashar Assad.
The U.N. observer mission in Syria went to Houla to confirm the deaths, but the team's leader, Gen. Robert Mood stressed the "circumstances that led to these tragic killings are still unclear," according to a statement.
The Syrian Observatory for Human Rights estimated that as many as 114 people were killed in the slaughter.
Jihad Makdissi, a spokesperson with the Syrian Foreign Ministry, foisted the blame on "hundreds of gunmen" who were armed "with up-to-date and heavy weapons, like mortars, machine guns, and anti-tank missiles … used in the confrontation with the state forces," state-run television reported.
Makdissi expressed "regret that foreign ministers of some countries have rushed to level baseless accusations in such forums as the U.N. Security Council and the EU, based on statements by opposition figures or biased media." Such allegations, he said, are a "tsunami" of lies
Despite Makdissi's claims the regime was not responsible, the attacks sparked outrage among American and international leaders and calls the six-week-old peace plan drafted up by the U.N. into question.
"This appalling and brutal crime involving indiscriminate and disproportionate use of force is a flagrant violation of international law and of the commitments of the Syrian government to cease the use of heavy weapons in population centers and violence in all its forms," said a statement by Secretary-General Ban Ki-moon and special envoy Kofi Annan.
The U.S. State Department strongly condemned the massacre and said the perpetrators should be held accountable.
"The United States will work with the international community to intensify our pressure on Assad and his cronies, whose rule by murder and fear must come to an end," the State Department said.
Activists told Al-Jazeera that Houla was attacked by artillery and later, throngs of pro-government militiamen known as shabiha, who were armed with knives and guns.