Syrian antiaircraft defenses mistakenly shot down a Russian patrol plane, killing all 15 people on board, during an Israeli air strike on hostile positions in Syria.
The Russian Ilyushin IL-20 was downed Sept. 17 by a Syrian S-200 missile, according to Russian news agency TASS.
While the Russian military initially blamed Israel for the incident, claiming Israeli F-16 fighter jets used the IL-20 for cover, President Vladimir Putin struck a more measured tone at a press conference on Sept. 18, saying, "It looks like a string of tragic circumstances."
Israel expressed regret for the tragedy, but insisted responsibility lay with Syrian forces. Army spokesperson Brig. Gen. Ronen Manelis said in a statement that Israel "expresses sorrow for the death of the aircrew members of the Russian plane that was downed tonight due to Syrian anti-aircraft fire," Haaretz reported.
"Overnight, IDF fighter jets targeted a facility of the Syrian Armed Forces, from which systems to manufacture accurate and lethal weapons were about to be transferred on behalf of Iran to Hezbollah in Lebanon," the Israeli Defense Forces said in a statement, according to TASS. "These weapons were meant to attack Israel, and posed an intolerable threat."
"Israel holds the Assad regime, whose military shot down the Russian plane, fully responsible for this incident," IDF said. "Israel also holds Iran and the Hezbollah terror organization accountable for this unfortunate incident."
IDF also said the Syrian anti-aircraft missiles were "inaccurate" and "extensive," and accused the Syrian military of failing "to ensure that no Russian planes were in the air," BBC reported.
Russia's initial rush to blame Israel may be motivated in part by Russia's inability to publicly rebuke its ally Syria, while facing internal pressure to provide a decisive response, according to BBC defense correspondent Jonathan Marcus.
Russian defense ministry spokesman Igor Konashenkov told TASS that the IL-20 maritime reconnaissance plane was struck by Syrian anti-aircraft artillery after "Israeli air pilots made it vulnerable to Syrian air defense fire." Konashenkov said that the Israeli planes had put the Il-20 into the path of Syrian air-defense systems after failing to give Moscow enough warning of an imminent strike on Syrian targets.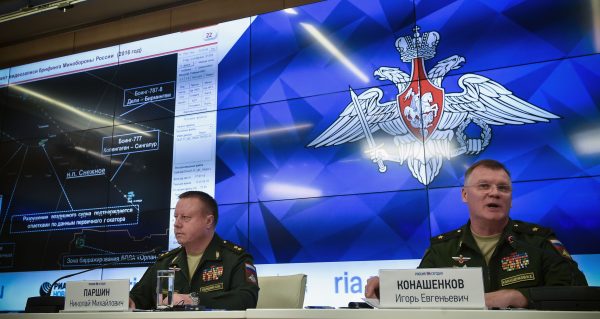 "A hotline warning was received less than one minute before the strike, which left no chance for getting the Russian plane to safety," TASS reported Konashenkov as saying.
Russian defense minister Sergei Shoigu said he's spoken with Israeli defense minister Avigdor Lieberman, according to TASS, and told his counterpart that "such actions will not be left unanswered by us."
"It's clear to any specialist the strike was delivered using our Ilyushin-20 as cover, because they [the Israelis] thought the Syrian air-defense systems would not act in that direction," Shoigu said.
Putin said at the press conference, however, that any steps taken by Russia would center on ensuring the safety of its troops.
"As for retaliatory measures, they will be first and foremost aimed at additionally ensuring the security of our military personnel and facilities in Syria," Putin said. "When people get killed, particularly so, under such tragic circumstances, it is always a great misfortune to us, to the country and to the relatives of our late comrades. I offer condolences first and foremost to the relatives of those killed."
The Israeli government is keen to prevent what it calls Iran's "military entrenchment" in Syria and wants to disrupt shipments of Iranian weapons to the Lebanese terror group Hezbollah, which has a presence in Syria.
Several countries have military operations underway around Syria. In some cases, those countries are backing opposing sides in the Syrian conflict. Foreign powers involved in the conflict—including Israel and Russia—operate hotlines to exchange operational details to avoid one side accidentally attacking the other's forces. Despite the presence of the hotline, diplomats and military experts have warned that the risk of inadvertent strikes is high.
The Russian military has pinpointed the location where the Il-20 aircraft fell into the Mediterranean, the Russian defense ministry said, according to TASS; recovery operations are underway.
Russian ships have collected debris from the plane, personal belongings, and body fragments, TASS said.