Syed Farook and Tashfeen Malik were identified as the alleged suspects in the mass shootings, according to police.
The Los Angles Times and New York Daily News identified Farook, an American citizen, as one of the shooters, while Malik was said to be his wife. Farook and his wife are accused of shooting up the Inland Regional Center, leaving as many as 14 dead and 17 injured. The couple is believed to be parents of a six-month old baby girl, who was reportedly staying with grandparents at the time.
Attackers in SB mass shooting ID'd as Syed Farook, 28, seen here, and Tashfeen Malik, 27 https://t.co/lVEQvoxZjd pic.twitter.com/EpF9zWBJ3u

— NBC Los Angeles (@NBCLA) December 3, 2015
The Los Angeles Times reported that Farook met Malik online as she was living in Saudi Arabia. It's unclear if Malik was a U.S. citizen or not. According to CNN, he had an online dating profile that listed his interests as working on vintage cars, reading religious books, and eating out.
And he liked traveling and "and just hanging out in the back yard doing target practice with his younger sister and friends," according to the profile sourced by CNN.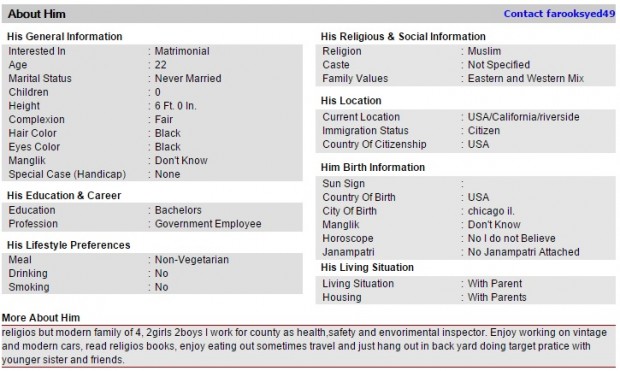 Farook's Imilap.com and BestMuslim.com dating profiles
Farook was environmental health specialist for the past five years and part of San Bernardino County's public health department.
Farook was listed as a 2009 graduate of California State University, San Bernardino. There, he got his Bachelor's of Science in Environmental Health
He wrote on his dating profile that he's "religios [sic] but modern family of 4, 2 girls 2 boys."
It adds: "I work for county as health, safety and envorimental [sic] inspector. Enjoy working on vintage and modern cars, read religios books, enjoy eating out sometimes travel and just hang out in back yard doing target pratice [sic] with younger sister and friends." The profile appears to be a few years old, listing his age as 22. It says he was born in Chicago and said his family values are "eastern and western mix."
He had another profile, dated in 2013, on the website BestMuslim.com, according to BuzzFeed News.
#SanBernardino suspect wrote that he wanted a wife "who takes her religion very seriously" https://t.co/SIKjBruTfN pic.twitter.com/ZVkh6TetZW

— Ellie Hall (@ellievhall) December 3, 2015
He wrote that he spends his free time "memorizing the Qur'an and learning more about the religion."
His brother-in-law, Farhan Khan, told a news conference that he talked with his brother a week ago, offering his family's condolences to the people who were affected.
"I have no idea why he'd do it," he said. "Why would he do it? Why would he do something like this?
"I'm in shock myself. I am a normal person."
Griselda Reisinger, a former colleague, said he worked as a food inspector at the department. "He was very quiet," she told The Los Angeles Times. "I would say hi and bye, but we never engaged him in conversation. He didn't say much at all."
She added that Farook "never struck me as a fanatic, he never struck me as suspicious," according to NBC Los Angeles.
"They sounded really happy. I did notice there were lots of packages being dropped off and he was in the garage working on stuff. But that seemed normal to me. It's Christmas and people are getting packages dropped off," Farook's neighbor, Andrea Larsen, said. He lived in a Redlands, Calif. home, which the FBI later raided.
Syed Farook is one of 2 shooting suspects killed by SBPD. The other suspect killed is Tashfeen Malik, his gf or wife pic.twitter.com/mzRAboxETG

— Rob McMillan (@abc7robmcmillan) December 3, 2015
Farook's father, also named Syed Farook, told The New York Daily News: "I haven't heard anything."
"He was very religious. He would go to work, come back, go to pray, come back. He's Muslim," he said.
Police Chief Jarrod Burguan said Farook and Malik died in a gun battle with police. The suspects were armed with assault rifles and semi-automatic handguns at the time of their death. Investigators also found three explosive devices at the scene of the attack. "There had to be some sort of planning that went into this," he conceded.
Burguan said investigators knew very little about Malik or "where she is from."