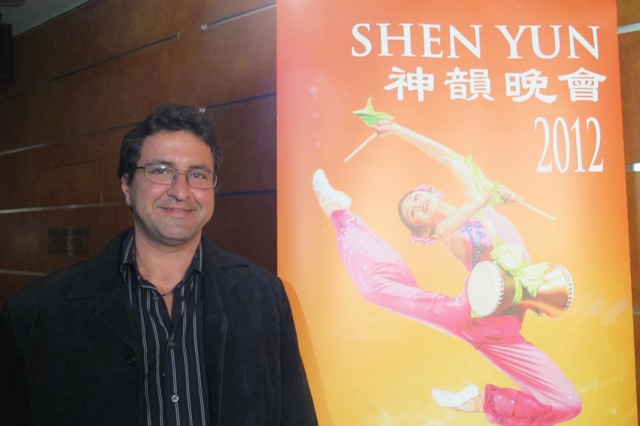 SYDNEY—Many Sydneysiders braved a chilly autumn evening to welcome the return of Shen Yun Performing Arts New York Company to Australia's largest city's iconic Capitol Theatre on Friday April 27.
Among the packed house were audience members from different sectors of the teaching fraternity, all were seeing the New York-based company for the first time.
A relaxed teacher of Religious Studies, James Seriotis, was among those counting their blessings for being there, promising himself it will be the first of many more to come.
"I thoroughly enjoyed it, I was amazed and surprised at all the acts and dancing, and the costumes and the variety—loved the show," he said.
"I'm definitely going to come every year knowing that every year is different. Just amazing, I really loved it," he reiterated.
The people of China have long held that their magnificent culture was a gift from the heavens, and art was primarily a means to explore the connection between mankind and the higher universe.
Mr. Seriotis felt the performance was not only entertaining but also educational.
"There was a lot of symbolism, a lot you could feel, a lot of lessons to be learnt—and I think the medium of dancing is one of the best ways to inform people, because it's fun as well and memorable as a visual."
Shen Yun aspires to reawaken China's 5,000-year-old divine-inspired culture, all but destroyed in the past 60 years by communist rule. The artists dance and sing their way through a repertory of ancient legends, folklore, traditional myths, through to modern themes of courage and bravery as depicted through the story of Falun Gong (also known as Falun Dafa), a traditional spiritual practice.
Mr. Seriotis said he was moved by the themes that highlighted the plight of Falun Gong practitioners, who are being persecuted for their faith, many facing torture and death for adhering to their belief.
"We need to live in harmony and we need to respect other people's values and beliefs; … that's the lesson, we need to be tolerant and accepting and respecting," he said.
"I had some idea about the Chinese culture. I mean, it's very ancient but I didn't know about the persecutions and the violations of human rights, which I thought was pretty sad."
"China is such an advanced country and the whole world's dependent on China for a whole lot of things, and for these things to be happening isn't exactly pleasant," he added.
'It took my breath away'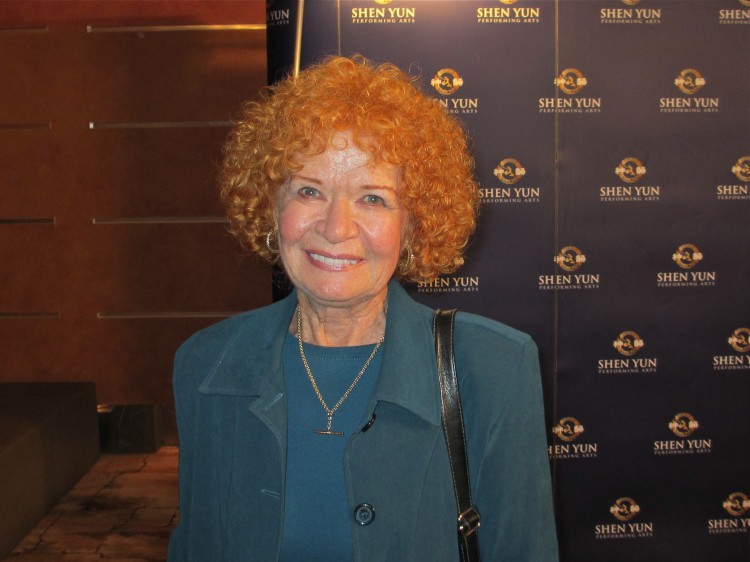 Also smitten by the performance was Pamela Wilson who teaches English to adults as a second language.
"When the curtain first went up, it took my breath away. It was the colour and the beauty," she explained. "As the show went on I could feel little tears coming out of my eyes. I've never seen anything quite so, it's beautiful and there's a purity and a wholesomeness that I didn't expect.
"I really can't put it into words any more than that, but it has deeply touched me, deeply, and my first experience really of that kind of culture. Although I do have a sister-in-law who was born in China, so I am interested from that aspect."
Ms. Wilson spoke directly from the heart in trying to describe the array of radiance, energising action, and spiritual essence emanating from the stage.
Each dance, each song, each musical note, nuance, and gesture by the artists—dancers, vocalists, solo musicians and a full orchestral ensemble—embraced the audience members.
"I felt deeply touched by all of it … it was very spiritual," she said.
'Exhilarating'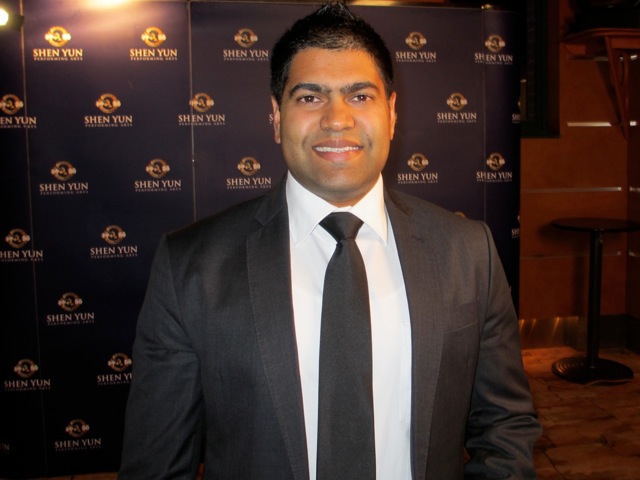 A flight instructor by the name of Keagan said he had never experienced an extravaganza quite like Shen Yun and was taken by the experience.
"It's a great way to explore the culture. They're very talented in what they do. And me, coming from a background of being primarily Australian, this is something totally different for me, and I quite enjoyed it," he said.
"Exhilarating. It's definitely something that someone who isn't so much used to something like this, can come and see and feel a part of the show. So, it's very engaging to the audience."
Reporting by NTD Television and Raiatea Tahana-Reese.
Shen Yun Performing Arts, based in New York, tours the world on a mission to revive traditional Chinese culture. Shen Yun Performing Arts New York Company will be in Sydney, Australia, through May 6.
For more information, visit ShenYunPerformingArts.org.