Sweet 16 Preview
March 26, 2013 10:28 pm Last Updated: April 2, 2013 3:42 am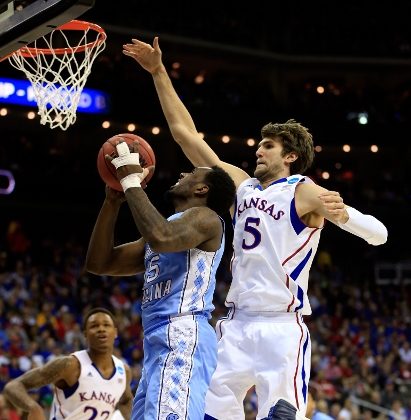 After a wild weekend that saw a one-seed (Gonzaga) and a two-seed (Georgetown) go down, while an unheard of 15-seed (Florida Gulf Coast) advanced through, we're ready for this weekend's Sweet 16 matchups—upsets or not. Here is a look at each game and a prediction on which team will advance.
(1) Louisville vs. (12) Oregon: Lower-seeded Oregon impressively (and surprisingly) won their two tourney games by 13 and 17 points, though neither opponent (Oklahoma State and St. Louis respectively) is on really on par with Louisville. The Cardinals whipped North Carolina A&T by 21 and then rocked Colorado State by 26 to get this far. In addition, head coach Rick Pitino is an astonishing 10–0 in this round of the tournament, which is no coincidence—the guy has advanced to six Final Fours and knows how to prepare.
Prediction: Louisville 77, Oregon 65.
(2) Duke vs. (3) Michigan State: Maybe the most anticipated matchup of this round, this tilt features a pair of coaches in Tom Izzo and Mike Krzyzewski who have a combined 17 Final Four appearances and 5 National Championships between them. Clearly they both know how to win high-pressure games. Both teams won their first two tourney games here by double-digits, but if any team has a little more motivation it's actually the Blue Devils—despite all of their success. Duke flopped in the first round of this year's conference tourney against Maryland as well their opener in last year's NCAA tourney against Lehigh. They will have more to prove.
Prediction: Duke 79, Michigan State 76.
West Region
(9) Wichita State vs. (13) La Salle: As much as fans seem to embrace the role of underdogs, the downside to them is underwhelming matchups like these. Maybe the most difficult game to predict in this round, neither team has even advanced this far since the field expanded to 64 teams in 1985. But while Wichita State is here after taking advantage of Pittsburgh and Gonzaga's "off-games," La Salle looked resilient in downing Boise State, Kansas State, and Ole Miss.
Prediction: La Salle 68, Wichita State 62
(2) Ohio State vs. (6) Arizona: The streaking Buckeyes, which have won 10 straight games now are peaking at the right time. Though on paper, their last-second win over Iowa State last Sunday, looks somewhat unimpressive, the Cyclones lost a pair of overtime games to Kansas, that they really should have won in regulation. Hence, the last-second win was not that bad. Plus, having a great defensive team, as Ohio State does, always keeps you in games down the stretch. Conversely, the Wildcats caught a big break in playing 14th-seeded Harvard in the third round. Arizona shouldn't pose much of a threat here.
Prediction: Ohio State 64, Arizona 58.
(1) Kansas vs. (4) Michigan: It's hard to bet against Michigan after they annihilated everyone's favorite underdog (VCU) by 25 last Saturday, but each game is separate, of course. Some teams even play down after a great win. Though Kansas looked awful against 16th-seeded Western Kentucky and then again in the first half against eighth-seeded North Carolina, when they turn it on (in outscoring the Tar Heels 49–28 after halftime) they look pretty dominant. Kansas center Jeff Withey's shot-blocking (3.8 per game) should be the difference in this one, as the big man's defensive abilities have been able to keep the Jayhawks in the game until they get it going.
Prediction: Kansas 70, Michigan 65.
(3) Florida vs. (15) Florida Gulf Coast: Never has a 15-seed, like Florida Gulf Coast made it this far in the tournament. Too bad they will run into a buzz-saw in Florida. While FGCU took advantage of Georgetown (which annually plays down to their opponent in the tourney), the Gators had no problems with Minnesota (78–64) or Northwestern State (79–47). Plus, Florida has a great coach in Billy Donovan, who has a pair of title rings. Though sometimes in-state rivalries turn these games into unpredictable affairs, these two teams don't have much of a history (last meeting was 2008).
Prediction: Florida 82, Florida Gulf Coast 70.
East Region
(1) Indiana vs. (4) Syracuse: Syracuse has been one of the toughest teams to predict this season. Few saw it's late-February three-game losing streak coming just as few saw them conversely rebound to make the Big East Finals. Now they take on a team, Indiana, that was generally considered the best of 2013. Albeit the Hoosiers sure didn't look it's part in a grind-it-out 58–52 win over Temple last Sunday and haven't looked their best since sometime in February. Syracuse is generally at it's best in the underdog role.
Prediction Syracuse 67, Indi ana 64.
(2) Miami vs. (3) Marquette: No one really knew what to expect from highly ranked Miami, which boasted zero tournament experience, coming into the big dance. After winning a blowout over Pacific (78–49) and a close call against Illinois (63–59), they look just like most other teams here—hard to predict. Marquette, meanwhile has no business being here after somehow coming back to top Davidson (59–58) in the final seconds and then surviving another scare against Butler (74–72) two days later. Sometimes though those lucky wins are just what a team needs to propel them through the next round.
Prediction: Marquette 71, Miami 67.
The Epoch Times publishes in 35 countries and in 21 languages. Subscribe to our e-newsletter.