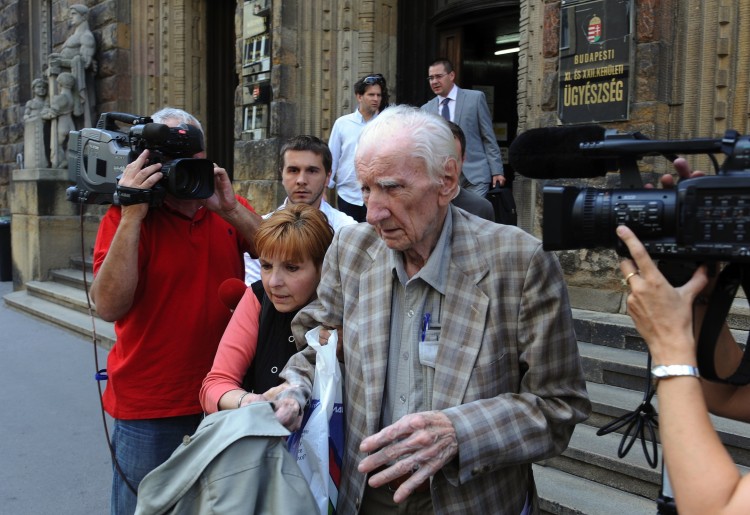 Hungarian officials said they placed a 97-year-old Nazi war crimes suspect under house arrest Wednesday.
Laszlo Csatary is the No. 1 most-wanted former Nazi in the world by the Simon Wiesenthal Center. The center said he assisted in the murder of 15,700 Jews from the ghetto of Kosice in what is now called Slovakia during World War II.
"This is the debt owed to his many victims who were tortured and sent to be murdered at Auschwitz. The passage of time does not diminish the guilt of the killers and old age should not afford protection to the perpetrators of Holocaust crimes," stated Efraim Zuroff, the center's chief Nazi hunter.
Csatary was taken in for questioning Wednesday in Hungary. He denied accusations that he killed Jews, and "one of his arguments in his defense is that he was obeying orders," state prosecutor Tibor Ibolya told AFP.
"Our viewpoint is that at this age, being under house arrest is already quite a shock," Ibolya added. "We have to make sure that this man remains alive and is able to stand trial."
Between 1941 and 1944, Csatary allegedly sent Jews from Kosice to gas chambers in Auschwitz and to their deaths in Ukraine. 
He has lived in Budapest since the 1990s. British tabloid The Sun over the weekend tracked him down and photographed him at his front door and out shopping.
The Epoch Times publishes in 35 countries and in 19 languages. Subscribe to our e-newsletter.