Texas deputies have detained a suspected armed bank robber who claimed he needed the money to pay for his wedding the next day.
Heath Edward Bumpous admitted to robbing a bank in Groveton, Texas, at around midday on Oct. 4, according to Trinity County Sheriff Woody Wallace, after security stills of the suspect were circulated on social media.
Wallace said that Bumpous's fiancee had persuaded him to hand himself in after recognizing him in the robbery pictures hours after they were posted online. Wallace was in by midnight, the day before he said he was due to be married.
He was booked into the Trinity County jail on an aggravated robbery charge, according to the sheriff's office. The District Attorney has accepted the charges.
"He stated that he was getting married tomorrow and he didn't have enough money for the wedding ring that he needed to buy, and that he needed to pay for the wedding venue," said Wallace in a video statement. "So apparently that's what the money was for—for us to pay for him to get married tomorrow."
"We've managed to get most of the money back," said Wallace. There is no indication of the amount stolen.

According to an earlier police alert, the Citizens State Bank in Groveton was robbed at around 11:30 a.m. on Oct. 4. Authorities quickly released images of a man described as a heavy set white male, wearing a dark hat and dark shirt, who drove off in a gray Ford Focus hatchback.
According to Wallace, Bumpous went in and demanded money, telling the bank teller he had a gun, which was later recovered from the Focus.
Bumpus turned himself into a Houston courthouse after a phone call from his fiancee, who he was due to marry the following day, said Wallace.
"She convinced him that she knew it was him, his face was all over Facebook, and he needed to turn himself in."
The sheriff said that Bumpous threw his clothes out of the car window as he made his escape, which were later recovered.
Aggravated robbery is a first-degree felony in Texas, carrying a penalty of between 5 and 99 years in prison.
A number of nearby Texas counties have recently been hit by a spate of robberies by a woman dubbed as the "wedding crasher," swiping newlyweds' gifts.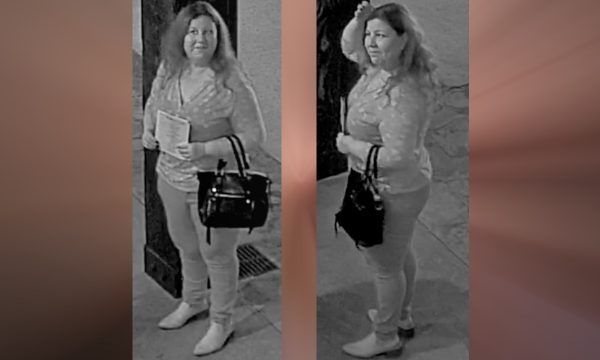 "The Wedding Crasher has been frequenting wedding events not only in Comal County but surrounding counties as well, preying on unsuspecting families and friends," said the Comal County Sheriff's Office in a statement.
"The suspect arrives uninvited to weddings, poses as a guest, and then steals the gifts."