SASKATOON—The second suspect in the murders of 10 people in a stabbing rampage in Saskatchewan has died after going into medical distress shortly after his arrest.
At a news conference on the evening of Sept. 7, RCMP said a stolen white truck being driven by 32-year-old suspect Myles Sanderson was hunted down and "directed" into a ditch.
"Police officers surrounded the vehicle and through verbal identification confirmed the identity of the driver to be Myles Sanderson," RCMP Assistant Commissioner Rhonda Blackmore told a news conference at RCMP headquarters in Regina. "He was arrested by police and taken into custody."

However, she said, not long after Sanderson's arrest he went into medical distress. She said police used every life-saving measure at their disposal, and an ambulance was called. Sanderson was taken to a hospital in Saskatoon, Blackmore said, where he was pronounced dead. She didn't specify a cause of death.
Blackmore said Sanderson was the only person in the truck.
"This evening, our province is breathing a collective sigh of relief," she told the news conference. But at the same time, she said, his death means many questions may not be answered.
"Now that Myles is deceased, we may never have an understanding of that motivation," she said. "His motivation may at this time and forever only be known to Myles."
The final chapter in the four-day hunt for Sanderson started with a 911 call on Sept. 7 just after 2 p.m. about a break-and-enter in progress at a home northeast of the town of Wakaw. Blackmore said the caller told police that the intruder was Myles Sanderson, and that he had a knife, and had stolen a white Chevrolet Avalanche truck.

"All available police resources in that region immediately responded to the report," she said, including two police aircraft. In the next half hour, she said, police got more than 20 calls from the public of possible sightings of Sanderson.
Blackmore said an RCMP officer spotted the stolen truck headed west toward Rosthern, at a speed of around 150 kilometres an hour.
And then about 3:30 p.m. the truck was spotted heading south on Highway 11, just south of Rosthern.
"We were able to connect with that vehicle, remove it from the road, and bring some sense of safety to the drivers on the road," she said.
Police had been searching for Sanderson since the morning of Sept. 4, when 9 people were stabbed to death on the James Smith Cree Nation, and another man in the nearby town of Weldon. Another 18 were injured.
The other suspect in the killings, Myles's brother Damien Sanderson, 31, was found dead on Sept. 5.
Healing
The Federation of Sovereign Indigenous Nations (FSIN) expressed its relief on Sept. 7 in a news release, saying that the impacted communities can now "begin the lengthy process of healing."
"Our many families and people whose lives have been altered forever because of this tragedy can now take comfort that Mr. Sanderson is no longer a threat to their safety," said FSIN Chief Bobby Cameron in the release.

Saskatchewan Premier Scott Moe also shared his relief in a social media post, praising the work of law enforcement.
"We owe you all a great debt of gratitude."
Blackmore said during her press conference that it will take time for people to heal, highlighting a conversation she had with people earlier in the day on James Smith Cree Nation.
"People were saying 'I haven't slept, I can't sleep, I can't close my eyes, and every time I hear a noise, is that him, is he coming back?' … I hope this brings them some sense of closure," she said, adding that, "it is going to be a very long and extensive process for those individuals–some of them have witnessed incredible trauma."
Stabbing Rampage
It all started with calls from James Smith Cree Nation early morning on Sunday, Sept. 4.  Shortly after 7 a.m. the RCMP issued an alert about suspects Damien and Myles Sanderson, and warned people in nearby communities to take shelter.
On Monday the RCMP announced Damien Sanderson had been found dead on James Smith Cree Nation, with wounds not believed to be self-inflicted. But the hunt continued for Myles Sanderson, who according to parole board documents had a long history of violent crimes, with 59 previous criminal convictions.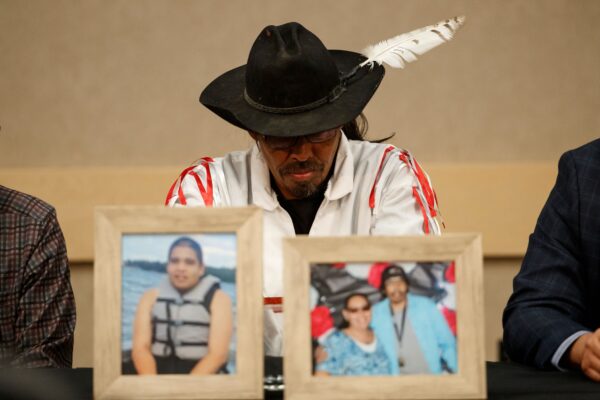 Blackmore said around 160 officers and support staff from four provinces worked around the clock to find Sanderson and gather evidence.
She said there is some evidence Myles Sanderson may have been injured at some point, because there was a break-in to a vehicle in Weldon, and first aid supplies were taken. But police don't have a lot of information on where he was during the four-day hunt.
She said at this point, both Sanderson brothers are considered suspects in the killings, but the investigation continues.
"It was a massive investigation, and a massive search," she said.
The RCMP have asked the Saskatoon Police Service to conduct an external investigation of the case, along with an external observer from the province's ministry of justice.