A 25-year-old man identified as a suspect in the deaths of five people in Tennessee has been arrested following an hours-long manhunt and officer-involved shooting.
Michael Cummins, was struck by gunfire from a service weapon on Saturday, April 27, after a confrontation with police, according to a statement by the Tennessee Bureau of Investigation. Cummins was captured about a mile from one of the Sumner County crime scenes after being spotted by aircraft, said Josh DeVine, a spokesman for the Tennessee Bureau of Investigation.
Cummins encountered law enforcement after exiting a wooded area.
"The situation escalated, for reasons under investigation, and resulted in at least one officer firing his service weapon, striking Cummins," the TBI statement said.
Medics transported Cummins to a local hospital for treatment with injuries that did not appear to be life-threatening.
As of late Saturday, he had not been charged with a crime, the Tennessean of Nashville reported.
No responding officers were hurt.
The Six Victims
TBI officials began investigating the deaths of five people and the wounding of a sixth after police responded to a 911 call on Saturday.
Police found four bodies and an injured person in one home and the fifth body in another home in Sumner County, TBI said in a statement.
The injured person was taken to a hospital with unknown injuries.
"At this time, we have reason to believe the two scenes are related," the TBI wrote in a Twitter message.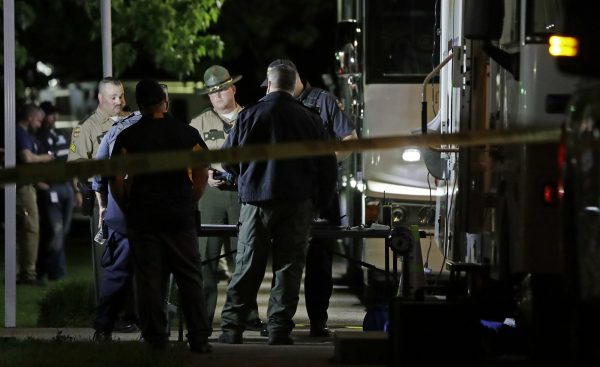 Details about the victims and their connection to Cummins were not released, and efforts were underway to contact the next of kin.
Officials with the TBI said the bodies would be taken to Nashville for autopsies to determine exact cause of death.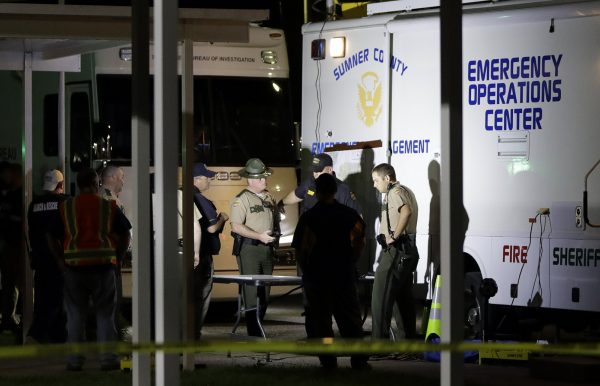 No information has been released on the type of weapon used in the killings, nor on the suspect's possible motive.
Sumner County is northeast of Nashville.
Crime in the United States
Violent crime in the United States has fallen sharply over the past 25 years, according to both the FBI's Uniform Crime Reports (UCR) and the Bureau of Justice Statistics (BJS) National Crime Victimization Survey (NCVS).
The rate of violent crimes fell by 49 percent between 1993 and 2017, according to the FBI's UCR, which only reflects crimes reported to the police.
The violent crime rate dropped by 74 percent between 1993 and 2017, according to the BJS's NCVS, which takes into account both crimes that have been reported to the police and those that have not.
"From 1993 to 2017, the rate of violent victimization declined 74 percent, from 79.8 to 20.6 victimizations per 1,000 persons age 12 or older," the U.S. Department of Justice stated.
Both studies are based on data up to and including 2017, the most recent year for which complete figures are available.
The FBI recently released preliminary data for 2018. According to the Preliminary Semiannual Uniform Crime Report, from January to June 2018, violent crime rates in the United States dropped by 4.3 percent compared to the same six-month period in 2017.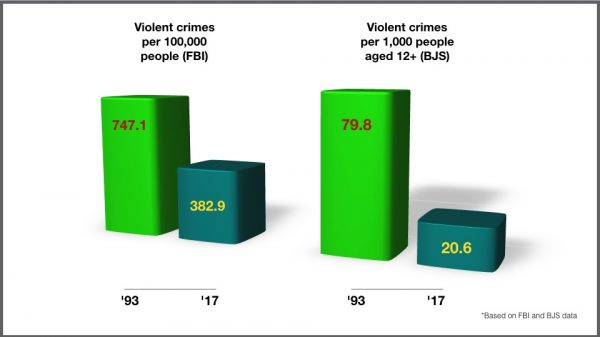 While the overall rate of violent crime has seen a steady downward drop since its peak in the 1990s, there have been several upticks that bucked the trend.
Between 2014 and 2016, the murder rate increased by more than 20 percent, to 5.4 per 100,000 residents, from 4.4, according to an Epoch Times analysis of FBI data. The last two-year period that the rate soared so quickly was between 1966 and 1968.
Property Crime
The property crime rate fell by 50 percent between 1993 and 2017, according to the FBI, and by 69 percent according to BJS.
According to the FBI's preliminary figures for the first half of 2018, property crime rates in the United States dropped by 7.2 percent compared to the same six-month period in 2017.
As with violent crime, the FBI survey only takes into account crime reported to the police, while the BJS figures include reported and nonreported crime.
Public Perception About Crime
Despite falling long-term trends in both violent crime and property crime, opinion surveys repeatedly show Americans believe that crime is up.
The vast majority of Gallup polls taken since 1993 show that over 60 percent of Americans believe there is more crime in the United States on a national scale compared to the previous year.
Pew Research surveys show similar findings. A survey in late 2016 revealed that 57 percent of registered voters said crime in the nation as a whole increased since 2008, despite both FBI and BJS data showing double-digit drops in violent and property crimes.
Perceptions differed on a national versus local level.
Surveys of perceptions of crime levels on a local scale showed that fewer than 50 percent of respondents in every single Gallup survey done since 1996 believed that crime in their area had risen compared to the previous year.
The Associated Press contributed to this report.