During a traffic stop in Stafford, Virginia, a murder suspect got out of his vehicle and shot at law enforcement, with at least one bullet hitting a trooper's windshield.
The trooper then slammed on the brakes and was hit by a driver, who was rear-ended by another driver, WTVR reported. The suspect then got back into the SUV and fled along Interstate 95 before crashing and overturning his vehicle in Stafford County, officials said.
Holy moly! Look at the bullet hole through windshield of @staffcosheriff vehicle from man that fired at law enforcement during chase on I-95 – bullet still lodged in headrest, deputy ducked just in time when he saw suspect's gun @fox5dc pic.twitter.com/bnMQve7tYI

— Anjali Hemphill (@AnjaliHemphill) December 28, 2017
"That guy could have killed a lot of people, just by driving the way he was, let alone shooting at people," a witness told NBC Washington.
At 11:31 a.m., the vehicle was stopped after an alert was sent out about an SUV related to the shooting of a woman in Stafford, according to officials.
BREAKING: I-95 in Stafford County partially closed after a driver fatally shot a woman, fired at police https://t.co/sY33YrVFs4 pic.twitter.com/agsVfsKNux

— NBCWashington (@nbcwashington) December 28, 2017
The man who fired at officers and crashed on I-95 was being sought in a woman's death https://t.co/Gd3E2f9E7Z pic.twitter.com/GqJ4GNFgql

— Circa (@Circa) December 28, 2017
NBC Washington reported that the man suspected in the highway shooting was also suspected of shooting and killing his wife. Stafford County Sheriff's Office spokeswoman Amanda Vicinanzo said that officers responded to an apartment complex around Heron Drive and found the woman dead of gunshot wounds.
Then, deputies put out a call for the gunman, who was driving in a black SUV.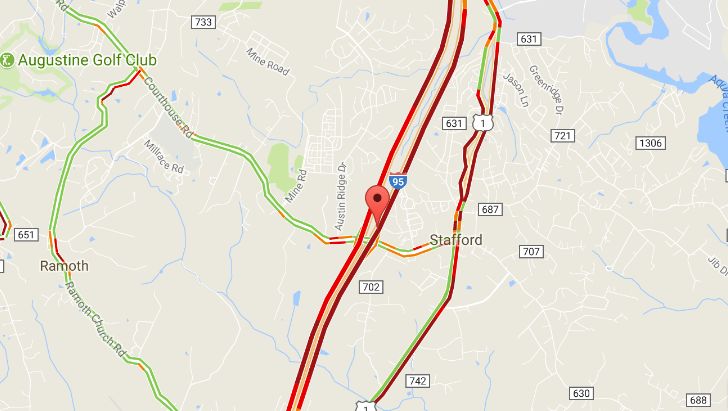 According to WUSA-9, the driver turned the gun on himself. Troopers found the man with what appeared to be a self-inflicted gunshot wound in the head.
The WTVR report said that the driver of the SUV was sent to Fairfax Inova Hospital for treatment of serious injuries. His identity was not revealed.
No one else—including officers— was injured in the incident. The shooting remains under investigation, officials said.
13-mile backup on I-95 in Stafford County after murder suspect who fired at officers crashes https://t.co/sPksEDqGgQ pic.twitter.com/yD39AuaQ7W

— 8News WRIC Richmond (@8NEWS) December 28, 2017
According to CBS News, the investigation and cleanup on I-95, located about 45 minutes south of Washington D.C., led to poor traffic conditions.