A suspect was arrested after a man wearing a "Make America Great Again" hat was assaulted in a bathroom in a restaurant in California, police said.
The Oct. 1 arrest came nearly one month after the Sept. 2 assault at a restaurant in downtown Hermosa Beach.
The victim was wearing a red hat with white Russian writing on it that translated to the slogan "Make America Great Again" popularized by President Donald Trump.
"The suspect approached the victim in the restroom and questioned him about the meaning of the hat, after which the suspect repeatedly punched the victim in the face causing the victim to fall to the ground," the Hermosa Beach Police Department said in a statement.
"The suspect continued to punch the victim and then stole the victim's hat and fled."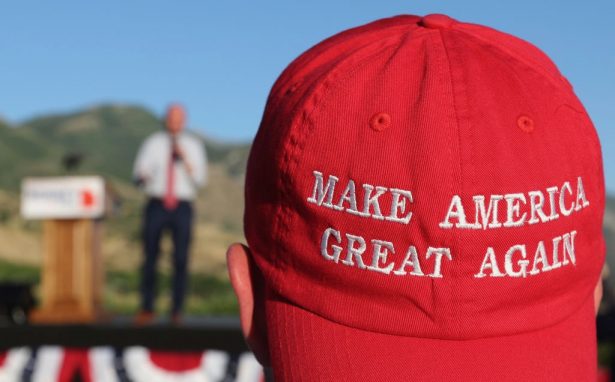 An investigation that included a review of surveillance footage led to the identification of the suspect.
The suspect, who was named as David Delgado, was arrested at his Winnetka home on robbery and battery with serious injury charges.
He was being held on $100,000 bond at the Hermosa Beach Police Department jail.
A mugshot was not released.

Charges Dropped Against Pair Accused of MAGA Hat Assault
Charges have been dropped against two people accused of punching a man for wearing a "Make America Great Again" hat in a Portland bar.
A grand jury decided on Sept. 5 not to indict Adebisi Okuneye, 23, and Leopold Hauser, 22, who had been arrested and charged with assault following an altercation at Growler's Taproom last month, according to KGW.
Officers had arrived at the bar in the early hours of Aug. 24 to find a patron, Luke Lenzner, 34, bleeding from his nose.
He told police that two people, later identified as Okuneye and Hauser, had punched him in the face because he was wearing a MAGA hat.
A photograph posted to Facebook by Lenzner at the time shows him with a bloodied nose, the red cap still perched on his head.
Lenzner claimed he had pushed Okuneye away to create space after she "got in his face" according to court documents, reported KATU.
However, Okuneye and Hauser said Lenzner had instigated the dust-up, and that Hauser had stepped in to break things up.
According to the court documents, Hauser said that when he stepped in, Lenzner took a fighting stance. Asked how Lenzner got a bloodied nose, he told law officers, "I don't know. Arms were flying everywhere."
After the two were arrested, a video surfaced of Lenzner clashing with customers at another bar hours before the assault, appearing to goad patrons with his hat.
Epoch Times reporter Simon Veazey contributed to this report.