The arsonist suspect who has been accused of setting ablaze a 50-foot Christmas tree outside the Fox News headquarters in midtown Manhattan was released again after his arraignment on Wednesday, according to multiple reports.
Craig Tamanaha, a 49-year-old homeless man, denied being responsible for the early morning arson that caused about $500,000 in damages outside the 44-story office tower called News Corp., which is located at the corner of 6th Avenue and 48th Street, Fox News reported.
Along with arson, the suspect faced a slew of charges, including criminal mischief, reckless endangerment, criminal nuisance, trespassing, tampering, and disorderly conduct.
Tamanaha was set free again less than 24 hours after his arrest due to the charges against him not being eligible for monetary bail under criminal justice reforms enacted in the state last year. The suspect was due back in court in early January.

Under New York law, for arson to qualify as bail, Tamanaha would have to at least be charged with third-degree arson as a hate crime, criminal defense lawyer Mark Bederow told the network.
"You'd have to intentionally damage a building or vehicle by starting a fire or explosion as a hate crime, which is an extraordinarily high bar for bail eligibility," Bederow said. "Having a personal bias or animus toward Christmas doesn't legally cut it."
"Fox & Friends" host Brian Kilmeade said on Wednesday that a security officer spotted the suspect walking towards the tree and igniting it.
"Thank goodness we have very excellent security, who within two seconds, tackled [the suspect] to the ground," Kilmeade said. The show's co-host, Steve Doocy, said eyewitnesses saw the suspect climbing "about halfway up [the tree] because there is a metal superstructure underneath it" before setting it ablaze.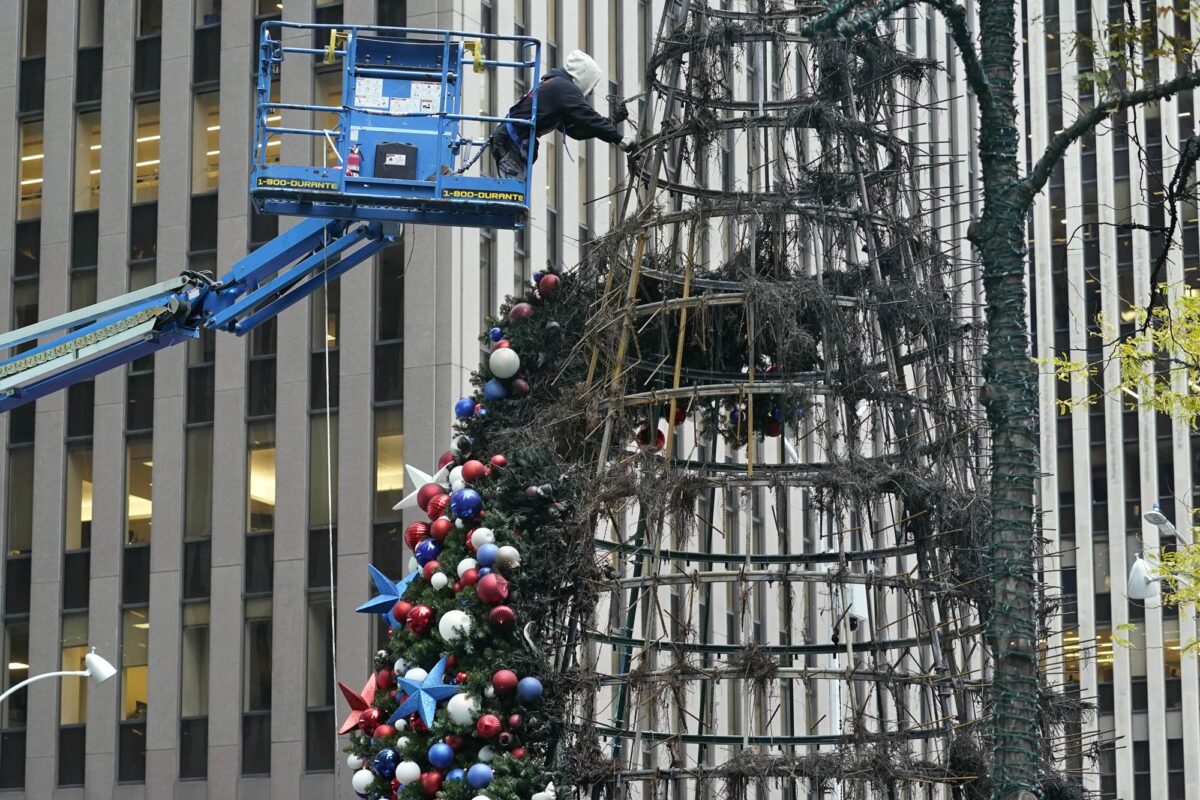 The suspect was in possession of a lighter, but it was unclear whether any accelerant was used to start the fire, police said. The cause of the blaze will be determined later by fire officials. No injuries were reported and the investigation remains ongoing.
Tamanaha's father told the New York Post that he has a history of "destructive stunts" and abuses drugs. The man was also arrested last month for exposing himself outside the U.S. Court House in Manhattan while the Ghislaine Maxwell trial was ongoing.
"Oh, he's a nut. I can't control him," Richard Tamanaha told the Post. "Mentally, he's not all there."
It took workers 21 hours to assemble the 50-foot artificial tree that features 10,000 glass ornaments and 100,000 lights.
New plans were announced to rebuild the network's "All-American Christmas Tree" by Thursday afternoon, as well as a lighting ceremony live on-air at 4:30 p.m. during the network's channels: "The Five," Fox News Media CEO Suzanne Scott told employees in an internal memorandum obtained by The Epoch Times.
From NTD News