Surveillance Explored Through Photography Exhibit
April 1, 2014 6:46 pm Last Updated: April 2, 2014 7:11 am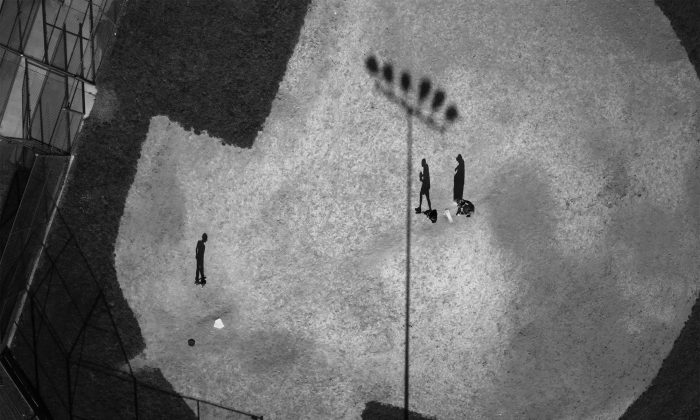 NEW YORK—For the Made in NY Media Center, everything it is doing is new. The multidisciplinary creative space in Brooklyn, which has over 20,000 square feet, just opened in October 2013. The brainchild of the Bloomberg mayoral administration, the center functions as an incubator for creative artists in the film, television, gaming, media, and advertising industries. 
The center's artists use the different mediums at their disposal to delve into thought-provoking topics. For April, they will offer a glimpse into the world of surveillance photographers' lenses.
A gallery show from April 3 to April 25, Surveillance.01-USA, will exhibit work and offer an avenue of discussion about how visual artists, journalists, and data security experts understand surveillance. 
The program will feature works by eight interdisciplinary artists and investigative journalists who used the tools of surveillance and analyzed surveillance using cameras, screens, data, and a drone.
One of those will be Hasan Elahi, an interdisciplinary artist and professor of art at the University of Maryland. Elahi was once falsely accused of being a terrorist when his name was mistakenly added to the U.S. watch list. When the FBI asked him to "stay in touch," he took them literally. For the past 10 years, he has incessantly kept the FBI abreast of his whereabouts.
The documentation of sometimes hundreds of photos a day, which borders on obsessive, has resulted in tens of thousands of images of everything from meals to airports. Elahi also wears a GPS device that tracks his movements on his site's live Google map, TrackingTransience.net.
"He really embraced the instructions to stay in touch with the FBI," said Anna Van Lenten, a curator of Surveillance.01-USA. Van Lenten will sit down with Elahi at the exhibit's opening night on April 3.
Surveillance art is broadly defined as using surveillance technology as an avenue for commentary on surveillance.
Van Lenten describes Elahi's photographs as a "powerful patchwork." 
"What affected me when we did a test run the other day, was how you're looking at 10 years of where someone has slept, what they've eaten," she said. "It's kind of humbling to be confronted with how numerous those snapshots are."
A second talk on Friday, this time at around 7:30 p.m., will be with Tomas Van Houtryve, whose work will also be exhibited. The Paris-based photographer, represented by the prestigious agency VII, will discuss his project Blue Sky Days.
Last year Van Houtryve won a Getty Images Grant that he used to buy a drone to photograph people in the southwest United States.
"Through these images, the idea of drone use will cease to be a distant activity in faraway lands, but rather an idea that has arrived close to home," wrote Van Houtryve when he was awarded the grant.
Some of the richly saturated black-and-white images are featured in a 16-page spread in the April 2014 edition of Harper's magazine. The drone's eye view of the United States, which includes things like the U.S.–Mexico border and industrial feed lots, is the longest photo story that has ever run in the magazine in its 164-year history.
More information about the talks with photographers and the exhibit can be found at NYMediaCenter.com.