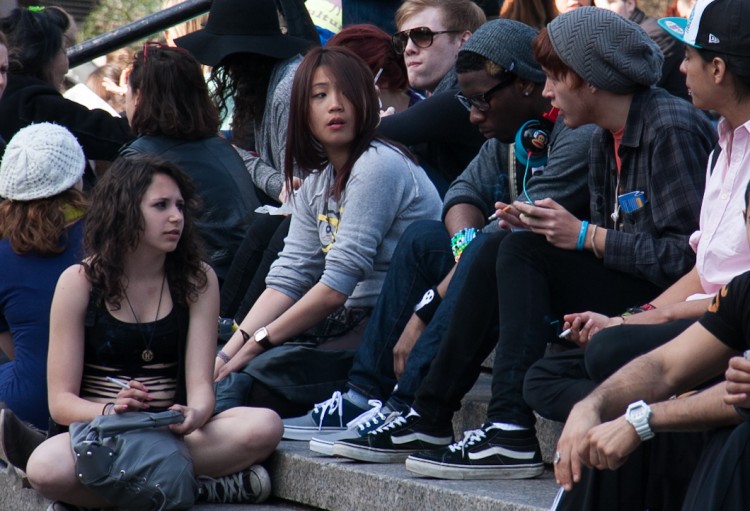 The U.S. Surgeon General warns there is an epidemic of smoking among America's youth—impacting kids as young as 12—in a new report on young smokers released March 8.
The report, titled "Preventing Tobacco Use Among Youth and Young Adults," says that tobacco—the leading cause of preventable death in America—kills more than 1,200 people every day. For each of those deaths, at least two young Americans will become regular smokers, the report states.
"The report challenges us to end the epidemic of smoking among young people," Dr. Regina Benjamin, U.S. Surgeon General, "the numbers in this report are shocking." 
Particularly concerning is the increase in smoking among 12–17-year-olds, with almost 90 percent of those replacement smokers having commenced smoking before the age of 18.
The report, the 31st to report on the harmful effects of tobacco produced by U.S. Surgeon General over the years, identified over 600,000 middle-school children and over 3 million high-school students as smokers.
One in three Americans between the ages of 18 and 26 now smoke, Dr. Benjamin said. 
"This was a higher rate than in any other age group, so this is a serious public health issue," she added.
Nicotine, with its stimulating and addictive qualities, is already a powerful ingredient in a cigarette, but tobacco manufacturing has become a sophisticated chemical operation, enhancing its effects, the Surgeon General said. 
"Added ingredients are designed to make them even more attractive and more addictive than ever before," Benjamin said, noting chemicals that make the draw smoother, sweeter, and faster to assimilate into the body.
The report also highlights new tobacco products that are specifically targeted to young people, such as cigarette-sized cigars containing candy or fruit flavoring, new smokeless tobacco products like snus (a type of snuff), dissolvable strips, and lozenges, are some of the examples given.
The products are appealing because they can be used at home or at school without detection, said Dr. Benjamin, adding "but understand that these products can also cause nicotine addiction, which can lead to serious disease."
Young people are particularly sensitive to the effects of smoking, not only because they absorb nicotine quicker into their systems but because of damage to the developing body.
The report notes long-term damaging effects on the aorta, heart, and lungs as a result of early smoking.
Marketing Powerful
Dr. Benjamin pointed to the effects of marketing on the take-up rate of smoking among young people. 
An extraordinary $27 million dollars a day is spent on targeted marketing to young people, the evidence indicating that the more they are exposed to marketing and advertising, the more likely young people will smoke, said Dr. Benjamin.
The Surgeon General however was upbeat about driving the numbers of youth smokers down, saying a multipronged attack, which includes increasing the price of cigarettes, more education, aggressive media campaigns, and smoke-free policies, has proven effective in the past.
"Science tells us that sustained multicomponent programs prevent young people from becoming addicted to tobacco," she said, "If we can get them to remain smoke-free before they turn 26, less than one percent will start," she said.
Whistleblower Agrees
Also appearing at the press conference was someone who knows a lot about the science of cigarette smoking. A former senior scientist of tobacco giant Philip Morris, Victor DeNoble in 1994 became the first whistleblower to speak out against the tobacco industry. He went on to testify before the U.S. Congress and serve as a key witness in the U.S. government's case against the industry.
Now the head of west coast science and communication company Hissho, DeNoble works on anti-smoking initiatives with school age children, particularly in elementary school. He welcomed the report, saying it was long overdue. 
"It [youth smoking] has become a significant problem that is increasing rather than decreasing, DeNoble said.
He added that preventative smoking programs largely focus on teenagers, but said intervention has to start at an earlier age. Encouraged by peers and the cool image of smoking, kids are toying with the idea from the age of 10.
"We start seeing initiation at about 12 or 13 years, so the education has to be down to the 10- and 11-year-olds, because they are going to make a decision in two or three years," DeNoble said.
DeNoble believes it is up to children themselves to make the decision whether to take up smoking, and says that in his experience, education through scientific explanations rather than emotive programs are the best way to empower them to make that decision. 
"The kids on the ground tell us that education works but we just don't have enough of it," he said.