The Supreme Court rejected efforts by gun rights activists to block the Trump administration's ban on firearm bump stocks from going into effect, according to a court order on March 28.
President Donald Trump signed a memorandum in February last year directing the Justice Department to ban all bump stock devices and other devices that "turn legal weapons into machineguns."
Bump stocks are devices that allow a shooter of a semiautomatic firearm to fire continuously with a single pull of the trigger.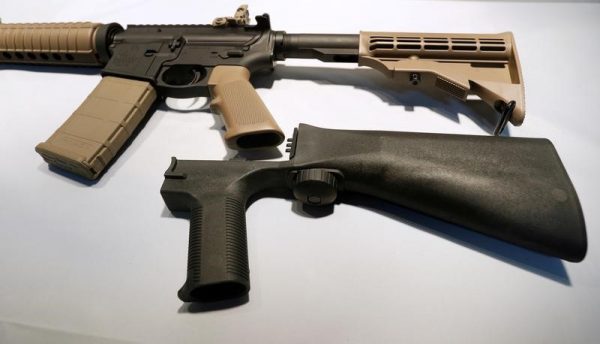 The court's order denied an application for a temporary stay in a Michigan lawsuit filed by groups like Gun Owners of America, which would have delayed the ban while litigation continues. This order is the second this week from the Supreme Court regarding the ban.
Chief Justice John Roberts rejected similar efforts by gun rights activists to temporarily delay the ban on March 26—the same day the Trump administration's policy went into effect.
Trump began efforts to ban these devices after a gunman used them in an October 2017 shooting spree that killed 58 people at a country music festival in Las Vegas.
The Justice Department announced in December 2018 that it has amended the regulations of the Bureau of Alcohol, Tobacco, Firearms, and Explosives (ATF) to clarify that bump stock falls within the definition of "machinegun" under federal law, effectively restricting their use.
Department of Justice Announces Bump-Stock-Type Devices Final Rule https://t.co/AsgTwJ1zW3

— Justice Department (@TheJusticeDept) December 18, 2018
"President Donald Trump is a law and order president, who has signed into law millions of dollars in funding for law enforcement officers in our schools, and under his strong leadership, the Department of Justice has prosecuted more gun criminals than ever before as we target violent criminals. We are faithfully following President Trump's leadership by making clear that bump stocks, which turn semiautomatics into machine guns, are illegal, and we will continue to take illegal guns off of our streets," then-Acting Attorney General Whitaker said at the time.
As a result, any person who owned bump stocks and related devices were required to destroy the device or abandon it at the nearest ATF office without any compensation by March 26.
Semiautomatic weapons with bump stocks use the recoil of the gun to bump its trigger, enabling a semiautomatic weapon to fire hundreds of rounds per minute, which can transform it into a machine gun.
Since the Las Vegas and Florida school shootings last year, states and retailers started imposing stricter limits on sales of guns and accessories.
The National Rifle Association released a statement after the Vegas shooting calling for ATF to "to immediately review whether [bump stocks] comply with federal law."
"The NRA believes that devices designed to allow semi-automatic rifles to function like fully-automatic rifles should be subject to additional regulations," the statement said.
Meanwhile, several lawsuits were brought by gun activities to challenge the federal regulations in multiple states, including Michigan, Ohio, and Washington.
Those challenging the policy have argued that the ATF lacks the authority to equate bump stocks with machine guns. One of the laws at the center of the legal dispute was written more than 80 years ago, when Congress restricted access to machine guns during the heyday of American gangsters' use of "tommy guns."
Reuters contributed to this report.