Supreme Court Justice Ruth Bader Ginsburg has returned to the bench eight weeks after undergoing lung cancer surgery.
The 85-year-old justice joined her eight colleagues for a scheduled one-hour argument in a case involving the U.S. Postal Service on Feb. 19.
She wore one of her signature decorative collars and stood with the other eight justices as the court marshal called the court to order, before taking her usual seat to the right of Chief Justice John Roberts.
Prior to returning to the bench, Ginsburg had returned to the court for the justices' private conference on Feb. 15 for the first time since December 2018.
The oldest judge of the court's nine justices underwent surgery to remove two malignant growths in her left lung at the Memorial Sloan Kettering Cancer Center on Dec. 21, 2018. She was released from the New York hospital on Christmas Day.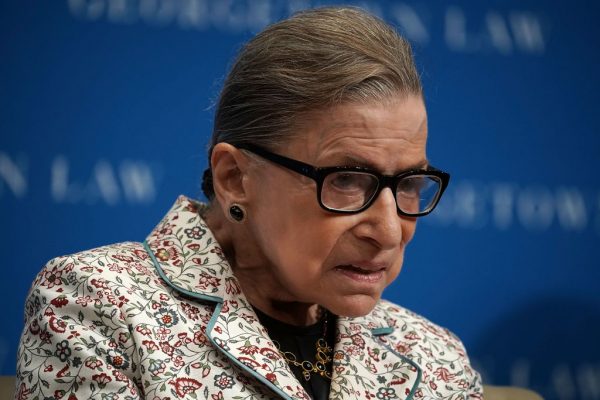 The court said in December 2018 that growths were found incidentally during tests when she was being treated for rib fractures sustained in a fall at her office on Nov. 7, 2018. They added that there was no evidence of remaining disease after surgery and no further treatment was planned.
In January, for the first time in her 25-year tenure, the liberal judge missed oral arguments in court but participated in the cases through briefs and the transcripts of oral arguments. She also missed the State of the Union on Feb. 5.
Her absence caught national attention and attracted speculation about her health and whether her time on the court might be coming to an end.
If Ginsburg is unable to continue serving, Trump could replace her with a conservative judge, which would shift the court further to the right. Since 2017, Trump has appointed two conservative judges—Neil Gorsuch and Brett Kavanaugh—to the highest court.
But Ginsburg has previously indicated that she has no plans of retiring by hiring clerks for the term that extends into 2020. Moreover, in an interview August 2018, she said that she wanted to stay on the bench until at least the age of 90.
"I'm now 85," she said, according to CNN. "My senior colleague, Justice John Paul Stevens, he stepped down when he was 90, so think I have about at least five more years."
After her surgery, Ginsburg spent about a month out of the public eye, but she attended a concert dedicated to Ginsburg called "Notorious RBG in Song" on Feb. 4, according to reports. The concert took place at the National Museum of Women in the Arts.
Thrilled that Justice Ginsburg attended the first concert performance of #NotoriousRBG in Song. She, Patrice Michaels, and the performance were magnificent! https://t.co/Gxrjqxy1sY

— Jeffrey Rosen (@RosenJeffrey) February 5, 2019
Appointed by former President Bill Clinton in 1993, Ginsburg has shown determination to remain on the bench despite undergoing surgery for colon cancer in 1999 and pancreatic cancer in 2009, as well as other health scares. However, these did not cause her to miss any argument sessions.
Weeks after her fall in November, Ginsburg showed no signs of slowing down. She asked questions at high court arguments, spoke at a naturalization ceremony for new citizens, and was interviewed at screenings of the new movie about her, "On the Basis of Sex."
Meanwhile, President Donald Trump previously told reporters that he hoped Ginsburg would get better and serve on the supreme court for "many, many years."
"I wish her well. She said something very inappropriate during the campaign but she apologized for it. I wouldn't say she's exactly on my side. But I wish her well," Trump said.
During the 2016 presidential election, Ginsburg criticized Trump and called him a "faker," which is an uncharacteristic move for a Supreme Court justice. She later apologized for her comment.
Reuters contributed to this report.