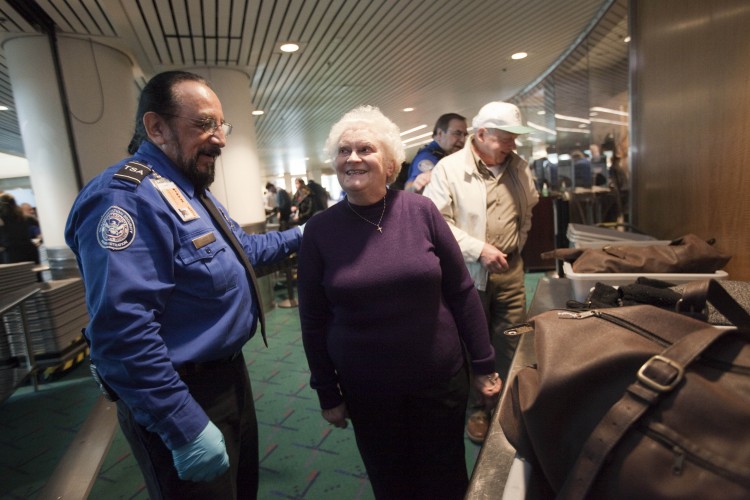 The U.S. Supreme Court on Oct. 1 declined to hear a challenge on the use of airport full body scanners and enhanced pat-downs. The justices did not issue a statement explaining the decision.
Blogger Jeffrey Corbett of Michigan had filed a complaint claiming that the screenings violate Fourth Amendment protections against unreasonable search and seizure, and therefore use of the scanners and the pat downs are unconstitutional. 
Passengers who are not willing to go through the scanners must instead allow security agents to pat them down in a way which includes touching private areas. Corbett, whose blog is called "TSA Out of Our Pants!", argued that the Transportation Security Administration exceeded its authority in implementing the policy.
The 11th U.S. Circuit Court of Appeals in Atlanta refused to hear his case. It said a lower court was right when it rejected the case due to a lack of jurisdiction over the TSA. Corbett then appealed to the Supreme Court.
After the court declined his appeal, Corbett asked for donations on his website, and wrote "I've heard from thousands of you over the last two years now. Thank you so much for the support, and let's continue this fight together!" He said he planned to file another appeal with the 11th Circuit Court. It was not clear how or what he would appeal.
Corbett wrote that the TSA regards its authority to mean, "Anything we write down cannot be fought in a trial court."
According to Corbett, TSA agents retaliated against him when he forbade them to touch his genitals at the Fort Lauderdale, Fla., airport on Aug. 27, 2011. He said they detained him for nearly an hour, completely unpacked his luggage, and ultimately threw him out of the airport.
According to the American Civil Liberties Union's (ACLU) "Know Your Rights When Traveling" guide, those who do not want to pass through a body scanner should "be as clear as possible, say, 'I opt out.'" 
"However," the guide stated, "…if you opt out, you will be subject to a pat down that many people find as or more troubling than the body scanner."
Elders over 75 are no longer subject to pat-downs, after several highly criticized incidents.
The TSA mandated that airports add full-body scanners with backscatter radiation technology after Umar Farouk Abdulmutallab tried to bring down Northwest flight 253 over Detroit on Dec. 25, 2010. He had explosives in his underwear.
When the scanners were first installed, some passengers were leery about both privacy and the possibility that the radiation emitted during scans could cause cancer. The American College of Radiology (ACR) said the technology does not pose a threat to health.
According to the ACLU of Maine, "Born in the aftermath of the attacks on September 11, 2001, the TSA is perhaps our most visible reminder of how intrusive security has become at our transportation centers."
The ACLU advises passengers that they can complain to the Office for Civil Rights and Civil Liberties of the U.S. Department of Homeland Security if they think their rights have been violated.
The Epoch Times publishes in 35 countries and in 19 languages. Subscribe to our e-newsletter.