The U.S. Supreme Court on July 2 denied a request by Texas Democrats to fast-track (pdf) a review of the party's efforts to expand mail-in voting amid the coronavirus pandemic and ahead of the July primary.
It marks another loss for Texas Democrats in their ongoing battle with state Attorney General Ken Paxton, a Republican, who has argued that only a physical illness or disability that prevents voters from going to the polls should qualify an individual to vote by mail.
Election law established by the Texas legislature generally requires in-person voting, and allows mail balloting only for certain limited groups, including those who are 65 or older, have a disability or illness that renders them unable to vote in-person, those who will be out of the county on election day, and those who are confined in jail but otherwise eligible.
The Texas election code defines disability as a "sickness or physical condition" that prevents a voter from appearing in person without the risk of "needing personal assistance or injuring the voter's health."
Texas Democrats and voting rights groups have argued that voters who are susceptible to contracting the new coronavirus should be able to vote by mail amid the pandemic and have been seeking to expand the definition of "disabled" to include those who fear coronavirus exposure during in-person voting.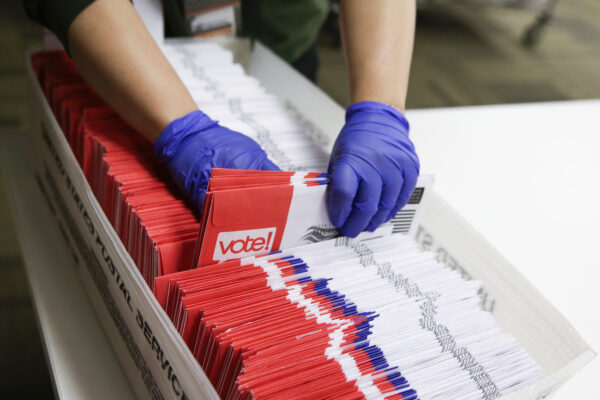 In May, the Supreme Court ruled that a that "a voter's lack of immunity to COVID-19" is not a physical disability that qualifies people to vote by mail. The decision by the Supreme Court this week means the state's current regulations for the upcoming July 14 primary runoff election will remain in place.
The ruling comes just a week after the Supreme Court also declined to immediately reinstate a federal judge's order that would immediately expand voting by mail to all Texas voters during the coronavirus pandemic.
A spokesperson for the Texas Democratic Party, Abhi Rahman, said the party will "continue to fight tooth and nail for everybody's right to vote," and that "all Texans should have clarity on how they can cast their ballot in the November elections."
While the Supreme Court may still decide to hear the case, this is unlikely to happen before fall.

"We still expect the case to be heard in mid-August," Rahman said. "Texas Democrats will never stop fighting for the right for everybody to vote. Every Texan should be able to vote safely and without the fear of contracting a deadly disease."
A number of other states will allow all voters to mail in their ballots during the pandemic in an effort to prevent large crowds from gathering at polling places.
Paxton has remained steadfast that expanding access to vote-by-mail could lead to voter fraud, and in a statement issued on June 26, he applauded the Supreme Court for "following the law and refusing to order mail-in balloting that the Texas Legislature has forbidden."
"Universal mail-in ballots, which are notoriously vulnerable to fraud, would only lead to greater election fraud and disenfranchise lawful voters," he said, adding that "State election officials have many options available to safely and securely hold elections without risking widespread fraud."
President Donald Trump has also previously said mail-in voting is particularly susceptible to fraud.