As part of China's zero-COVID strategy, seafaring crews are required to face as much as a seven-week quarantine upon returning to China, international shipping giants have confirmed.
In addition, vessels that have refreshed their crew elsewhere are prohibited from porting in China for two weeks.
Shipowners and managers have had to reroute ships. This has resulted in additional shipping delays. Many of these large companies, including Evergreen Shipping Agency and Ocean Network Express, have informed customers that they're suspending bookings for cargo destined for smaller ports.
"China's restrictions cause knock-on effects," Guy Platten, the secretary general of the International Chamber of Shipping, said in a statement. "Any restrictions to ship operations have an accumulative impact on the supply chain and cause real disruptions."
This has prompted shipping operators to urge Beijing to relax its COVID-19 restrictions or, at the very least, prioritize the shipping industry. If not, China would be responsible for exacerbating the international supply chain disruption and triggering a ripple effect across global commerce, market analysts say.
In addition, authorities have barred more than three Chinese seafarers on a flight to the mainland, potentially postponing their return home for a couple of months.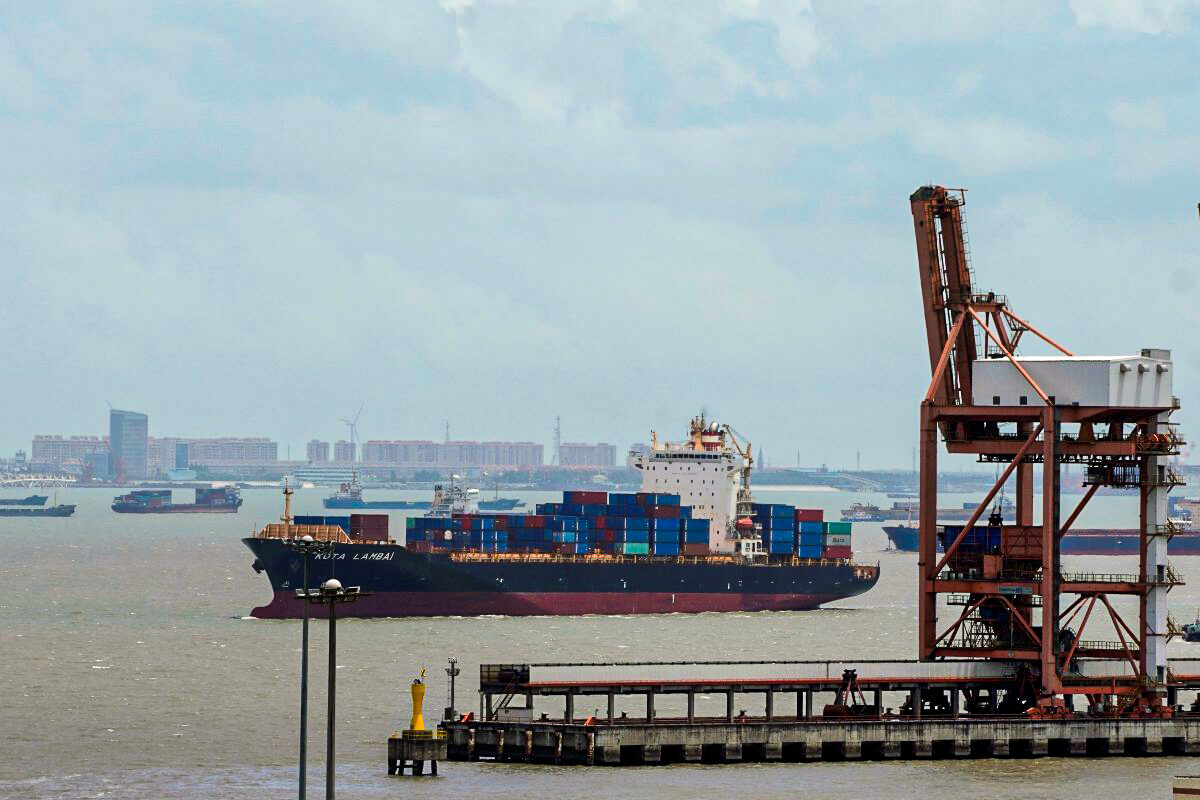 Because China is a critical location for the shipping sector, congestion has significantly ballooned in 2021. According to IHS Markit and Bloomberg data, the congestion rate—the number of anchored container ships waiting—is between 60 percent and 70 percent, as more than 250 ships are in the anchorage area.
Chinese officials have defended these actions, arguing that the country has seen an increase in imported infections and higher case counts of symptomatic infections. This comes as the rest of the world now grapples with fresh coronavirus waves, restriction measures, and concerns over the Omicron variant.
Logjam at US Ports the Longest on Record
The U.S. ship logjam is presently stretching far into the Pacific Ocean, making it the longest on record.
The number of container ships traveling to U.S. ports is close to 100, with the average wait for these ships being nearly 21 days, Wabtec Port Optimizer data show. This is one week longer than in November and is up from a low of 4.6 days on July 26.
Market observers warn that there's likely no respite in sight, mainly because many U.S. importers book their January orders in advance of the Lunar New Year holiday to restock their shelves. Officials also expect these conditions to linger, with Federal Reserve Chair Jerome Powell telling Congress that "supply chain snarls that have slowed deliveries and swelled prices throughout 2021 are likely to last longer than previously expected, likely well into next year."
The U.S. Census Bureau reported this week that the U.S. trade deficit tumbled by 18 percent in October, following a significant increase in exports and a slowdown in imports, which is being attributed to the traffic jam at domestic ports.
Imports rose by a tepid 0.9 percent to a fresh record high of $290.7 billion. Exports advanced by a 13-year high of 8.1 percent to a new all-time high of $223.6 billion.
Conditions to Last 'Quite Some Time'
If products are still stuck on these ships, whether in China or California, it's "highly unlikely" that they'll end up at retail establishments in time for Christmas, Axios reported. Market analysts say that store shelves could be limited heading into Christmas Eve, which they say could explain why many shoppers are spreading out their holiday shopping.
Top executives at European corporations believe that surging price inflation and supply chain woes are here to stay. From labor shortages to struggling industrial output, industry leaders say these problems are showing no signs of dissipating.
"I think what we are definitely seeing is inflation is picking up, but what I would also say is when you look at food, it is a smaller share of wallet than some other categories, and we definitely see other areas where inflation looks a lot higher than in our industry," Ahold Delhaize Chief Financial Officer Natalie Knight told CNBC.
When power shortages and a broader energy crisis are factored into the equation, the industrial world will be enduring these conditions "for quite some time," according to Siemens Energy Chief Executive Christian Bruch.
The U.S. government has weighed in on the Omicron coronavirus variant, adding more pressure on the global supply chain crisis.
Commerce Secretary Gina Raimondo recently told CNN that she's concerned about the shortage of workers across multiple sectors, since they're afraid to go to work.
"Some portion of that is people are afraid to go to work. In manufacturing facilities, people work in person, close together. And there have been outbreaks. We've had problems in places where people work close," she said. "It's too soon to tell, but I do think it's real—not just because of the outbreaks, but because of people's fears to show up. It's massively disruptive."
Still, all of the events unfolding today are "temporary," according to Raimondo.
But the U.N. Conference on Trade and Development (UNCTAD) stated that the shipping container crisis, resulting in soaring shipping prices, could result in higher inflation for a wide range of consumer goods. According to a UNCTAD report, computer and electronics prices could climb by as much as 11.4 percent, while furniture and textiles could surge by 10.2 percent.
"UNCTAD's analysis shows that the current surge in container freight rates, if sustained, could increase global import price levels by 11% and consumer price levels by 1.5% between now and 2023," the report reads.