Super Smash Bros 4 keep coming out, including new characters beign confirmed.
Palutena, Pac-Man, and the Mii Fighters were all recently confirmed to be part of the game, which is slated to be released for the Nintendo 3DS in the fall and Wii U in the winter.
Now game director Masahiro Sakurai has shared a screenshot that shows the Mii Fighters in action.
"Here are some weapons the Mii Swordfighter can use: Shurikens of Light, Chakrams, and Gale Strikes," he said.
"You can control the direction the Chakram is thrown, or even make it stall in midair. The Chakram is also the only one of these tied to the side special move, so you can use one of the other items consecutively with this one."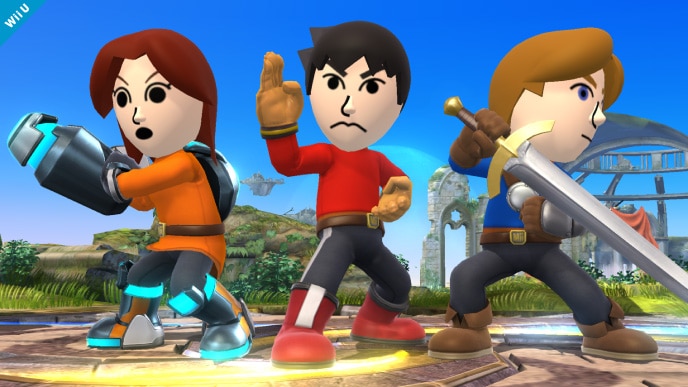 The trio of newly announced characters are among many new characters that will be part of the game.
The Pokemon Greninja, Little Mac, and Mega Man are among the other new ones.
Check out the full official character list below, with rumored characters in italics.
New:
Pac-Man
Wii Fighters
Palutena
Mega Man
Wii Fit Trainer
Little Mac
Rosalina & Luma
Villager
Greninja
Chrom
Charizard (own character now)
Zero Suit Samus (own character now)
Sheik (own character now)
Returning:
Ike
Yoshi
Diddy Kong
Lucario
Little Mac
King Dedede
Zelda
Marth
Sonic
Toon Link
Peach
Luigi
Pikmin & Olimar
Mario
Donkey Kong
Link
Samus
Kirby
Pikachu
Fox
Bowser 
Pit
Ganondorf
MetaKnight
Jigglypuff
Ice Climbers
Mr. Game & Watch
Captain Falcon
Ness
Falco