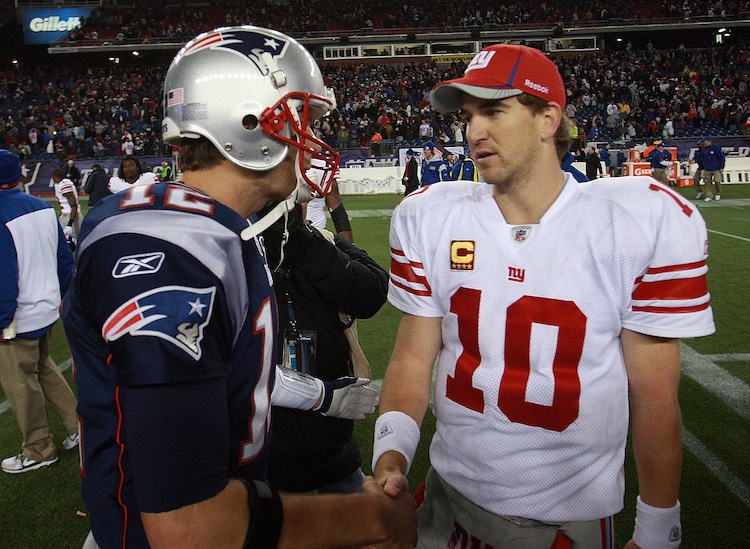 The rematch of one the greatest Super Bowls in history is finally upon us.
Thanks to that upset four years ago the Giants, despite trailing the Patriots by four games in the standings this past season, haven't been relegated as anywhere near the major underdog they were in 2008 when New England was a more than double-digit favorite to win.
The flip side to people's confidence in Eli and company now is that the Patriots won't take them lightly this time either.
In 2008, Eli Manning was 25th in the league with a lowly quarterback rating of 73.9 and his 20 interceptions were the most in the league. Though he had performed somewhat admirably in the three playoff games (62 percent completion rate, 4/0 TD/interception ratio) leading up to the Super Bowl, it was hardly enough to strike fear into a team that had outscored its opponents by an average of almost three touchdowns (19.7 points) per game in the regular season.
Four years later, the respect for Eli and the Giants seems to be there for the Patriots, though the dominant team is dominant no longer.
New England sported a 13-3 regular season record despite the 31st-ranked defense in the league—in terms of total yards. Yet, thanks to a sure-handed and very potent offense (second in total yards) and a very opportunistic defense, +17 in turnovers, ranked first in AFC they were able to mask their defensive shortcomings—barely.
Two weeks ago against the Ravens, New England escaped by way of a nervous place-kicker's normally makeable 32-yard miss and a receiver who couldn't hang on to the ball in the end zone for just another split-second.
These miscues allowed the Patriots to win the game, despite two more turnovers, 68 less total yards, and having their defense on the field for seven more minutes than Baltimore. The win gave New England a false sense of confidence.
The Giants meanwhile come into the game playing the best they've played all season. Their winning formula of keeping a game close enough for Eli Manning to suddenly morph into Joe Montana in the final minutes and pull out a miraculous game-winning drive works best in the adrenaline-filled playoffs.
Though the Giants, namely Osi Umenyiora, haven't been as smart about giving the opposition any bulletin-board material as Bill Belichick's normally tight-lipped Patriots, they are ready to win another one. Prediction: Giants 27, Patriots 21.