Sunny Day for Hebe Haven Typhoon Series
Yachting—Typhoon Series
July 3, 2013 11:53 am Last Updated: July 3, 2013 11:53 am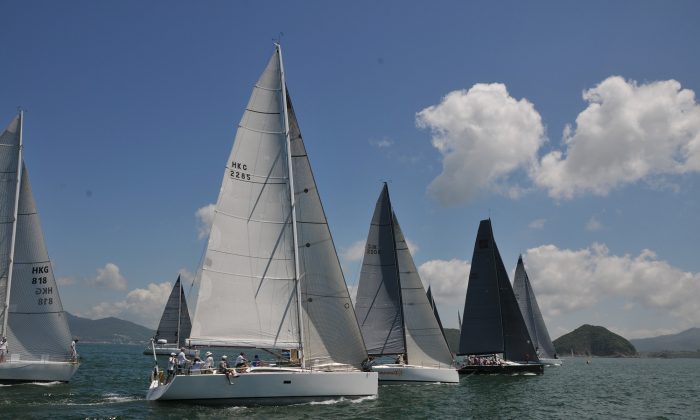 Back from her travels, "Jelik" graced the Port Shelter stage together with 58 other boats on Sunday June 30 for the fourth race of the Hebe Haven Yacht Club 9-race Typhoon Series and immediately showed her class by winning line honours in the 19 NM IRC-A islands race.
It was a beautiful day for sailing, with lots of sunshine and fairly gentle 5 to 10 knot winds, the only complaints were that "it was too hot".
Many boat skippers expressed their satisfaction of the course, with thanks to Race Officer Toby Jenkin-Jones taking a day off racing, handing the reigns over to Kay Patterson and other members of the Bits & Pieces crew.

[b]IRC-A
The Big Boat race started in Port Shelter and after passing the club mark headed out to and rounded East Ninepin, Bay, Bluff and Table islands before finishing back in Port Shelter.
"FreeFire" was second home in the IRC-A class, finishing the race in 3:18:18, some 10 minutes after "Jelik" (3:08:25) notched up her first in the series. Four other boats, "Mandrake", "Signal 8", "Ambush" and "Walawala 2" (from Singapore) pushed "Jelik" back into sixth position on corrected time.
After deducting one discard that is available at this stage in the series, "Mandrake" (4 points) leads the series from "Ambush" (6), "Signal 8" (9) and "Mojito" (16).
IRC-B and C
Both IRC-B and C class boats ran a 15NM course starting in Port Shelter passing the club mark and then rounding Table, Bay, Bluff and Steep islands before passing Trio and Table to the finish line.
"Red Kite II" took line honours and first place on corrected time in IRC-B, with "Vixen", "Whiskey Jack", "Rampage" and "Gear Box" taking up the next four places.
It is still very close at the top of the series standings; with "Red Kite II" moving to lead the division just one point ahead of "Whiskey Jack", who in turn is a point clear of "Vixen".
In IRC-C Division, "Impala I" again showing she is the boat to catch with her fourth consecutive win, with "Moll", "Boss Hogg", "Taxi" taking the next three places, respectively.
In the series standings, "Impala I" is five points ahead of "Taxi" and "Boss Hogg", who are both on equal points fighting for second place.
HKPN
Running a slightly different course of 14NM, HKPN class boats completed a route from the start in Port Shelter passing the Club Mark, rounding Trio, Bay, Bluff and Table islands before heading back to the finish line in Port Shelter.
"Bits & Pieces" again won line honours, this time by some 17 minutes ahead of "JeNa PaBe" (Ben Chong), with "Jazz" (Alan Tse) just a minute further back. However, "Dea II" took first place on corrected time, with "JeNa PaBe" second and "Jazz" third.
After taking the one race discard into account "Scintilla" still leads the series standings, with "Windseeker" (fourth in Race 4) second and "JeNa PaBe" is in third place.

SMS
The eight Sports Boats took the same 19 NM course as the IRC-A boats, but started 10 minutes later.
"Merlin" again performed well taking first place ahead of "R2B2", "Ricochet", "Catch 22" and "Sidewinder".
Julie MacKenzie had a good race in her GP26 "Ricochet" to come in third place sailing with a crew of just two.
Jim Daly, on the other hand, in his GP26 "Stingray" could not seem to get going at all and came in 47 minutes behind the leader. After the race they still could not work out what the problem was, but sailing in stronger winds on Monday July 1 they noticed a fishing net attached to the Keel! Removal of that should improve their sailing in the Summer Saturday series next week.
After taking the one race discard into account, "Merlin" leads the series. Second is "R2B2", equal on points with "Fly By Wire", who did not take part in this race. "FreeFire It's My Pleasure" did not race this week either and has now dropped to fifth place, just behind "Catch 22".
Mid-Summer Macau Race
The Mid-Summer Macau Race run by the Cruiser Owners' Association was run over the July 1 holiday weekend attracting 21 entries, which included eight boats that normally take part in the Typhoon Series. The prize giving for this event will be held at the Hebe Haven Club House on Friday July 12.