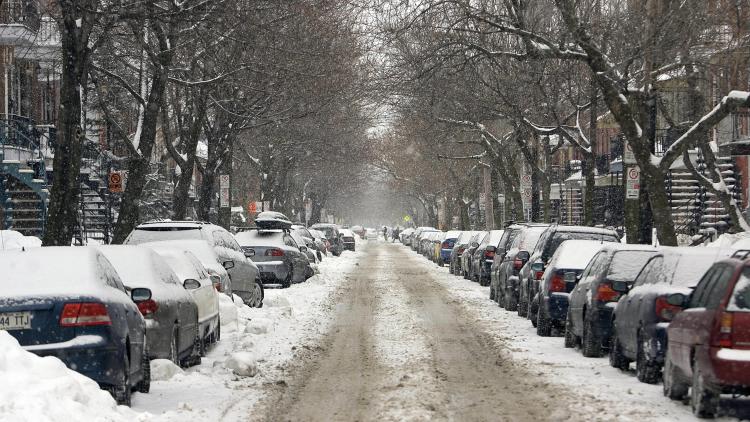 Canadians may still be recovering from the recent storms that buried most of the country in snow, but it was the near-daily rain across Eastern Canada this summer that topped the country's weather story list for 2008.
"In the 40 years of my employment at Environment Canada, I have never heard so much complaining by so many Canadians for so long for so much of the country," said Environment Canada senior climatologist David Phillips of what he called "The East's Big Summer Soak."
The Arctic ice melt, last year's No. 1 story, "may very well be the story of the century," he said at a news conference on Tuesday. Although it ranked No. 2 this year, the continuing disappearance and thinning of ice in the North remain "ominous" and "in many ways it was more worrisome."
Another highlight was the "never-ending winter" that hit Eastern Canada. The "gold standard of 'buried in snow'" belongs to Ottawa, with almost 445 centimetres of snow in 1970-71. This year snow buried Ottawa for nearly five months but fell 12 centimetres short of the record.
"Probably the most incredible trivia piece this whole year was the fact that the whitest Christmas in Canada was in Vancouver," Mr. Phillips said. "They've only had five white Christmases in 50 years. They had more snow than the North Pole on Christmas morning in Vancouver."
This is the 13th year Environment Canada has issued an annual pick of Top 10 weather stories.
The department selects its stories based on their socioeconomic and environmental impact on Canada and Canadians; their rare, unusual, extreme, or record-breaking meteorological significance; the number of people and size of geography affected; and news longevity.
Environment Canada's Top 10 weather stories for 2008:
1. The East's Big Summer Soak
It rained almost daily across Eastern Canada this summer. Montreal had only two dry weekends out of 16, with seven weekends considered total washouts. Toronto had the wettest summer on record. It was a devastating season for many fruit and vegetable growers and the worst-ever year for hay growers.
2. The Great Arctic Thaw Continues
The shrinking, disappearance, and thinning of the ice in the Arctic are worrisome and changing the map of Canada in the North, said Mr. Phillips.
Ice in the Arctic "has a very stabilizing effect on climate, and when it begins to disappear, you wonder [whether] any kind of weird, wild, or wacky weather occurring anywhere else could be traced back to an Arctic that seems to be vanishing of ice."
3. A Never-Ending Winter
For millions of people in Eastern Canada, the winter went on for much too long. Montreal, Ottawa, and Toronto were about 12 centimetres short of their records for snowfall. Residents ran out of places to put the snow, salt and sand were rationed by mid-February, and roof collapses led to four deaths.
4. Saint John River Floods from Top to Bottom
New Brunswick experienced its worst spring flooding in 35 years, all along the Saint John River. A thousand people were evacuated, some 1,600 properties were affected, and flooding caused $50 million in damages to homes, farms, and small businesses.
5. Pre-Winter Shockers
Canada is the snowiest country in the world and the second coldest country, but even Canadians were shocked that before winter even started the country was snow covered and frozen from coast to coast.
6. 'Hail' of a Summer for Growers
From British Columbia to Ontario, hailstorms pulverized orchards this summer. Hail and wind damaged about 40 per cent of the fruit crop in British Columbia's Okanagan region. About half of Alberta's famous Taber corn crop was destroyed. There was also huge damage to orchards all across Ontario and other parts of the Prairies.
7. Winter's Last Hurrah
A mammoth 40-hour storm hit Eastern Canada on March 8 and 9, during the traditional March "getaway" weekend, bringing from 25 to 50 centimetres of snow. People were stranded in airports and 200,000 people were left in the dark from Windsor, Ontario to Wabush, Labrador.
8. Hanna and Her Brothers
During the 2008 Atlantic hurricane season, tropical storm Cristobal in July and hurricanes Hanna, Ike, and Kyle in September caused huge casualties and destruction in the Caribbean, Central America, and United States. However, in Canada they mostly brought nuisance rains.
9. The Coldest Place on Earth
There wasn't a place on Earth colder than Canada at the end of January. A strong high-pressure Arctic ridge brought Siberian air across western and northern Canada and the Prairies, where temperatures dipped below -40 C and -50 C with wind chill.
10. PEI Ice Storms
A monster 32-hour storm encased Prince Edward Island in ice at the end of January, leaving 95 per cent of the island's residents at times without electricity.