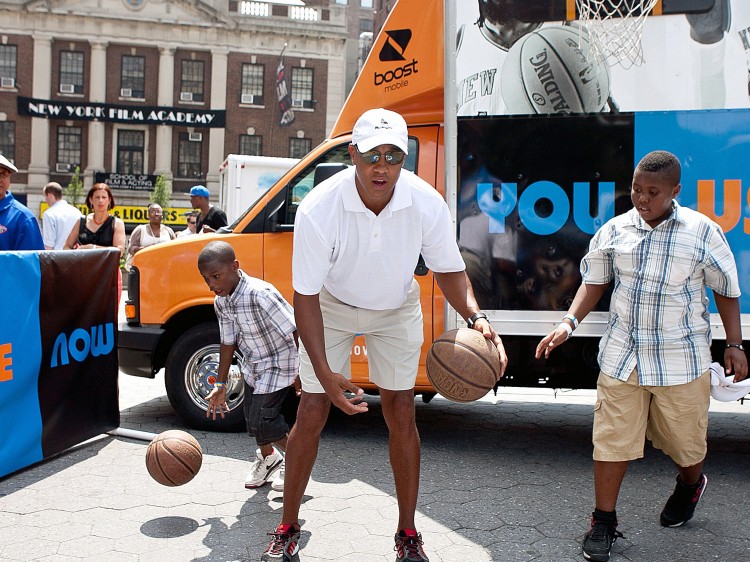 NEW YORK—For three Saturdays in August cars will be banished from miles of Park Avenue and replaced with activities like sand sculpting, a climbing wall, cooking demonstrations, bicycle classes, and a Rangers slap shot station.
Additionally, free bicycle and rollerblade rentals will be available at select locations.
The free and public street games are part of the annual lineup for Summer Streets, announced at Union Square Park on Tuesday by NYC Department of Transportation Commissioner Janette Sadik-Khan, joined by former Knicks star John Starks and former Mets pitcher John Franco.
"I'm really looking forward to it," said Starks. He may join the activities with the Knicks and their roving "groove truck," which has two basketball hoops affixed to one side. "May be you can learn a few tips about shooting a basketball from me," he said.
"The experience is great … events like this really brings the city closer and makes everyone a big happy family," said Franco. Both men were looking forward to bringing their families out to the events.
The stretch of Park Avenue from the Brooklyn Bridge Park to 72nd Street will be closed to car traffic on August 6, 13, and 20, and made accessible for fun and games, from 7 a.m. to 1 p.m.

Each Saturday over the last three years of the event, over 60,000 people have come out to enjoy the blocked off street, said Sadik-Khan. "We've learned that it is widely popular, continues to grow, and New Yorkers really love to enjoy their streets in a new way."
Former conductor and music coach David Dworkin was present at the press conference, showcasing his 'Conductorcise' program, which he has led at previous Summer Streets events. Dworkin will lead his program on August 6.
"It gets everybody out, they encourage skating, biking, walking, pushing babies, just anything that gets people moving," he said. "It's a happy event."
Conductorcise is an exercise program of athletics and aesthetics, utilizing orchestra conducting movements as a workout.
"I went to this event last year," said Andrea Baskerville. "It's a good atmosphere … it gives a different feel to the city." She said she is usually too scared to bike in the city, but hopes to learn with her 7-year old son Ayden during the event.
The initiative is based on Bogota, Columbia's "Ciclovia," a weekly event where over 70 miles of streets are closed off to traffic and made available for people to enjoy. "You don't need a lot of money to participate. The 'Ciclovia' is marvelous, it is the best thing that has come to Columbia," said a Bogota resident on a Streetfilms.org short documentary about 'Ciclovia.'
With reporting by Amelia Pang.