Summer Gift to Blue Star Families
July 4, 2013 5:32 pm Last Updated: July 4, 2013 5:32 pm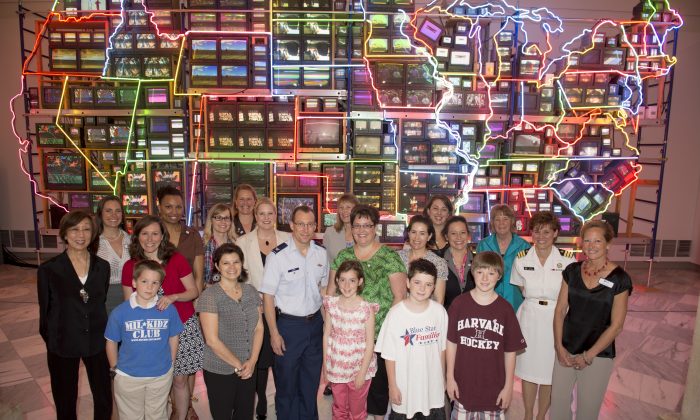 Since its inaugural launch in 2010, the Blue Star Museums program has provided military families with an opportunity to enjoy free admission to many museums each summer from Memorial Day on May 27, through Labor Day on Sept. 2. 
"Blue Star Museums is a collaboration between the arts and military communities," said Joan Shigekawa, acting chairman for National Endowment for the Arts, at the recent press event at the Smithsonian American Art Museum in Washington, D.C. 
"Our work with Blue Star Families and with more than 2,000 museums and historic institutions across the country ensure that we can reach out to military families and thank them for their service and sacrifice," she said.
This special, mutually beneficial program between the arts and military families triggered in me déjà vu reminiscent from when I was a young mother living and studying in Birmingham, England. 
With no family around to babysit, my husband and I included my son, Mark, then two years old, on all of our weekend outings to beautiful parks and magnificent museums in the city and on short getaways to museums in London and Paris.
Sometimes necessity creates positive and unexpected results. Many years later while visiting our son at Dover AFB, where he served with distinction in the U.S. Air Force as a senior load master on the C-5, the largest cargo aircraft in the world at the time, I was utterly stunned and happily surprised to find a poster depicting a painting by a famous artist on the wall of his small and neatly kept barracks room. 
Smiling at my husband, I whispered: "It was worthwhile taking young Mark to all those museums." 
"Blue Star Museums is something that service members and their families look forward to every year, and we are thrilled with the continued growth of the program," said Blue Star Families CEO, Kathy Roth-Douquet, in a press release.
"Through this distinctive collaboration between Blue Star Families, the National Endowment for the Arts, and more than 2,000 museums across the United States, service members and their families can connect with our national treasures with this unparalleled opportunity to visit some of the country's finest museums for free," she said.
A number of Bay Area museums are participating in the Blue Star Museums program, including de Young Museum, Legion of Honor, Asian Art Museum, Children's Creativity Museum, San Francisco Fire Department Museum, Yerba Buena Center for the Arts, Japanese American Museum of San Jose, and San Jose Museum of Art. 
Filoli, a historic site of the National Trust for Historic Preservation, also participates in the program. It is recognized as one of the finest remaining country estates of the early 20th century, and also remembered as the location for the long-running, popular TV show "Dynasty."
Last week, Filoli welcomed the military family of Anthony Marquette of Las Vegas to its picturesque setting, surprising them with admission free of charge. 
In an email to me, Tina Mello expressed gratitude to Filoli by writing to them: "We want to thank you again for allowing us to visit the beautiful Filoli home. My husband and I have gone many times ourselves and paid full admission and have always been so happy to do so, but when our son Anthony came with us he asked if you give a discount for military members, and we were all tickled pink when you said 'yes.' … Thank you so much." 
Victoria Hutter, assistant director of public affairs at National Endowment for the Arts, said in a communication, "Through Blue Star Museums, the arts community can show its gratitude to military families for their service and sacrifice, as well as create connections between these families and museums that can continue throughout the year."
"Especially for families with limited time together, those on a limited budget, and ones that have to relocate frequently, Blue Star Museums offers an opportunity to enjoy one another and become more fully integrated into a community," she said.
As America celebrates its Independence Day, I am very grateful to the participating museums and historic institutions for their contribution to enriching the cultural lives of Blue Star Families. 
Happy Fourth of July! And Thanks.
To learn more about the Blue Star Families program, visit: www.bluestarfam.org. To find out which museums participate in the program, visit: www.arts.gov/bluestarmuseums.
Lina Broydo is an arts, travel, style, and sports writer who resides in Los Altos Hills, Calif.