Suicide of Beijing Resident Draws Attention to Housing Malpractices
December 6, 2006 12:00 am Last Updated: December 6, 2006 12:00 am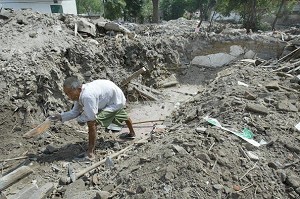 The protest-suicide of a Beijing resident in response to the Chinese government's intentions to demolish his home has sparked growing protests in the district, drawing attention to demolition practices.
According to an Radio Free Asia reporter, Mr. Zang Ruiqun, 58, living in Dongcheng District, Beijing, was a resident of a "rented housing unit" [1]. Under threat he would soon be forced to relocate to another place by the Office of Removal, he hanged himself in his home on November 24. On November 30, efforts were made to contact his brother, but were unsuccessful. According to Mr. Ma Lianfu, who had talked to Zang, the government compensation for households in that vicinity was generally about 40,000 Yuan (US$5,114) per square meter, yet Zang was only offered 8,000 Yuan (US$1,022) per square meter.
"Zang's wife is handicapped," Ma said, "yet the compensation he was given was still especially low. The demolition man threatened that if Zang didn't allow his home to be demolished, they would harm his wife. In response, Zang announced that he would take his life in protest, and cut a hole in his roof to hang himself. His family members found him dead on November 24, 8 p.m., his body still warm. Although an ambulance was called to the neighborhood, officials of the Demolition Office wouldn't allow it to enter."
On the morning of November 30, dozens of tenants of rented housing units visited Zang's family. According to Ma, who participated, their small gathering met with hostility by authorities.
"Today, dozens of us made it to Zang's home to support his protest and to pay silent tribute to him," Ma told. "At first, only the chairperson of the neighborhood committee went there to talk with us. After noticing how many people were there, he then called the police to come over. When a policeman finally arrived, he asked us why we were there, and although we told him that we were there to offer our respects, he still argued with us for quite a while."
On November 30, our reporter made a phone call to the Jingsan Police Station to ask for the development of the incident. The policeman with whom he spoke responded that a resident of the relocation household had committed suicide, and that his supervisor and other colleagues were in the process of dealing with the case, but he didn't know anything further.
Ma Lianfu expressed that over two hundred residents of rented housing units would once again make it to Zang's home to express their respects on December 4, and would bring a huge banner with them.
In addition, Ma also revealed that the Zang family used to own fifteen housing units before the communist takeover in 1949. Afterwards, the authorities confiscated and rented eleven of them. Currently the family, composed of over ten people, has been forced to live in only four housing units. Moreover, these four units are scheduled to soon be demolished.
"An elderly woman in her 80s by the name of Zhang Xiuzhen was tortured to death last New Year's eve, after she petitioned to the government over the issue of the 'renting housing units'," said Ni Yulan, another petitioner.
Ms. Ni also expressed that because the demolition practice has not stopped, her neighborhood is a mess, and that demolition men have even taken advantage of residents by destroying their homes while they were away.
Notes:
1. Sometime around 1958, Chinese authorities began confiscating all privately owned housing units in urban areas and re-renting them to other residents. Many housing units were rented to those who were homeless. This kind of real estate was thus called "rented housing units." The cost of rent regulated by the government was usually very low. Some have regarded the renting housing system as a problem left over by history.