Subsea Sharks Worthy Repeat Winners of Hong Kong 5's
Ice Hockey—Hong Kong
May 13, 2014 7:41 am Last Updated: May 13, 2014 7:41 am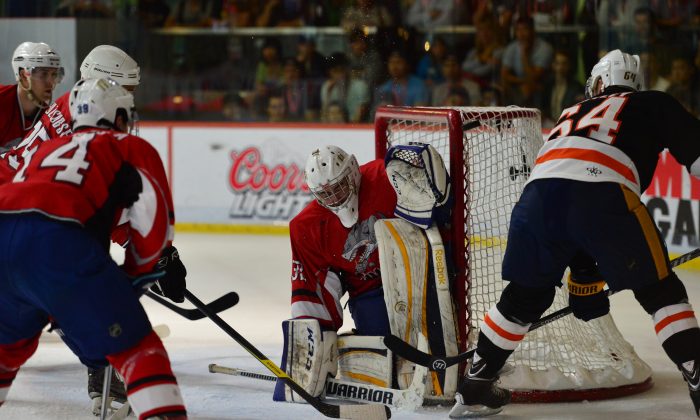 Defending Champions, Kreug Subsea Sharks, from Singapore repeated their 2013 performance to win the International-A Trophy at the 2014 Mega Ice Hockey 5's tournament on Saturday May 10.
The Sharks won all of their matches in a fine all round performance showing their continuing superiority in the competition against good opponents. Although Toronto Maple Leafs' star Tyler Bozak did not finally play, the Sharks had an excellent well-balanced squad which included former AHL Canadian Max Taylor.
After the Hong Kong Tiger's Round Robin game against the Sharks (Sharks won 4-1) Nashville Predator's NHL player Victor Bartley guesting for the Tigers praised the Sharks goalie Colin Dzijacky for his fine performance between the pipes.
"I think both teams were playing well, but their goalie made a lot of good saves… we played pretty well, but could not put it past him," said Bartley summing up the game to the Epoch Times.
Sharks went on to win their Semi-final match against Tokyo Canadians 9-5 to set up a final with the Hong Kong Tigers who beat the Pandoo Nation team 7-1.
It was little different in the Final—the Tigers although attacking often could only score one goal due to good defending and excellent goal keeping by the Sharks.
Although the Tigers scored first through Devin Welsh, the Sharks notched up goals in each of the 3-Periods coming away with another 4-1 win.
The Tigers' 15-year-old goalie Korbinian Lutz contributed admirably in the earlier stages of the competition.
Professional Goalie Hutton Impressed by Lutz Performances
"He's been great for us, he's just 15 years old, he made a lot of good saves when he needed to and you could not blame him for the goals tonight [May 9]," Hutton explained.
At the end of a long week of matches Owner/Manager of the Sharks, Shei Hutton lifted the International-A Trophy to the delight of their supporters and receiving a rousing reception from a packed arena. Players awarded for their performances in the tournament included Bartley and Shei Hutton, Dzijacky and Josh Monair (Sharks).
Adult competitions finalists and winners
International-A : Kreuz Subsea Sharks (4) def Hong Kong Tigers (1)
International-B : Zholbarys, Kazakhstan (3) def Nordic Vikings 0
International-C : Bangkok Flying Farangs (2) def Cathay Flyers (0)
International 40+: IGUARD Original Dragons (2) def Hitmen 40 (1)
Women : WIHO Saints (3) def Abu Dhabi Storm (0)
Asian-A : HK Hitmen (4) def Gol d Club A (3)
Asian B : Gold Club B (4) def Sammi's Superstars (0)