Style-Lights From The 2014 New York Auto Show
The high on style, low on tech review of The 2014 New York International Auto Show
April 25, 2014 3:05 pm Last Updated: April 25, 2014 3:05 pm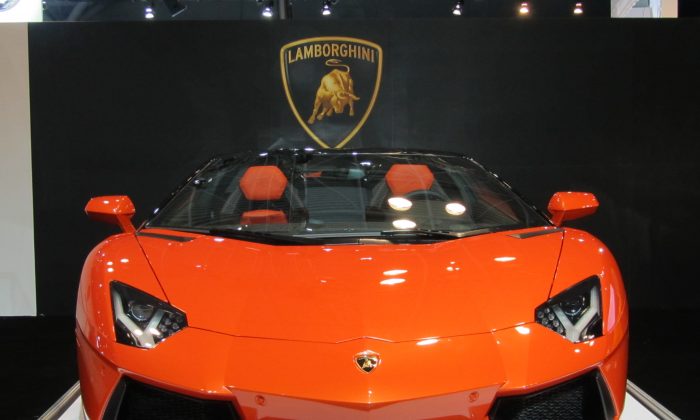 Car shows used to be similar to haute-couture fashion shows where designers would present their most daring and jaw-dropping creations in a theatrical setting, knowing that, in reality, only some elements will be translated into wearable outfits. Nobody wants to go to a fashion show and be bored with technical specifications about top-stitching and the virtues of a hand-sewn button hole.
Likewise auto shows used to be exciting for the reason that, alongside the consumer-friendly offerings, car companies also took the trouble of showcasing their "out-there" concept vehicles—experiments in what might be in the future.
Alas, those days are long gone. It's business as usual for the major car manufacturers around the world who showcase their shiny goods at The 2014 New York International Auto Show. The overwhelming subtext is "New York's where the money is, so let's cut to the chase and tell you why above all others you need to choose me," a show-and-tell for grown ups with lots of cash.
Brits and Germans
In case you thought that Shakespeare has nothing to do with cars, he is the playwright of choice for British luxury automotive brand Jaguar, who also chose Brit actor Tom Hiddleston to instruct wannabe Jag owners in the art of how to be a villain with flair. You will need a British accent, a sharp suit, and the F-TYPE Coupe powered by the new Jaguar 5.0-liter supercharged V8 engine. Enough said.
Continuing the British theme, Rolls-Royce unveiled their Ghost Series II to North American customers with "a discreet and considered update" of the car's exterior appearance. The Ghost Series II is the boxy cousin of the sleeker Wraith, which at least has more modern lines and would still appeal to "the captains of industry" clientele who are happy to spend $250,000-plus. If your chauffeur needs to spot that stray deer with infra red technology as you stealthily speed near the woods at night, then the bespoke Ghost Series II is the vehicle for you; better to be safe than sorry.
In the same league but with a lot more aplomb is the Bentley Continental GT Speed Convertible. Sure, it has the W-12 engine that takes you from 0 to 60 mph in only 4.1 seconds, but the quilted leather seats with orange top-stitching leaves all others in its class behind—let's face it, no respectful luxury vehicle neglects the details, and top stitching is de rigueur. A real looker and a steal with a starting price of $217,000.
Aston Martin is premiering the Vantage GT and the DB9 Carbon Edition here. The DB9 Carbon Edition model can be ordered in yellow, black, or gray. The Vantage GT can accelerate from 0 to 100 km/h (60 mph) in just 4.7 seconds and it can reach a top speed of 305 km/h (190 mph).
The Mercedes-Benz S63 AMG Coupe needs mentioning because, well, it's a Mercedes except more sculptural, covetable, and somehow BMW-esque in its sturdiness, but nevertheless a thing of beauty and, of course, speed also comes into it. The starting price for the S63 AMG Coupe is around $150,000 and it will be available this fall.
BMW's answer to America's obsession with SUVs is its all-new X4 Sports Activity Coupe freshly unveiled here. This "mid-sized premium sports activity vehicle" is a small four door SUV with a coupe roofline—fans will see it as sporty alternative to a sedan. For those to whom this car appeals, the X4's starting price is $45,625 with a long list of options.
Happy Anniversary!
Anniversaries and special editions vehicles are everywhere you look at this year's Big Apple car fest.
Among them, Italian luxury automaker Maserati is celebrating its 100th anniversary with a series of special edition models. The GranTurismo MC Centennial Edition is available in seven colors. The Magma Red edition will have black seats; red, white, and blue accents on the dashboard; carbon fiber trim; and tri-color accents on the leather-wrapped steering wheel. The Inchiostro Blue edition will get similar features, along with the Santorini Blue inserts and stitching on the dashboard and white leather seats.
It has been 50 years since Ford launched the Mustang, and to celebrate the company has launched the Mustang 50th Anniversary Edition of which only 1,964 units will be produced and devotees will have to choose between two colors: Wimbledon White or Kona Blue. Features include 5.0-liter V8 engine, a choice of either 6-speed manual or 6-speed automatic transmission, and 19-inch alloy wheels with Pirelli P Zero tires. It will be available this fall by which time Ford will undoubtedly also reveal its price.
Italians and Supermodels
One car that has kept its looks, but that you don't see much on American roads, is the Alfa Romeo. The company wants to change that with the introduction of the 4C and the 4C Launch Edition here in New York. The 4C Launch Edition, which will become available for order in June in Madreperla White, Rosso Competizione, and Alfa Red, will also get a Launch Edition plaque in the cabin, along with a leather-wrapped dashboard, with red or white accent stitching and black microfiber sport seats. The 1.75 liter four-cylinder turbocharged engine with a double-clutch transmission propels it from 0 to 60 mph (96 km/h) in approximately 4 seconds, with a top speed of 160 mph (257 km/h).
In a demurely segregated corner display, like untouchable super-models, the Koenigsegg Agera R, Lamborghini Aventador, Lotus, and the Bugatti Veyron are parked in a line for all to behold—from a distance.
The Lamborghini Aventador is still a thing of beauty that will clear 60 miles per hour in just 2.9 seconds and reach 220 miler per hour thanks to its 700-or-so horsepower V12.
The Koenigsegg Agera R, which also takes off from 0 to 60 in 2.9 seconds, has been recorded to reach 260 miles per hour, though its official top speed is not revealed. But apart from its prowess, it's hard not to notice that it has the most eerily human-like headlights, complete with built in eyelids—or is it eyeliner?
Last but not least, the drum roll and fanfare were missing but the Bugatti Veyron is still the fastest car in the world and it remains the ultimate driving machine and the most extraordinary car that has ever been built.
It has a quad-turbo 16-cylinder engine and a 7-speed dual-clutch transmission that costs more than some sports cars—but it all adds up to speed. It can reach 124 mph from a standstill in just 7.1 seconds and you can order it in any color combination with the most expensive being plain polished aluminum panels—that will add about $590,000 to the price tag. Otherwise it costs about a million dollars—but it's a tiny price to pay for a work of art. Let's call it kinetic art.
Not everyone is impressed by it, however. The special guard standing by it didn't know what it was and even let me go into the special enclosure with the beast to take photos of it from the back—a privilege not afforded other media, though perhaps they were lacking in the same kind of enthusiasm.
The 2014 New York International Auto Show is at the Jacob K. Javits Convention Center until April 27.