American scholars recently published a study, stating that the Swine Acute Diarrhea Syndrome Coronavirus (SADS-CoV) found in Chinese pigs poses a threat to human health. Its risk of transmission to humans is not ruled out, they said.
The Proceedings of the National Academy of Sciences (PNAC) published this latest study on Oct. 12. Scientists found that Chinese pigs were infected with SADS-CoV as early as in 2016, with symptoms of diarrhea and vomiting.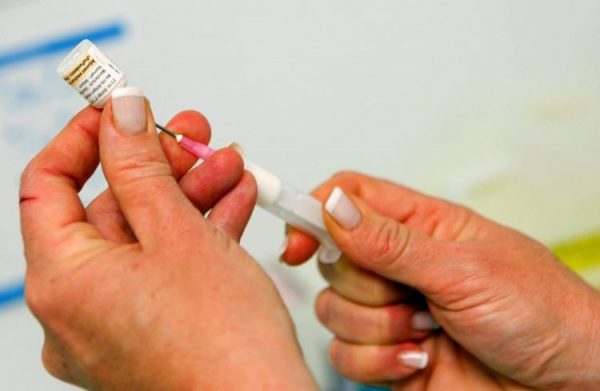 SADS-CoV is extremely lethal to young pigs, causing 90 percent of piglets to die within five days, according to the study.
The virus is in the same family as SARS-CoV-2, the virus that causes the COVID-19 respiratory illness.
In lab tests, the researchers found that the virus also replicated efficiently in human cells derived from both the lung and intestine, "highlighting an intrinsic potential for cross-species transmission and human susceptibility to infection," the study noted.
"It is impossible to predict if this virus…could emerge and infect human populations," study co-author Caitlin Edwards said in a press release. "However, the broad host range of SADS-CoV, coupled with an ability to replicate in primary human lung and enteric [gastrointestinal] cells, demonstrates potential risk for future emergence events in human and animal populations."
Thus far, there had been no recorded cases of humans being infected with SADS-CoV. But the current COVID-19 pandemic demonstrates that coronavirus strains from animals can potentially infect humans as a result of a spillover.
The scholars participating in this research consist of a team of 14 epidemiologists, immunologists, and microbiologists from the University of North Carolina at Chapel Hill.
The researchers recommended that the Chinese pig industry closely monitor this virus, as there may be an SADS-CoV outbreak among hog populations.
In 2018, African swine fever broke out in China, resulting in the culling of millions of pigs.
After the SADS-CoV study was published, some Chinese netizens were concerned. One posted, "The Wuhan coronavirus is still raging around the world. Now, the world will continue to have disasters."
Huang Limin, chairman of the Infectious Diseases Society of Taiwan, told Taiwan media, "If (virus) can infect mammals, it has the potential to infect humans as long as humans are in frequent contact with this animal. Many viruses first infect pigs and then infect humans. Like the swine flu virus we had. Almost all of them looked like this. It started from one or two pig farmers, or staffers who were infected with the virus."