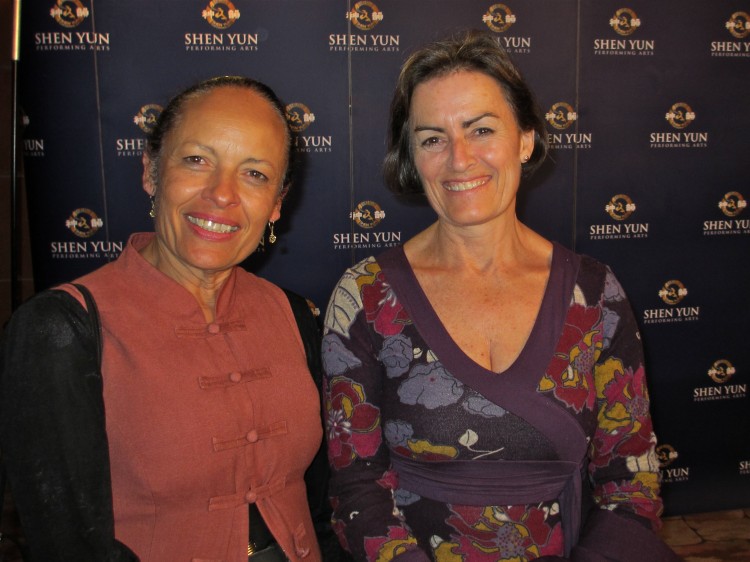 SYDNEY—Shen Yun Performing Arts' use of interactive multimedia and dance impressed Kate Wilkie, the studio technical supervisor of fine arts at the Sydney College of the Arts, as it performed at Sydney's Capitol Theatre on Friday, April 27.
Shen Yun, she said, is "very exciting" because it not only features dance, but the performers interact with a digital backdrop in most every piece. Some pieces show figures coming down from the sky or from above, who then materialize on stage as performers.
"That's just a wonderful use of space and its a great concept," Ms. Wilkie said, adding "use of the set is terrific because of the color and it's very stylized and saturated."
Overall, Shen Yun is a "a wonderful overview of Chinese history in dance, music and art form and it gives a great introduction to a culture," she added.
The New York-based dance company says its mission is to revive traditional Chinese culture and spirituality that was nearly lost under six decades of communist rule, according to its website.
"It gave me a sense of the tradition and the values that the culture upholds and finds worthwhile so I find it was also an ethical introduction into Chinese culture, and with humor," Ms. Wilkie said.
The performers in Shen Yun primarily use classical Chinese dance—considered one of the most comprehensive and expressive in the world—and various dances belonging to ethnic groups in China, the website states. "You realize how much the dance form influences other styles," Ms. Wilkie said.
Classical Chinese dance has a history of several thousand years and was passed down within the imperial palace before it was systematized and is now considered a complete style, the company's website states.
"Through expression of bearing and form, beautiful dance movements bring out the inner meaning of intrinsic thoughts and feelings, reflecting the peculiarities of human nature, the standard for human conduct, moral concepts, mental state, one's value system, and so on," it says.
Reporting by NTD Television and Jack Phillips.
Shen Yun Performing Arts, based in New York, tours the world on a mission to revive traditional Chinese culture. Shen Yun Performing Arts New York Company will be in Sydney, Australia, through May 6.
For more information, visit ShenYunPerformingArts.org.