SANTA CLARA, Calif.—Two Santa Clara University students and nonprofit Children's Health Defense's California chapter announced during a March 9 press conference that they're suing the school over its COVID-19 vaccine booster mandate and related injuries.
"I love school. I love learning. I love being with my friends. Any day that I get to be here with my friends is a good day, and I just don't want that to be taken away because of this," Harlow Glenn, a Santa Clara University student and one of the plaintiffs in the lawsuit, told NTD Television after the press conference.
According to the Santa Clara University website, students and staff must submit proof of receiving a COVID-19 vaccine booster shot by March 17. Students who don't provide proof of a booster shot will have their spring courses dropped.
Glenn is a neuroscience major. She said the lawsuit is about her and other students' medical safety.
In September 2021, she received a Pfizer vaccine dose. She said she was okay at first, but soon experienced adverse reactions to the vaccine.
"After I came back from visiting some friends out of state, I was immediately taken to the ER," Glenn said. "I had severe numbing in my legs. I was urinating blood. I was fainting and throwing up and [having] migraines."
Her doctor gave her a medical exemption to allow her to attend school.
"I had two medical exemptions for the vaccine and for the booster that were denied by the school," Glenn said. "I've spoken to the school a number of times and doctor a number of times, and they're not relenting. I've exhausted my options, and [the lawsuit] was kind of my last resort."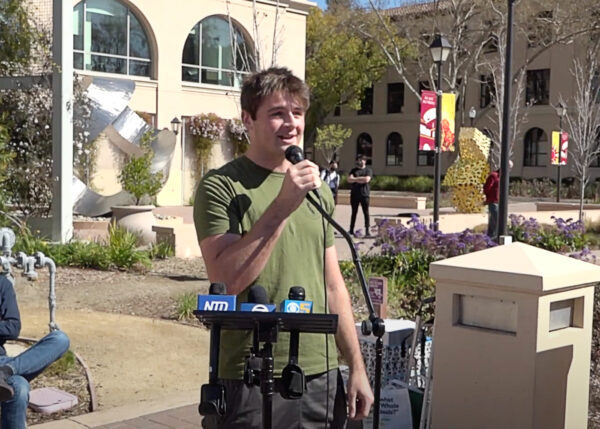 The other student involved in the lawsuit is her friend, Jackson Druker. He agreed that the lawsuit isn't about politics and asked supporters to lower their signs while he spoke during the press conference.
"I don't think that people should be forced to live by other people's standards and then threatened to have their lives ruined or jeopardized because of that. I don't think that's fair," Druker said.
He said he believes in vaccines, having received his, but agrees that there should be a choice.
"This issue is not about me. It's about Harlow and other students who legitimately cannot get the booster, who face the choice of their health and well-being or get kicked out of school," Druker said.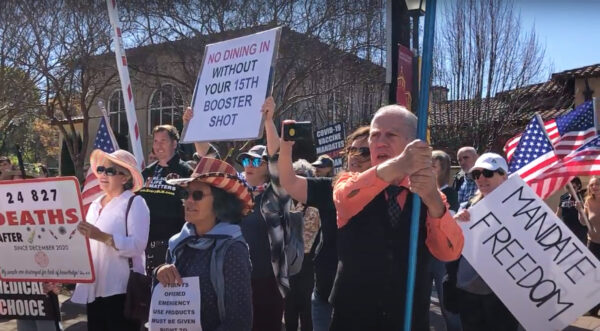 According to Children's Health Defense California, the lawsuit was filed recently, and more students have reached out to be added to it as plaintiffs.
"As of yesterday, we've had three or four new students join the case, so there's quite a few that have been too scared to speak out and have been worried about being kicked out of school or having to leave and transfer," Glenn said.
According to the group, the lawsuit alleges "18 causes of action against SCU, including violations of students' fundamental rights to bodily autonomy, interference with the doctor-patient relationship, the free exercise of religion, and equal protection of the law, as well as a violation of federal emergency use authorization law, which requires individuals being offered emergency use products be given the right to refuse them."
"This is the first suit against a college in California seeking damages for injured plaintiffs," Alix Mayer, co-founder of Children's Health Defense California, told NTD Television. "This has to be a choice. It is legally a choice. These are emergency use authorization products; it's illegal to mandate them."
Santa Clara University declined NTD Television's request for comment on the lawsuit.